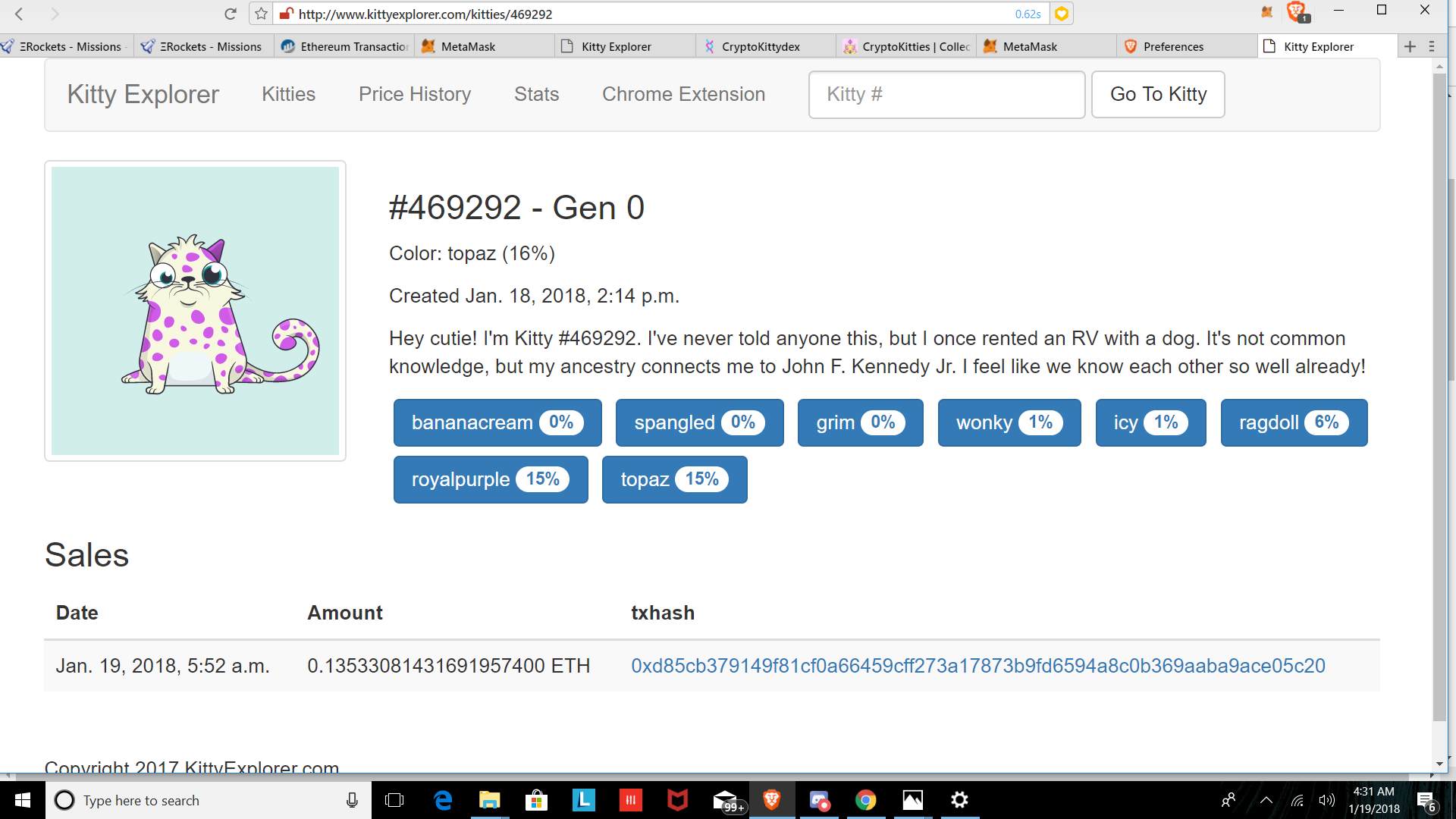 Congrats to @yura81 who guessed the sell price of the kitty above to win The Kitty Price is Right. The Kitty went for .135 and they guessed .12 . Nice guess! Here is your Free Kitty https://www.cryptokitties.co/kitty/448339
I upvote your post when you enter any Cryptokitties contest!
Ethercraft New Items Coming
Ethercraft.io has announced they will be offering new items later today at 3-5pm Eastern US Time. They want to give people another chance to get in cheap. Here is some more detailed info https://medium.com/@ethercraft/ethercraft-updates-new-items-faec33e788aa?source=user_profile
EtherRockets has launched and its a FULL game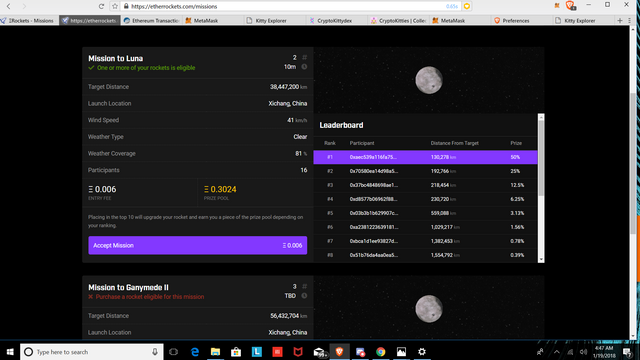 I love this new game already. I'm a little biased because I placed in a mission already and made my investment back. The best way to describe this game is it's like playing pool blindfolded. You are trying to launch a rocket to a moon or planet and your score is based on how close you get to the target. The only problem is there are factors like the strength,weather,distance and the precision of your rocket to take into account. You get to set the launch fuel and over all fuel settings, and then you let her rip. If you get closer or as close as the top 10 people, you get a portion of the prize pool. Its a tournament style payout like online poker and they take a 10% rake. This is one of the first games other than Cryptokitties to launch that has full working game mechanics and a working marketplace. This makes an environment that is fun and hasless risk. Get in early it just launched tonight and there are plenty of rockets left for sale EtherRockets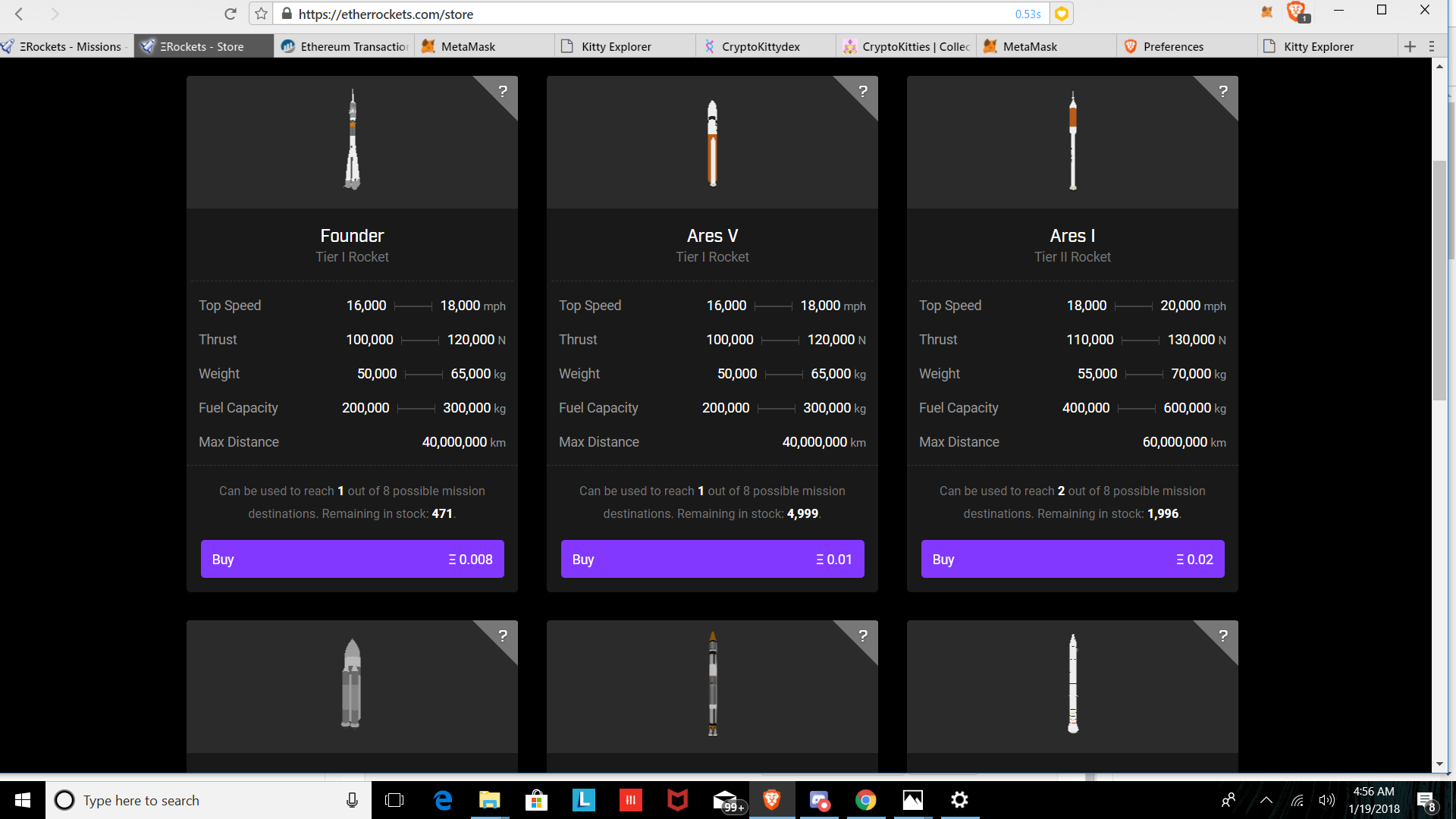 Rocket Gen-1 Kitty Contest
Tonight's contest will be based on EtherRockets. To enter to win a Gen-1 CryptoKitty, use one of the links in this post to buy an EtherRocket and use the same Meta Mask wallet address as your CryptoKitties Wallet Address. Lastly, comment with a screenshot of your hangar. Make sure its a full screenshot. 1 of the first 20 valid entries will win a Gen-1 CryptoKitty!
Get in Early. These are games are still Pre-Launch!
Make ETH inviting your friends to KryptoWar