Waves Reaches 1 Million Wallets!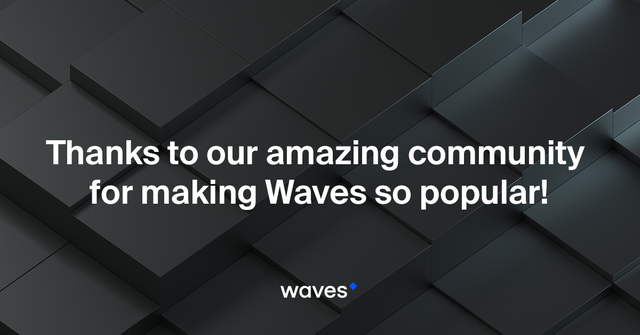 We have hit a major milestone in the history of Waves: our one millionth account has been created!
Waves was launched in June 2016 with the intention of becoming a mass-market blockchain platform. Two and a half years later, we celebrate reaching a very impressive one million wallets created!
We have seen steady growth since we started, but as the graphic below shows, that has been accelerating recently. Network effect is building, word is getting out and both businesses and ordinary users are starting to appreciate the real-world functionality that Waves platform has to offer.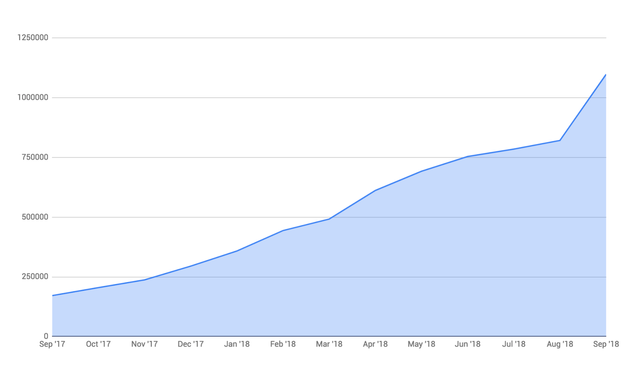 Wallet growth dynamics
Rising Through The Ranks
The reality is that there aren't many blockchain platforms that have much real use. The Blocktivity website tracks key adoption metrics. According to this site, Waves comes in at 8th for daily transaction activity, and its capacity is dramatically higher — meaning it has a lot of room to grow. (Ethereum is at full capacity already, with thousands of pending transactions, whereas Waves stands at just 0.45% capacity — meaning 200x growth is possible.) A look at dev.pywaves.org/txs/ shows that Waves has typically supported 30–40k txs per day this month, but higher throughput is by no means rare.
According to https://onchainfx.com/, and perhaps concerningly for the overall health of the sector, only 20 blockchains have more than 1,000 active addresses — those that have sent or received a transaction in the last 24 hours. Let's just say Waves doesn't have to worry on that score, thanks in part to regular airdrops and MassTransactions, but also our thriving DEX. Back at Blocktivity, we can see that it won't be long before Waves surpasses ETC and KMD, especially after smart contracts are enabled. At that point, the next target is ETH, with half a million daily txs.
Thanks To The Community!
Of course, the Waves community takes the credit for this impressive growth and ongoing daily use of our blockchain. The businesses that have built real applications on top of Waves are driving adoption and adding value every day, so we want to give a huge 'thank you' to everyone who has already made Waves so popular. But we also need to say it's still early days, and there's a long way yet to go. We look forward to seeing where Waves ranks in another year!
---
Join Waves Community
Read Waves News channel
Follow Waves Twitter
Subscribe to Waves Facebook