Waves February review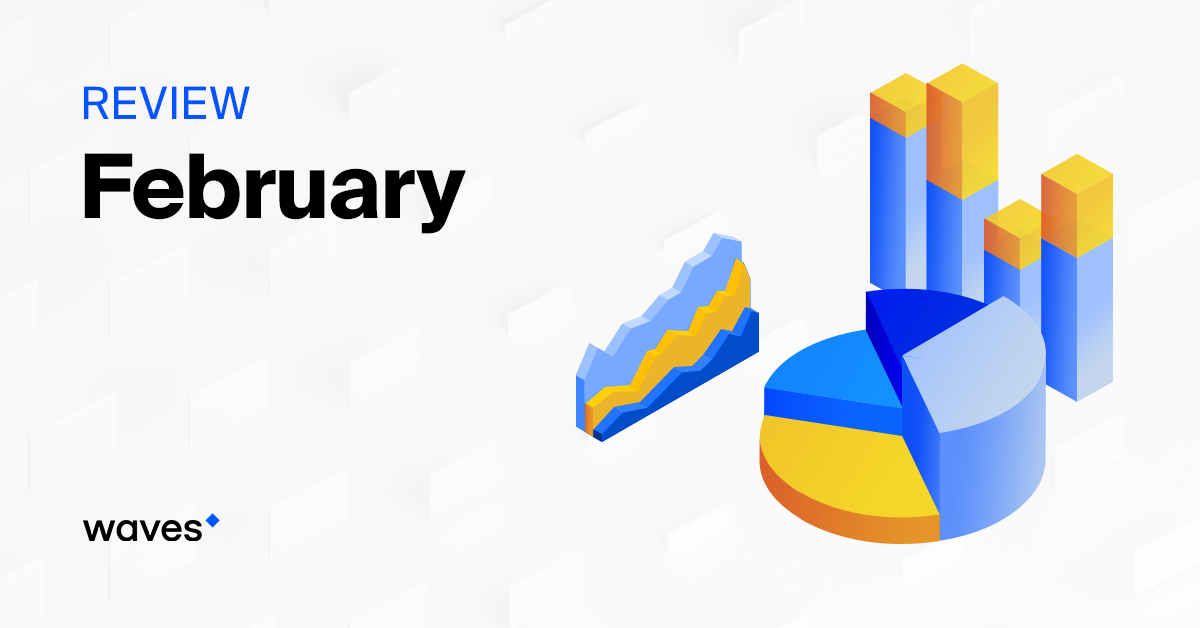 Welcome to our February review! This is an opportunity to catch up with all of the latest news and developments concerning Waves Platform over the past month. We're including a recap of technical updates, new business partnerships, crowd sales, media attention, competitions, community initiatives and social events.
Enjoy the read, and look out for the next review at the beginning of April!
Developer and product news
We have launched the MassTransferTransaction function on testnet. Mass payments, such as token airdrops, currently require sending lots of similar Transfer transactions. This incurs some extra cost to both the sender (in terms of fees paid), and the blockchain (in terms of storage spent on duplicate data), as well as processing power spent on verifying the sender's signature for each transaction. So the plan is to introduce a new transaction type, called MassTransfer, that combines a number of Transfer transactions with a single sender and assetId, but amounts that can differ by a ​recipient. Additionally, the language for Waves' smart contracts is now in active development.
In terms of the client, we fixed various bugs in February, and also created separate pages on the website for the DEX, wallet and token launcher. In addition, we're still testing the adaptive version of the client, as well as tools for burning and releasing tokens.
We have considered various solutions for charts on DEX and opted for the TradingView approach — this is familiar and convenient, so we are keeping this solution, and the exchange interface is now being finalised.
Partnerships, exchanges & integrations
Waves collaborates with Indonesian initiative Tokenomy to push into major new global opportunities. The partnership with the project, which has just completed the final stage of its $20 million crowdfund — selling 40,000 tokens for over $2 million in just three hours — will enable compliant blockchain integration for large corporations in the region, opening up the vast Southeast Asian market for the custom tokens platform.
Boris Akimov, a farmer and the founder of organic food startup LavkaLavka supported by its own blockchain token, will use the Waves Platform to tokenise his own skills and time. He is one of the first entrepreneurs to explore this new application for the blockchain.
For the future: we continue working on integration for cold wallets, launch of new fiat gateways and integration for transaction processing for online stores.
Waves lab
In February, three new residents joined Waves Lab. The first is Tradingene. It is the first blockchain-based marketplace of trading algorithms to allow for creating and using them to trade cryptocurrencies. Tradingene is the ready for use product by algorithm creators. During the last three years of the development, the team has attracted more than 300 algorithm creators from leading global universities, mathematicians and programmers experienced in creating trading strategies. Two other Waves Lab residents will be announced in early March.
Stories
As you probably noticed there's a new token at DEX, trading against many other tokens with quite a substantial volume, called Liquid. It is being airdropped to the community weekly (the last airdrop is going to happen today). The goal behind the token is to provide a mechanism for market makers and issuers to cooperate in a more streamlined way.
Token creation is faster, simpler and costs less than on other platforms, with tokens immediately tradable on the built-in decentralised exchange. In the coming weeks, ​we will be making further improvements to the interface and adding even more functionality.
Waves was founded on the idea that blockchain is a technology of the people: a grassroots phenomenon that puts ordinary individuals and companies back in control of their own finances, business processes and much else besides by offering fundamentally improved security, transparency and convenience.
As "blockchain for the people", Waves caters to a wide range of stakeholders, and its platform is designed to deliver value to different users and use cases: consumers, entrepreneurs, individual and institutional investors alike. It's an ecosystem of businesses, services, ​and communities, all utilising the benefits of Waves' cutting-edge and constantly-evolving technology.
Being in the blockchain space for around 4 years by now I have seen various stages of its development, from being some kind of a curiosity for nerds and cryptoanarchists to an almost industry-grade adoption. It is incredible that it took such a short amount of time, in other industries such developments can take a life-time. But the blockchain concept is so disruptive that it just blows you out of the water and speeds up your life forever.
For the future: Waves DEX
Publications
Ethereum has just announced its Ethereum Community Fund (ECF) grant program, an initiative launched by a collection of major players in the Ethereum world that is designed to accelerate the development of blockchain infrastructure apps and services. The stated aim of the ECF is to bring about "an environment where teams and ideas can thrive, grow, and collaborate to become essential and functioning pieces of the broader Ethereum ecosystem."
All of this raises the question of what exactly we mean when we talk about "blockchain ecosystems" and how they are built. Well, here's an analogy for you: blockchains are like roads.
Blockchain technology can literally make people into a transactable resource. The tokens that people trade with each other on a blockchain platform most commonly represent money. Consider Bitcoin, Litecoin, and other popular cryptocurrencies that people use to pay for things or speculate on their prices. Cryptocurrency tokens commonly take the place of fiat currency in what is an otherwise conventional financial transaction. But this only scratches the surface of what's possible. Tokens can represent much more than money.
The future was meant to involve flying cars and jetpacks. Instead, it involves tokenizing yourself on the blockchain. It was Andy Warhol who famously observed that in the future everyone will be famous for 15 minutes. That fame, it now appears, may come in the form of the ultimate crypto vanity project: tokenizing yourself and selling your time. One audacious entrepreneur, Boris Akimov, is seeking to do precisely that.
A Russian organic food guru has taken the cryptocurrency craze to heart and tokenized himself.
Boris Akimov, the founder of Russian organic foods retailer LavkaLavka will launch his own cryptocurrency on the Waves Platform, a blockchain platform developed in Moscow.
Because of its safety, speed and efficiency, Waves has become the go-to blockchain platform for storing, trading, managing and issuing digital assets. Crypto startups such as BehaviourExchange use it to issue its tokens and to guarantee a safe and smooth ICO.
Community
We recently held a contest for our community. Every day we released several words from the SEED to a wallet holding the prize token. Contestants had to find all the words to access the token.
We're pleased to announce that we have a winner! He/she cracked the puzzle and won the prize of 500 WAVES. Prize will be sent to the specified address within 24 hours. Congratulations!
Weekly Liquid airdrops for Waves community
We distributed Liquid tokens to the community weekly, as promised. The last drop was on Feb 28th. In addition to Liquid, we've airdropped Tidex, Encryptotel and Bitcoin Cash.
Sasha Ivanov's social channels
Subscribe to Sasha's social channels in Telegram and Twitter. A lot of exclusive information will be published there. For example, recently Sasha started voting for the best name for Waves' smart contracts language.
Steemit blog is restarted — follow up and upvote
Waves Weekly pilot episode is out
Events
Waves Vienna Meetup
On February 26, in Vienna, Austria, a Waves Meetap was held at which Waves representatives talked about current platform development. One of the main topics was how and why Waves' smart contracts will improve on those available on other blockchains. On the part of Waves, the event was attended by Pavel Soldatkin, Head of events, and Ilya Smagin, Waves Platform Lead Scala Developer. In total, the event was attended by over sixty people.
Waves & Postchain meetup in Stanford
On February 27, a joint meetup of Waves Platform and Postchain was held at Stanford University with the support of the Stanford Bitcoin Club. Max Pertsovskiy, COO of Waves Platform, represented Waves and spoke about the current development of the platform. About 100 people attended the event.
---
Join Waves Community
Join Waves News channel
Join Waves Twitter
Join Waves Facebook