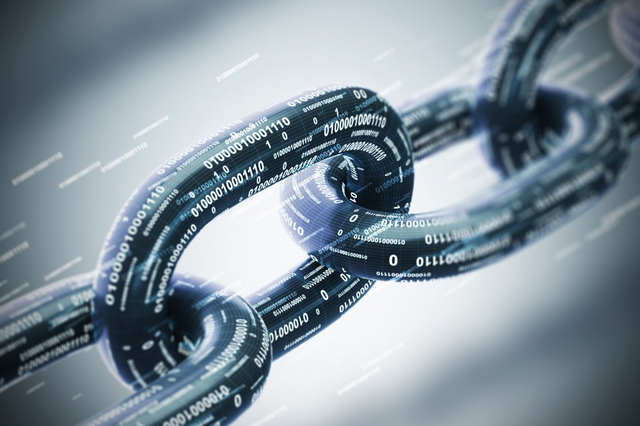 Oct 31
Welcome to the October edition of the Ubiq monthly report.
The last month has seen our development team focused on implementing the UIP1 hard fork. They have spent significant time on coding and testing the new hashing algorithm, ensuring a stable upgrade to the network at block 660,000.
We have also continued to make efforts around our business and marketing presence with the team sending our first Blockfolio signals aimed at expanding our communications reach to all Ubiq holders.
Governance Updates
UIP3 Comment Period
UIP3 is still awaiting any feedback from the community on GitHub. We have decided to wait for the hard fork upgrade to be completed before putting this forward for a community vote, as we focus on the UIP1 network upgrade.
Escher Airdrop #3
The third Escher airdrop has now completed with all participants receiving ESCH at a ratio of 3 : 1 for every UBQ in the account signalling.
Participation was 36.15% with a total 15,595,854 UBQ signalling for the airdrop.
(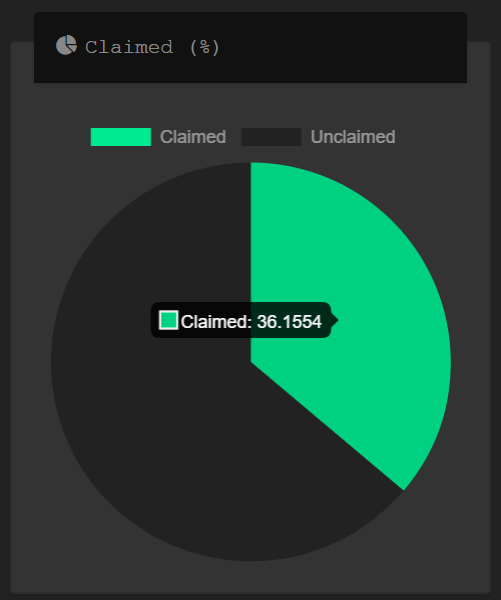 )
Participation in ESCH Airdrop #3
Second Ubiq Community Operations call
The second operation call took place on October 7th, with key long-term members of the Ubiq Community.
Topics discussed included marketing strategy, transparency and structure around the NDF/Marketing fund, approach to the UIP1 communication around the hard fork upgrade to the network and some future community incentives which we will publish more details about in due time.
Development Updates
UIP1 — Ubqhash
Ubqhash implementation and testing is proceeding along the planned schedule. We recently published two articles on the blog, Introducing Ubqhash and Announcing the UIP1 Hard Fork, which include a useful FAQ section to answer the community's questions regarding the steps users and miners will have to take during this transition.
The hard fork network upgrade will take place on block 660,000. The current estimation for this to take place is between November 21 to 22. Please remember that this time-frame will change with average block times and is therefore hard to pinpoint. You can follow the UIP1 count-down here, with a regularly updated ETA.
If you want to see what the current block number is, please check the network stats page.
As discussed previously, UIP1 had overwhelming community support as we seek to mitigate the threat of rental services, such as nicehash. We are excited for the future of this algorithm as we seek to differentiate Ubiq from other EVM projects in the market.
Ubqminer
To provide the tools necessary for our mining community to continue supporting the network, a modified version of Ethminer has been provided.
The reference repository (imported by Ubqminer) is also available:
https://github.com/ubiq/chfast-ubqhash.
Gubiq 2.0.1 / Fusion update
Gubiq 2.0.1. has now been released. Initially Gubiq was updated to version 2.0.0. However, soon after public testing commenced, a bug was noticed and a patch was pushed out by the dev team immediately.
The bug related to some optimizations which were prematurely committed in version 2.0.0. relating to HomesteadBlock, EIP150Block, EIP150Hash and EIP158Block.
Besides this bugfix, we note the following changes:
Add support for UIP1 hard fork PoW change from Ethash to Ubqhash
Build fixes for Go 1.11+
Replace references to "golang.org/x/net/context" with Go built-in "context" package
For all users running fusion, there will be a prompt to upgrade, which you will need to confirm. Fusion will then download and update to Gubiq 2.0.1. automatically.
Pyrus, Myetherwallet, Ledger and Trezor users will not have to update anything.
First Mobile Wallet integration — Dexlab
Dexlab recently confirmed that Ubiq is now supported in their mobile wallet, available on iOs. This is the first mobile wallet to support Ubiq and is planned to be available on Android soon.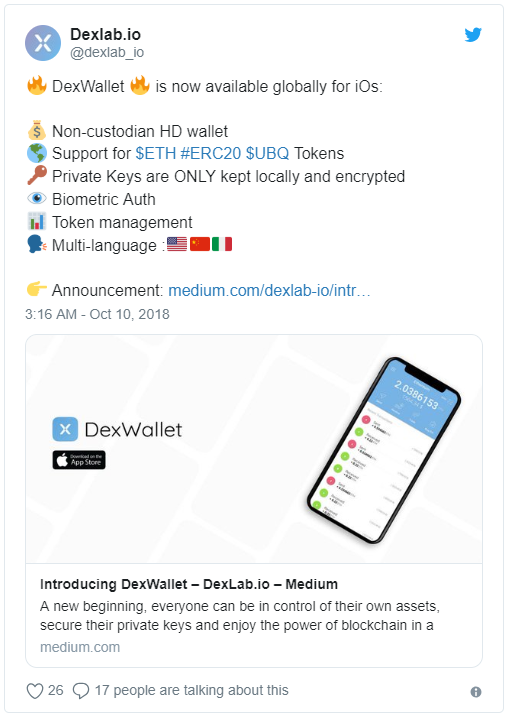 Dexlab announcing support for UBQ Tokens on their iOs wallet.
They also announced in a further update that there will be complete support for Ubiq's ERC20 tokens. This will provide all users of the Ubiq ecosystem an extra option for storing their digital assets.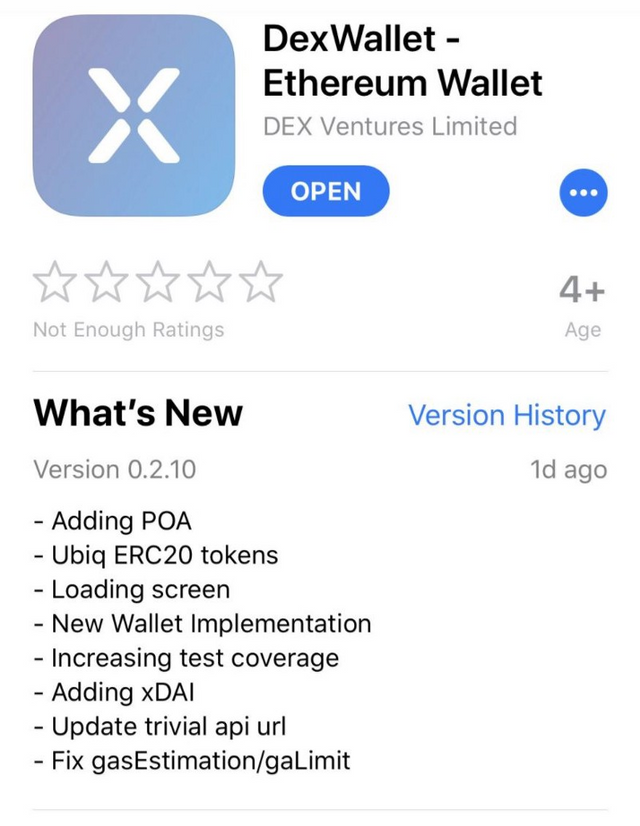 Ubiq ERC20 Tokens are now supported in DexWallet
Advertising / Marketing Updates
New Tagline
As part of the team's ongoing effort to market what we believe to be the most stable smart contract platform in the market, we have chosen a new tagline based on feedback and participation from the community.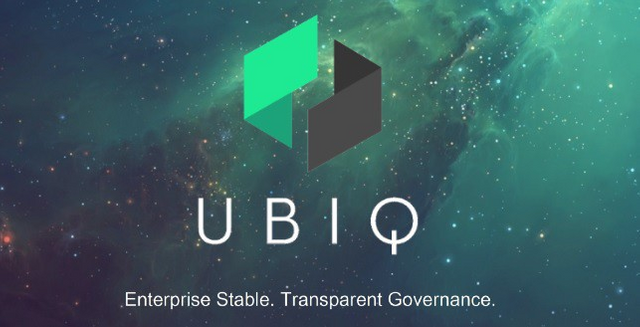 Ubiq's new tagline.
We decided on this tagline as it highlights the best features of the Ubiq platform and community. Below is a short explanation of these points:
Enterprise Stable
Ubiq is built upon an improved version of the Ethereum Codebase, putting stability at its core.
Ubiq offers an enterprise-stable platform by implementing well established and thoroughly tested EVM code. This code, coupled with a conservative upgrade schedule, reduces the risk of network instability and unintended hard-forks.
Transparent Governance
Just as Ubiq is permissionless open-source software, Ubiq's governance system 'Escher' democratizes the direction of the platform's development by providing our users an on-chain vote.
Important proposal decisions are entrusted to the community at-large through transparent, verifiable, immutable public voting.
You can expect to see more material around this soon, as we build more referable information into our website and medium, highlighting the unique qualities of the Ubiq platform.
Invest In Blockchain

We continue to be featured in Invest in Blockchain, with two articles. The first exploring Ubiq's monetary policy design and the second covering the UIP1 hard fork network upgrade.
Why I'm Bullish on Ubiq's Monetary Policy
Cryptocurrency has gained a lot of media exposure in recent years, with news outlets giving top coins increasing…
(https://www.investinblockchain.com/ubiq-monetary-policy/)
Why Ubiq's Network Upgrade is a Big Deal
The number of altcoins in the market has grown dramatically in recent times. With this comes an increased possibility…
https://www.investinblockchain.com/ubiq-network-upgrade/
Ubiq Research First post

Ubiq Research has had its first article, starting a series explaining the development decisions behind the various parts of the Ubiq ecosystem.
The first post covers an often overlooked aspect of cryptocurrency design, monetary policy. We plan to continue pushing out updates and cover the various innovations that the development team has made.
Blockfolio Signal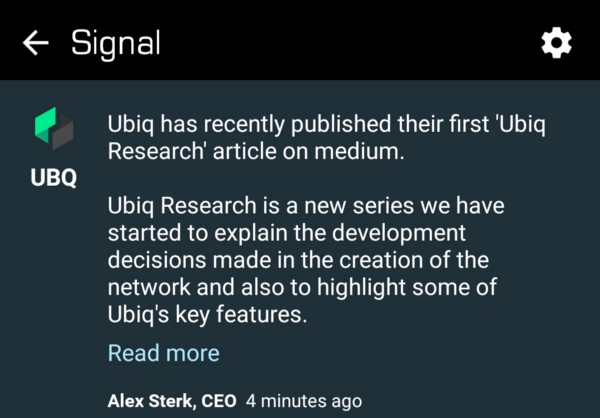 Our first signals on the Blockfolio mobile application went live at the end of October, increasing our reach to all Ubiq token holders.
The results have been promising so far, with articles we have linked on the blog enjoying a spike in the number of people viewing and reading.
New Facebook group
We now have a new community led Facebook page which we will update with all news releases and relevant information.
If you use Facebook and would like to take part, please click the link below and drop us a like.
https://www.facebook.com/ubiqcryptocommunity
News
Ubiq has been featured in a series of posts by Block Publisher explaining various parts of the Ubiq platform and the crypto market.
Ubiq: Providing Smart Contracts for an Automated World
While navigating through the sometimes-confusing world of cryptocurrency, it can be often a difficult task to figure…
https://blockpublisher.com/ubiq-providing-smart-contracts-for-an-automated-world/
What is Ubiq's Vision and How is the UBQ Currency Different? Explains Co-Founder
Ubiq is a blockchain platform that allows its users to develop decentralized applications (dApps). The currency that is…
https://blockpublisher.com/what-is-ubiqs-vision-and-how-is-the-ubq-currency-different-explains-co-founder/
Blockchain Technology as a Whole is Still Very Young, But has a lot of Potential, Says Co-Founder…
In today's world, the leakage of personal information of the users of different platforms has become a prominent issue…
https://blockpublisher.com/blockchain-technology-as-a-whole-is-still-very-young-but-has-a-lot-of-potential-says-co-founder-of-ubiq/
Co-Founder of Ubiq Says People Will Favor Borderless Currencies With Properties They Value
Cryptocurrencies are on their way to become an alternative to the fiat currencies, but will we actually see it happen… https://blockpublisher.com/co-founder-of-ubiq-says-people-will-favor-borderless-currencies-with-properties-they-value/
Core Developer of Ubiq Discusses the Issue of Scalability
Scalability is one of the major issues associated with the world of cryptocurrencies. As the entire crypto world is… https://blockpublisher.com/core-developer-of-ubiq-discusses-the-issue-of-scalability/
Ubiq token, Geocoin, has also been reviewed by popular cryptocurrency author Nik Patel.
Coin Report #1: GeoCoin — An Altcoin Trader's Handbook
Welcome to a new series of posts entitled Coin Report: these will comprise of a precise, exhaustive and extensive…
https://www.altcointradershandbook.com/coin-report-geocoin/
Token Activity / Updates
Sphere token swap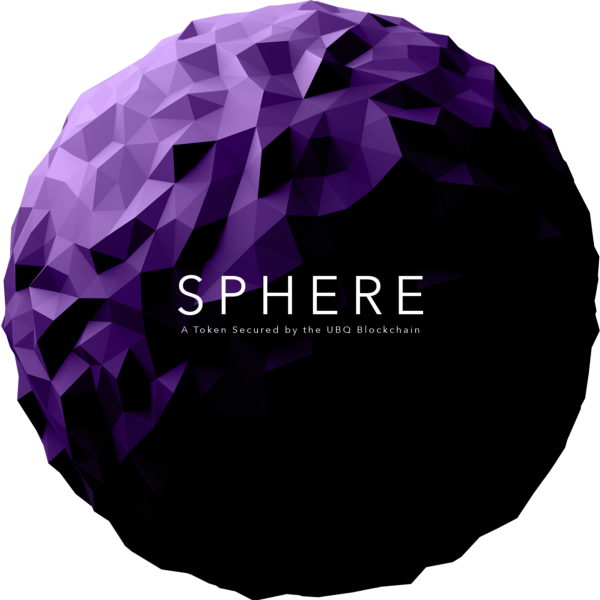 Sphere (SPHR) token logo
Sphere is another Non-ICO fair launch project that was running their own blockchain and has recently announced their swap to the Ubiq network.
In their own words, "The swap onto the Ubiq network will bring added security and strengthen the SPHR network while allowing us to maintain our core values."
They have scheduled the swap to take place after the UIP1 hard fork network upgrade and we look forward to them joining the Ubiq family.
Community Projects
Cryptanthropy

Another month has brought additional #RandomActsOfKindness to a bunch of lucky local elementary kids and a memorable steak dinner at The Keg.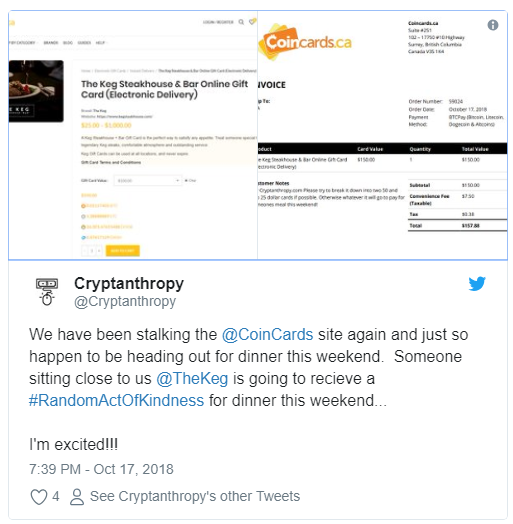 Cryptanthropy purchased 70 team shirts for a local school and their sports programs. Almost comically, some unfortunate printing errors made this act memorable. The way the community came together and rallied to correct the mistake is a testament to the people involved in this volunteer effort.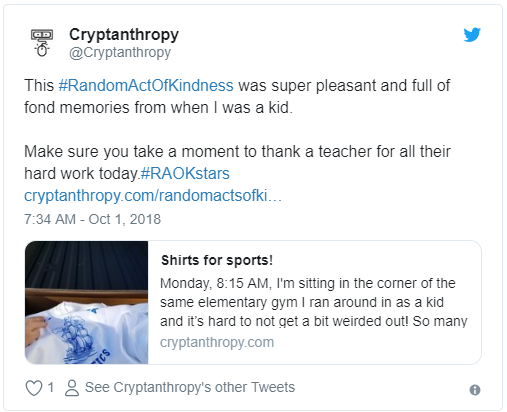 In the process the Ubiq community ended up donating almost 3x the amount needed to fix the printing error. Cryptanthropy even treated the teachers to coffee and donuts upon delivery of the shirts.
Rolling off the shirts adventure, a night out for steak led to a wonderful surprise for some fellow diners. Feel free to join them with your own acts of kindness, support or give them a follow @cryptanthropy for more #RandomActsOfKindness!
Such kindness!