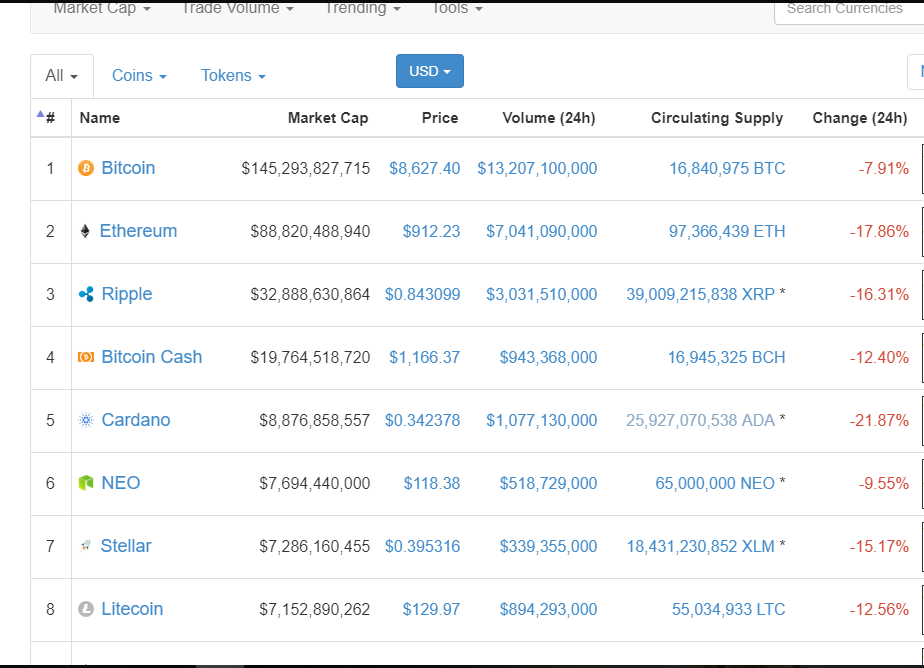 If you're anything like me, then you're interested in investing in cryptocurrency and has been waiting for the right time to invest. Lots of cryptocurrencies have experienced a significant fall, and if you ask me, I believe the right time to invest in them is now.
In no particular order, I'll be listing the top 11 cryptocurrencies that used to be significantly high in price and has now fallen. I believe investing in some of these coins will yield you massive return if you can just HODL them for a while.
It's important that understand that this is not an investment advice, this list is strictly based on my thoughts, opinion and analysis.
---
1. BITCOIN:
High: $18000 Now: $8000
2. CARDANO
High: $1 Now: $0.3
3. STELLAR
High: $0.8 Now: $0.4
4. LITECOIN
High: $300 Now: $137
5. MIOTA
High: $4 Now: $1.77
6. NEM
High: $1.60 Now: $0.5
7. DASH
High: $1600 Now: $592
8. MONERO
High $480 Now: $240
9. POWR
High: $1.60 Now: $0.6
10. NXT
High: $1.8 Now: $0.2
11. SBD
High: $18 Now:$3
What are your thoughts on this and what cryptocurrency will you be investing in? Let me know in the comment section. Thanks!
---
If you found this article helpful or interesting, kindly Upvote, Resteem and Follow @turn2honey