Organized FUD - How The "FUD Mafia" Is Plaguing This Industry (Part 4)
Disclaimer: I'm not for sale. I don't take on services and I don't take on personal requests. I don't accept payments nor donations. I'm not a shill, and I will speak my mind. Opinions are my own, and I will not reply to comments. I'm here to expose the truth, what's behind the organized "crypto-mafia" tasked to disrupt what the crypto-community is building.
It's no surprise that fraudsters and scammers plague this industry. It's no surprise that shilling services are a profitable business. In this article, we're going to tap into the world of "Organized FUD".
What does "FUD" mean?
"FUD" stands for "Fear, Uncertainty and Doubt", it's a well-known disinformation strategy that plagues all industries, but specifically the crypto-industry as a whole, for its volatile nature. Taken from Wikipedia, "FUD is generally a strategy to influence perception by disseminating negative and dubious or false information and a manifestation of the appeal to fear".
There are some notorious players in the industry who operate on a larger scale and that are specifically tasked with guaranteeing that you are misinformed. I'll introduce one of them in this serious of investigations in trying to uncover the truth being "FUD", their "Modus Operandi", "Sensationalist Journalism", their "vectors of distribution" and "active agents" that help disseminate the "FUD" throughout the industry.
Bitfinex'ed the Critic Exposed: Boom. Done.
Some of you might've heard about the recent developments regarding the suspicious stable-coin named Tether and its sister company Bitfinex, since both services have suffered scrutiny since last year.
Leading the way with a torch in his hand is "Bitfinex'ed", a twitter troll and critic that also posts on reddit as the handle "AtlasRand1".
The user "Bitfinex'ed" has brought to light recent events that make the stablecoin Tether look a bit suspicious and opaque. But it's also very clear that Bitfinex'ed possible agenda might be to funnel existing FUD (Fear, Uncertainty and Doubt) and negative sentiment when it comes to cryptocurrency in general, since anyone that follows his twitter will certainly see elements of anti-cryptocurrency. Maybe he has a negative view on the current state of cryptocurrencies and the consequential influence and control of centralized, unregulated cryptocurrency exchanges. But that doesn't help the crypto-community, and his actions are doing collateral damage. He's also a clear collaborator of both ProofOfResearch and Solei Du Soir, which I've covered extensively on Part 1, Part 2 & Part 3.
So, in hope of trying to uncover who's Bitfinex'ed, we introduce you the person behind the mask.
Who is Bitfinexed?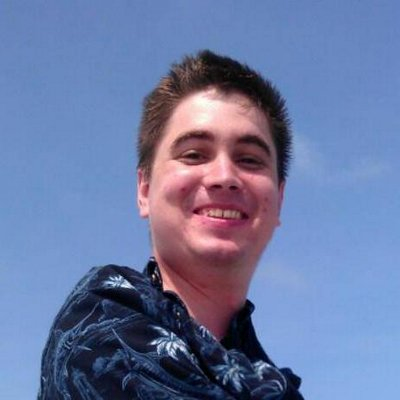 We've applied a deep understanding of linguistic forensics through stylometry to determine the identity of "Bitfinex'ed", which leads to Spencer MacDonald from Homestead, Florida.
Evidence One: "cao ni ma"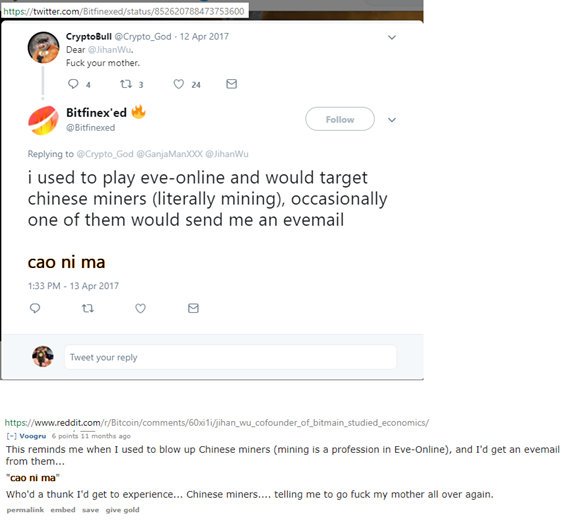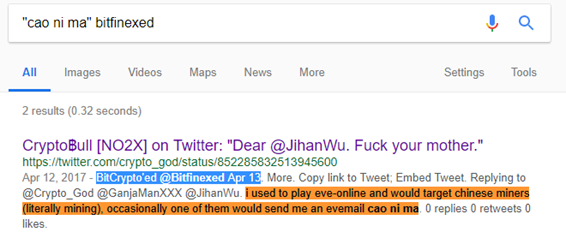 The tweet has been removed by "Bitfinex'ed", only accessible through search-engines archived caches. Possibly an attempt to obfuscate evidence. Little too late.
In this screenshot we can see the reddit user "Voogru" saying the following:
"This remind me when I used to blow Chinese miners (mining is a profession in Eve-online), and I'd get an evemail from them…
"cao ni ma""
And, coincidentally, we see "Bitfinex'ed" typing something similar:
"I used to play eve-online and would target Chinese miners (literally mining), occasionally one of them would send me an evemail
cao ni ma"
Coincidentally, that user "Voogru" is also very critic about Tether when we read his reddit comments, even posting a twitter link tweeted by no other than "Bitfinex'ed". Well, it could have been a coincidence. After all, EVE Online has less than thirty thousand players, and certainly some of them get EVE-mail from chinese "actual" miners saying "cao ni ma", and some of them surely own or owned cryptocurrency, and obviously some are very critical of Tether.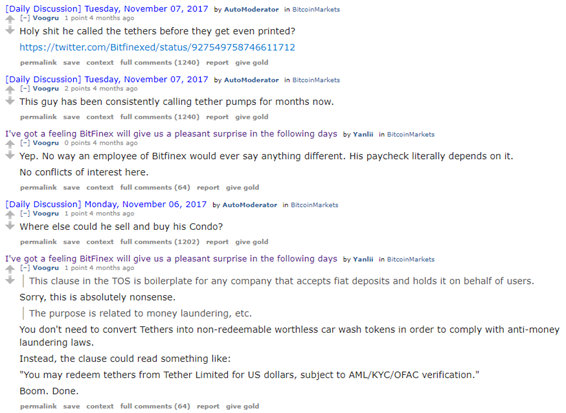 But, as improbable as it sounds, it can still be a coincidence. It's not substantial enough to point fingers… yet.
Evidence Two: "Boom. Done."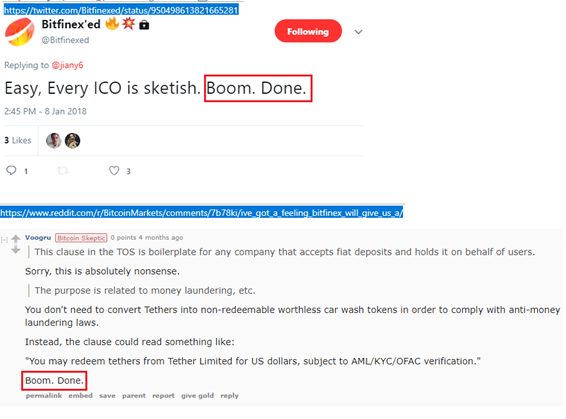 Lets ignore context for a moment. We can clearly see both users using the exact same expression: "Boom. Done."
Just another coincidence. Still not fundamental enough, thousands of people have used that expression. Let's put aside the similarities on both Evidence One and Evidence Two.
Evidence Three: "worthless car wash tokens"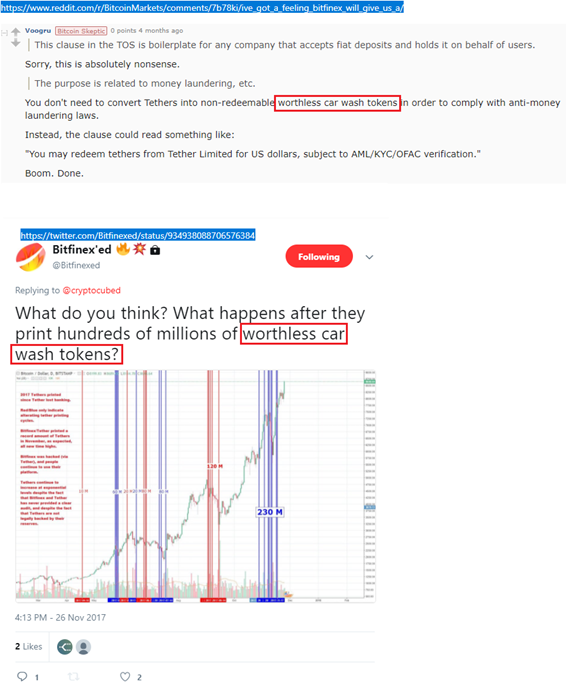 Another expression that both have in common. Again, could've been a coincidence. Maybe they're EVE Online buddies?
Evidence Four: Social Security 'Trust Us' fund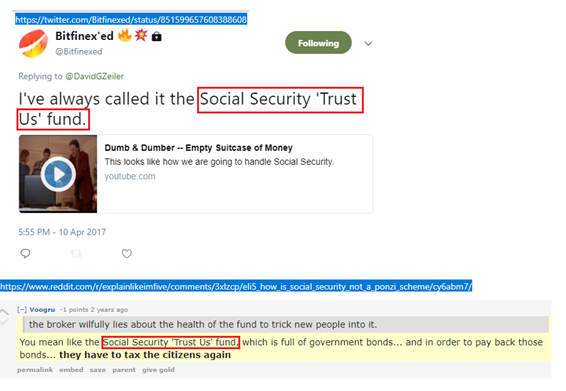 Ok, but surely there's an explanation for this. That expression has been used by a lot of----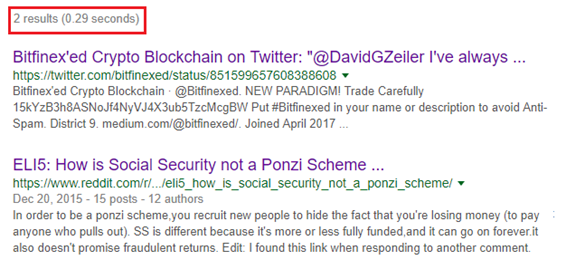 That expression, worded exactly as-is, has been used twice on the internet, by no other than "Bitfinex'ed" on Twitter and "Voogru" on Reddit.
Evidence Five: Managed IT Provider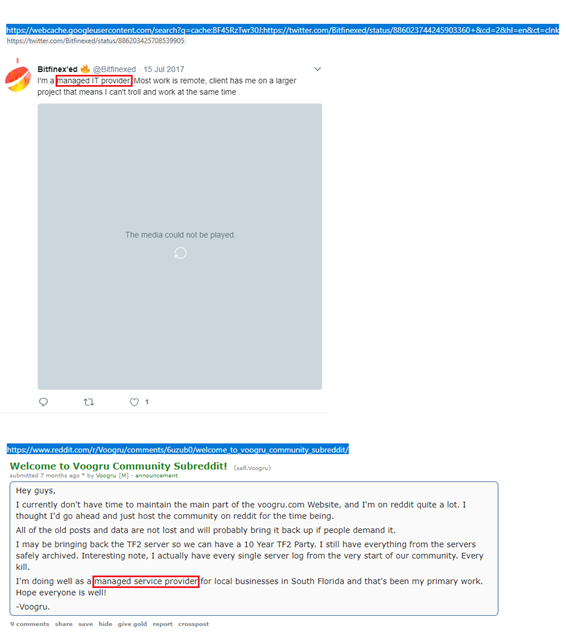 The tweet has been removed by "Bitfinex'ed", only accessible through search-engines archived caches. Possibly an attempt to obfuscate evidence. Little too late.
Lets just put everything together. What do we know?
Both "Voogru" handle and "Bitfinex'ed" handle played EVE Online;
Both "Voogru" handle and "Bitfinex'ed" handle occasionally received EVE-mail from chinese miners saying "cao ni ma";
Both "Voogru" handle and "Bitfinex'ed" handle are very critics of Tether;
Both "Voogru" handle and "Bitfinex'ed" handle used the expression "Boom. Done.";
Both "Voogru" handle and "Bitfinex'ed" handle used the expression "worthless car wash tokens";
Both "Voogru" handle and "Bitfinex'ed" handle used the expression "Social Security 'Trust Us' fund", which Google only retrieves (2) results;
Both "Voogru" handle and "Bitfinex'ed" handle are managed IT providers;
I'm sure if we try to dig more from both handles, we'll find countless others similar expressions only shared by both handles.
Who is Voogru?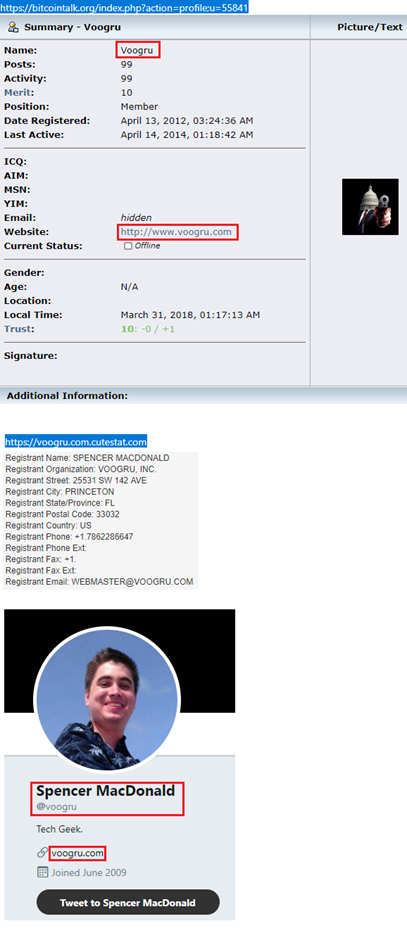 His name is Spencer MacDonald from Homestead, Florida.
Voogru is a former gamer-turned bitcoin trader (EVE Online, etc.,) and Team Fortress 2 server host (MODE) on his website and Steam group: voogru.com | https://steamcommunity.com/groups/voogru
Spencer MacDonald AKA Bitfinex'ed requested donations to cover for legal expenses on a case that never materialized. Nonetheless, he did hire a "crypto-lawyer": Stephen D. Palley from Anderson Kill.
Who is Stephen Palley?
alias: stephendpalley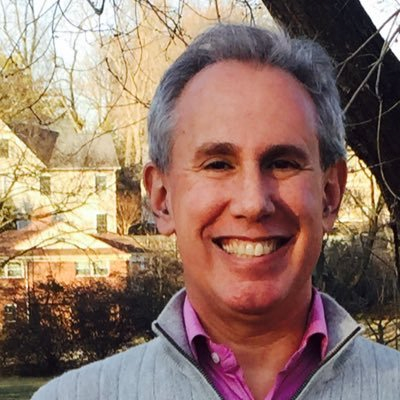 Stephen Palley is a "crypto-lawyer" who works for Anderson Kill. He was hired in early December by Bitfinex'ed to fight a lawsuit that never materialized and that was never made public by Bitfinex itself. He made thousands of dollars' worth out of it.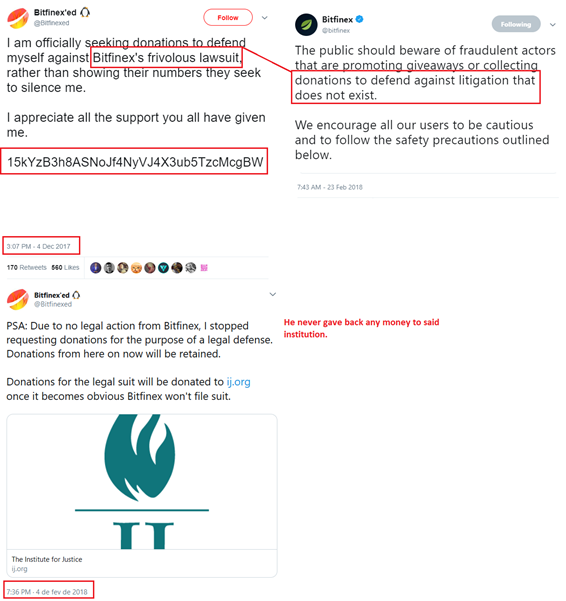 Coincidentally, around that same time period was when both Bitfinex and Tether were subpoenaed by the CFTC.
Why is this relevant? You will know why. But first, lets focus on Stephen Palley.
He regularly talks in conferences and podcasts. One some of the podcasts, specifically Blockchain Insider, he talks as a guest together with Jeff Bandman: https://bi.11fs.com/19 (Ep. 18. Bitcoin soaring, plus ICOs, hipsters and Tezos – November 2nd, 2017). It's not the content of the podcast that brings a hint of suspicious, but the fact that Stephen Palley and Jeff Bandman are actually both buddies.
Who is Jeff Bandman?
alias: BandmanJeff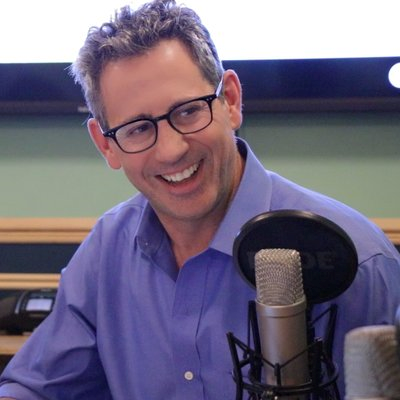 If we read his LinkedIn Bio (https://www.linkedin.com/in/jeffbandman/) Jeff Bandman is a Founder and Principal of Bandman Advisors, an advisory practice helping clients meet strategic innovation and regulatory challenges. He seems to be your average guy who barely anyone hear of. Which makes you think why are we even mentioning a guy that is buddies with Stephen Palley? Because Jeff Bandman was a major player in no other than….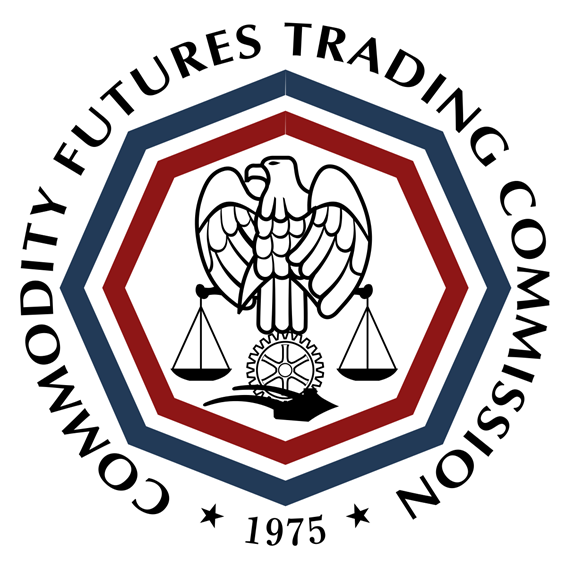 the CFTC. The same entity that subpoena'd both Tether and Bitfinex. That's right, let that sink in, interpret this at your own discretion.
Taken from his own LinkedIn bio, "Mr. Bandman was a senior official at the U.S. Commodity Futures Trading Commission from 2014-2017. As FinTech Advisor to Chairman Giancarlo, he was Founding Director and architect of LabCFTC, the CFTC's hub for engagement with FinTech innovation. He established and chaired the CFTC blockchain, virtual currency and FinTech working group from inception. Mr. Bandman led FinTech and RegTech coordination with domestic and international regulators. He joined the CFTC as Special Counsel to Chairman Timothy G. Massad, then led the CFTC's Office of International Affairs. He led the CFTC's Division of Clearing and Risk, which oversees many of the world's largest clearinghouses. He led negotiations resulting in "Clearinghouse Equivalence" with the European Commission. "
You should always investigate your sources thoughtfully, and take your conclusions from your own investigations.
(We will Continue Our Work in Part 5)
Think!