A Tsunami Is Brewing And Few Are Paying Attention!!!!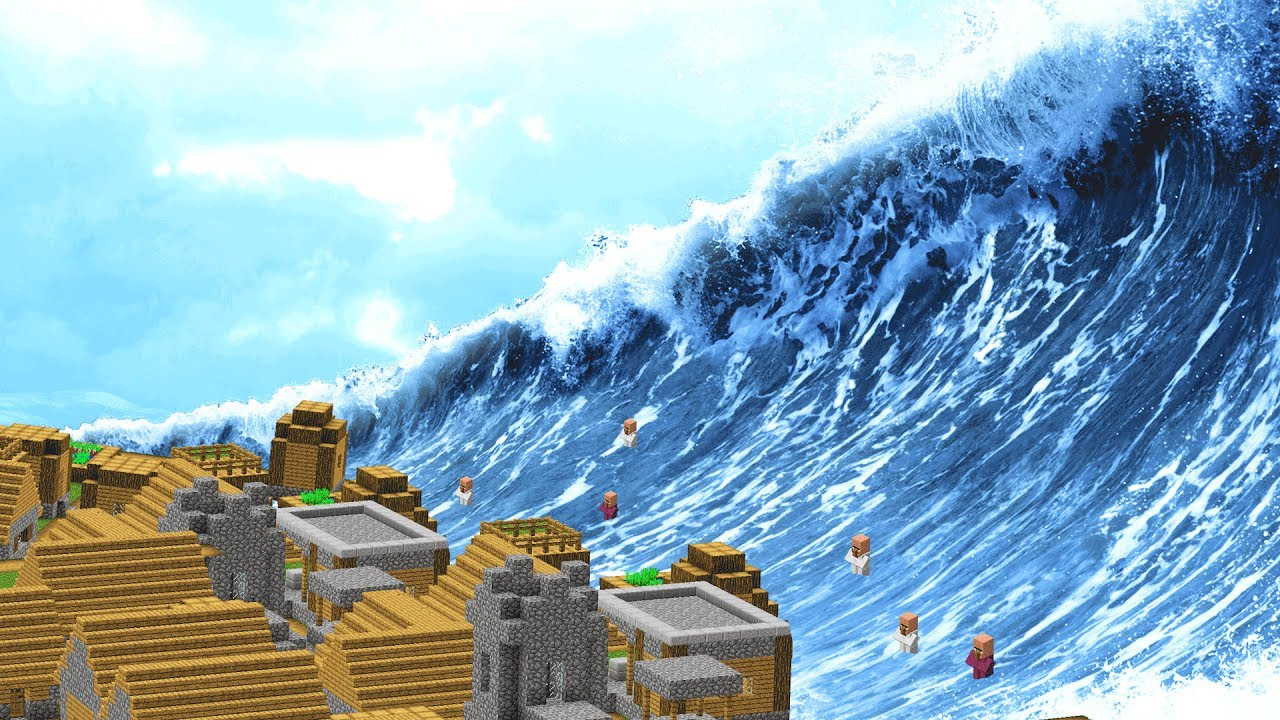 The world is changing at a rapid rate yet few realize this. Even the masses on a site like Steemit, who claim to understand, tend to not realize what is taking place.
This is evident by their response to certain things. It is easy to see beliefs and ideology shape people's judgment. I understand how this can be. It is not easy to get rid of long held ideals, ones that were most likely taught to one by his/her parents. Nevertheless, for all the calls for freedom, we tend to be products of our environment. Unless one is willing to take the time to fully explore a belief, it is simply easier to hold onto it.
I once heard it said that "the past does not equal the future".
This was a quote in reference to personal development however, I find that it applies to what we are witnessing today. What took place in the past few decades has little bearing upon what we are going to see tomorrow. In fact, many of the beliefs that were pertinent then are useless today. The world is changing too quickly....that is what it ultimately comes down to.
Technology is at the core of all we do. Unless you are one who is on the outskirts of the world, we are all immersed in technology. Heck, even someone like that is on the Internet or using a smart phone. It is everywhere and growing at an exceptional rate.
Speed is what makes this situation unique. I recall the fight the UAW put up in the 1980s against automation. They used every tactic in the book because they knew it would cost them jobs. This bled into every area of American manufacturing.
We often hear the mantra that we manufacture nothing anymore. Remember all those calls about jobs being outsourced. It is true that American manufacturing jobs declines by over 1M the past 20 years. However, output shot through the roof.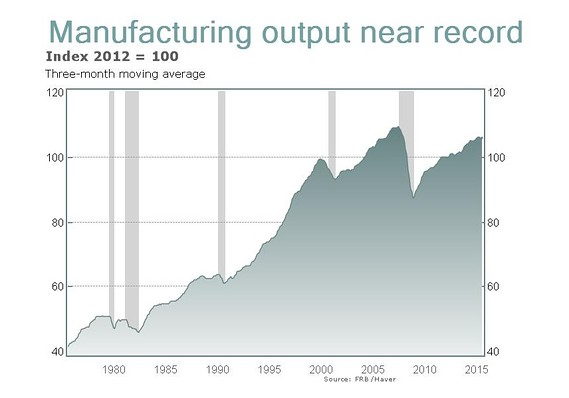 There goes one belief. American manufacturing is at an all-time high yet jobs are down. How did that happen? Automation.
Of course, do most people care about a bunch of blue collar workers in basically rural areas other than at election time? Most likely not. This is why there has been no action regarding the age of automation that is upon us.
What is interesting about that chart is it covers decades. That was the normal transition time in the past. Robotics is a difficult field because of the need for dexterity. It is a slow, expensive developmental process usually requiring huge money to do a simple, repeatable task. Over time, the investments pay off. Nevertheless, this can take years, hence the decades long sloth of human replacement.
As I said, the past does not equal the future. The tsunami that is brewing has little to do with robots. Each time I see an article posted with a title such as "Are Robots Coming For Your Job", I shake my head knowing this was written by someone who does not see the danger. The move to robotics, while impressive, still occurs over decades. Things appearing now were started in the 1990s.
Instead of asking if robots are coming for the jobs, it is better to focus upon software. This is the elephant in the room that nobody wants to talk about. It is also the reason why tens of millions of high paying jobs are going to go away.
Don't believe me? Here is an article about a survey done with the largest law firms in London. Half of those firms believe AI will lead to job cuts. And that is based upon technology today. Imagine asking this question in 3 years when the AI these firms are using is more advanced.
http://www.legalweek.com/2018/04/24/half-of-londons-biggest-law-firms-believe-artificial-intelligence-technology-will-lead-to-job-cutbacks/?slreturn=20180324092838
The legal profession is one that generates a lot of money. Jobs in that field tend to be high paying, white collar. Yet, here we are seeing a potential eradication of many of them. Also, attorneys starting out often work in fields such as legal research as a means of learning the "trade". No more. That is all being automated.
One of the challenges is even when people see the problem, they couple it with confusion. Take this paragraph from the article...
"However, it is too early to say that there will not be other roles to replace them. New roles are developing as technology encroaches on the attritional space. They include data scientists, those working on AI and predictive analytics, as well as legal services software developers."
Are you kidding me? Data scientists and legal services software developers? On what planet are a bunch of displaced paralegals and junior lawyers going to be qualified to fill these new jobs? How many technically inclined attorneys do you know? I have not met too many. There is a reason why most law firms outsource their IT work.
Western countries tend to turn out a lot of people in the legal and financial industries. These are the two biggest fields for people coming out of school. Unfortunately, having a bunch of financial and legal experts going forward is not a great thing since these are two of the fields that are facing AI penetration. They both produce an enormous amount of data that can analyzed using pure computational power. Humans cannot go through millions of cases but software can.
Here are a few things that I feel safe in saying will happen within 10 years.....
3D printing is going to eradicate many manufacturing jobs as the process becomes even more automated.
Products are going to be delivered autonomous..first with vehicles then with drones
Driving jobs will be drastically reduced
The fields of finance and accounting will be dwindled down to employing very few especially as the older generation dies off.
The medical field will get smaller: autonomous vehicles will reduce the number of ER visits (in the US that is over 50% of the visits) while automation of health records, robotic surgeries, and automated monitoring reduces personnel.
Blockchain will destroy millions of "middlemen" jobs through the stream-lining of supply chains and removal of layers in finance.
The 10 year decline in paper production will continue wiping out the copier/printer industry.
Real estate will be completely revamped through the use of blockchain and virtual reality meaning we will see the reduction of agents, title companies, and insurance agencies.
Customer service will go 90% bot with people only a small percentage of the inquiries.
Does any of this sound far-fetched? If so, scour some of the technology pages and you will see that it is not. Much of this is already happening, in part, as I type this. Some of these technologies are in the early stages. However, give them a couple of years and you will see their power unleashed.
Hence my use of the term tsunami.
And then what happens? How does society handle tens of millions of people suddenly out of work? What does it do when entire industries are wiped out? Is everyone going to miraculously be able to get jobs as Virtual Reality program developers? How many people in the western countries have the basics in computing, mathematics, and the sciences to even consider a switch like that? My observation is very few.
Fortunately, I do not believe all is lost. In fact, cryptocurrency is going to be the one thing that really assists in preventing a total collapse. The fact that millions of people are going to be part of the tokenized world means there will be plenty of money to go around. Instead of dealing in the scarcity that the present system operates under, we see the prospect where abundance is coming forth.
The challenge is most people scoff at this. All of us who tried to explain cryptocurrency to others quickly found out what people belief. The FUD does not only come from people on television. Talk to friends and family to get the same response. It is a fraud; it is worth nothing; that is a scam; you will lose all your money; etc...
Hence we are back to the same question: what does society do when tens of millions of people are suddenly out of work?
Based upon the present belief system, let them starve appears to be the answer.
By the way, do you want to know how far away this is from becoming a reality? The answer is one recession.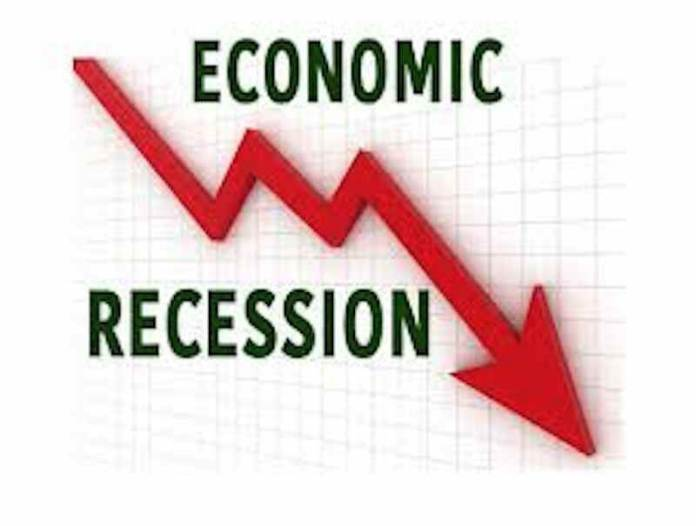 Things are going well for the global economy (at least on the surface). The banksters were able to prop things up to look nice for many. They put out glowing reports that tell us things are growing and getting better. Of course, this all favors Wall Street. They could care less that it is debt that fuels their increase in revenues and profits. As long as the quarter is good, that is all that matters.
The problem is that once those numbers slow down, cutting starts. And the first place corporations cut is payroll. Get rid of someone today and that is reflected in the numbers two weeks from now when no check is issued. Instant savings.
What is really going to be a kick in the pants is, since we are in the midst of a technological explosion, the corporations have an alternative. They can invest in R&D which means that, upon recovery, they do not need to hire nearly as many people back. People were calling the recovery after the financial collapse 10 years ago a "jobless recovery". Well, they haven't seen anything yet.
The oil industry gave us insight as to how these mega-corporations operate. When the price of oil plunged, layoffs took place all across West Texas. Hundreds of thousands of people were let go. Two years later, prices recovered some. The problem was that the cost for these companies to get oil out of the ground dropped from $60 to $35 a barrel. How did they do that? Automation. This resulted in only about half the people being hired back when the market improved.
Perhaps you don't care about a bunch of roughnecks in West Texas. However, when cashiers, paralegals, accountants, drivers, manufacturers, financial analysts, insurance adjusters, line cooks, billing agents, customer service reps, and sales people start to be laid off in droves, maybe that will garner some attention.
So what are people going to do then especially since most households require two incomes? What happens when it is your wife or husband who is laid off and cannot get a replacement job?
I guess there is always the local supermarket.....
Oh wait, Amazon is working on automating people out of that field too.
Personally, I am not worried...being involved in cryptocurrency makes me an early adopter of the tokenized world. This might be the only buffer most people have.
For the rest, a surfboard might be required since this could get nasty.
If you found this article informative, please give it an upvote and resteem.
---
To receive the free basic income tokens you are entitled to and help end world wide poverty, please click the following:
Click For Manna Coins
In full disclosure this is a referral link

Pictures by Google Images