It turns out that many cryptocurrencies, even those that raise ICOs, have distributed the majority of their tokens to just a few wallets.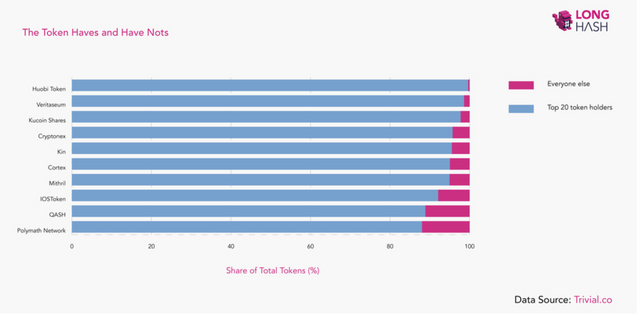 Here is an article I collaborated on with Longhash that dives deeper into the data, and reveals some interesting findings. In my opinion, on-chain data is much more interesting than price movements, and can help find true value in a project.
https://www.longhash.com/news/so-many-tokens-so-few-wallets
My company - Trivial.co - pulls Ethereum data with the help of a Parity node and some nifty algorithms, and has created a searchable database of the Ethereum network. You can check any address or transaction, and also browse through the multitude of ERC20 tokens.
Stay tuned for more onchain analysis!
Peace ✌️ + Decentralization 🌌 .