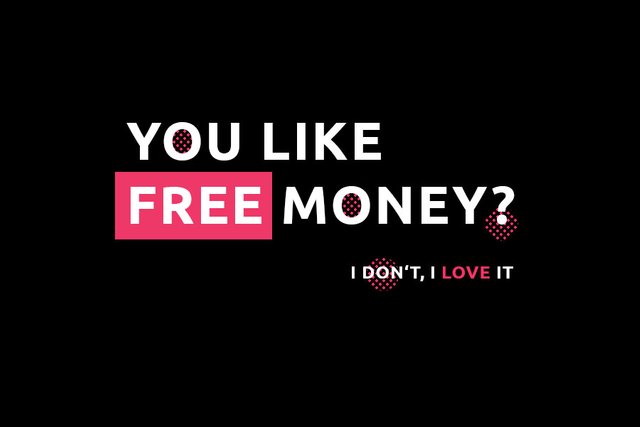 I don't normally give 'crypto advise' or share referral links on Airdrops, because, well, many people are doing that, especially on Steemit, and I'm never the first to share the big news.
But, more and more I start to feel more 'on top' of info than I give myself credit for. If I compare myself to one group of people I might not be a frontrunner, but to another group of people I am.
I've recently acquired a few tokens for free and you might not have heard about these projects yet, so maybe I can help you. The most important projects I get some tokens from at this moment are:
Byteball, gives out free bytes based on your Steemit Reputation score, I got 80$ from this project
Steemhunt, airdropping HUNT based on your Steem Power, but also gives a share if you delegate and/or upvote hunts
Mannabase, a Universal Basic Income project, giving me manna coins weekly
PREsearch, a 'search engine on the blockchain', giving me tokens just for searching through their website
I explain the 'how to receive' process of each of these projects below.
BYTEBALL Airdrop
---
Byteball decided to expand it's projects' reach by creating an airdrop specifically for Steemians! Isn't it cool to receive special treatment just because you're active here? This airdrop got me 80$ (40$ free to spend NOW and 40$ to spend in a year) in my wallet. I can immediately convert it to BTC and trade or spend it any way I want, and since this is quite a big amount of money I'd love more Steemians to enjoy it.
If you join this airdrop you will get:
Reputation 30 or above: $10reward
Reputation 40 or above: $20 reward
Reputation 50 or above: $40 reward
Reputation 60 or above: $80 reward
Reputation 70 or above: $160 reward
To receive the airdrop follow these steps:
Go to https://byteball.org/
Click download wallet
Open the app after downloading and go to chat
Click on Bot Store and search the list for Steem attestation bot
Click on steem attestation bot and Open Chat
The bot will send you a message
Click on the blue dot by the left and click on Insert my address and click the send button
The bot will give you a steemconnect link, use the link to connect with the bot
After connecting the bot will ask if you want the account to be public or private, click on public
It will give you a link for attestation fee 'Payment request xxx bytes'. Since you don't have anything in your wallet yet:
Give me your wallet address (in the comments or on Discord), and I'll send you the fee that you have to pay
Once you've received these bytes from me you can click the 'Payment request' link in the Bot Chat and get your tokens automatically send to your wallet.
Since I am paying for your fee I will get a Byteball referral bonus, so you don't have to send me back the fee I paid for you :-)
Do with the money whatever you want! Convert to BTC and wait for the price to rise, or buy STEEM and power up, or... spend as needed. Buying @steemmonsters is a cool thing to do too ;-)
STEEMHUNT Airdrop and bounties
---
Another token you can receive for free because you're already involved in STEEM is the HUNT token. Now, you don't have to do anything to receive them, since you will get them airdropped 1:1 based on how much Steem Power you have. But you can collect a bit more if you 1) delegate some Steem Power to the @steemhunt account (and no, delegated SP doesn't lose you HUNT coins during the airdrop!) and/or 2) by upvoting hunts through the website steemhunt.com.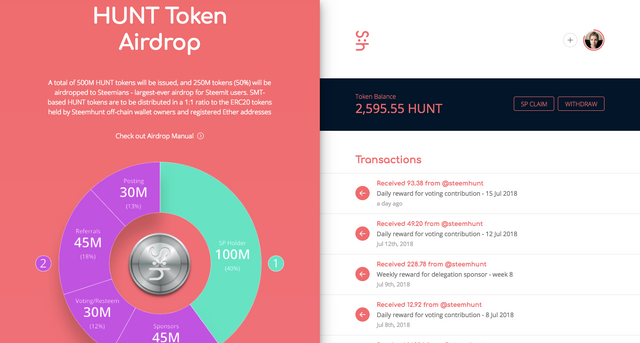 [screenshot taken in my steemhunt account]
Steemhunt is a platform on the Steem Blockchain that rewards people for sharing cool (product) 'hunts'. It's extremely good looking and works very well. I really love gadgets and am often on Kickstarter just browsing through new projects, so going to steemhunt.com and upvoting a few cool finds is plain fun to me. I often do it at the end of the day if I still have some Voting Power left. I gathered around 2500 HUNT tokens by delegating 200SP and upvoting from time to time.
Of course you can start sharing hunts yourself too :-)
Mannabase
---
I found out about Mannabase last summer and read the whitepaper while in the train to London. They promote 'Universal Basic Income' and give everyone free Manna coins every week, thus providing the basic income. Universal is a huge goal to get to, but if we all register and refer at least a few people the project might come closer to it's goal.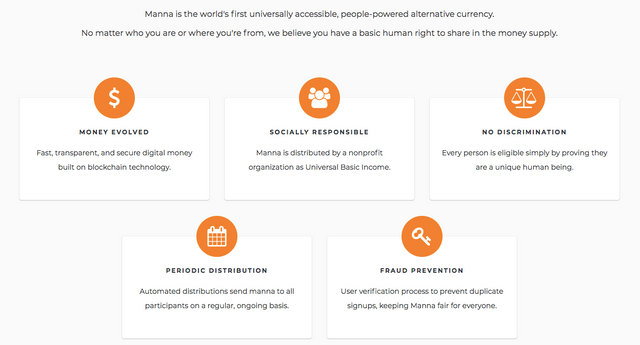 [screenshot taken at mannabase.com]
Now, the idea that these tokens will give people in developed countries a true 'basic income' (with which you can do grocery shopping and/or pay rent) is in my view not realistic. The project is very much focused on getting underdeveloped countries an income or at least supplement to their income. Why it's still worth is to join Mannabase even if you're living in a 'rich' country is because 1) you help grow the user base and therefore add to the chance of it to succeed als by referring and 2) basically they want you to have some coins you can donate to countries or groups of people who need it.
In the whitepaper they describe the possibility to donate money to a very specific group and/or region, for example 'to people in the Philippines after a flood', or 'to women in Ghana' because you want to support women in Ghana get some financial freedom.
After you subscribed and start receiving a weekly Manna payment, you can refer your own link (here is mine) to grow your payment, an upgrade will last for one year.
PRESEARCH
---
The last project I'll share today is the presearch project. Presearch wants to build a search engine on the blockchain which might be very interesting if we think about the dangers and negative side effects centralized search engines have showed to bring us so far.
For every search you do you receive a (subtle but nicely animated) 0.25 PRE token in your presearch wallet. To prevent abuse they limit the amount of tokens you can collect a day to 8, and at 0.11 currently that's 0.88$ a day. But prices were double only a few weeks ago and I believe the project will gain traction and I simply want to support a cool project like this.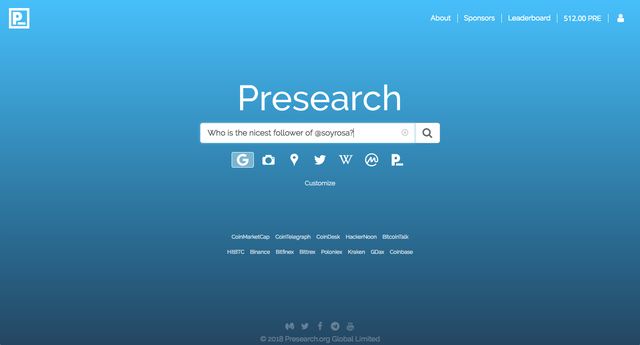 [screenshot taken from my account page]
Presearch, too, has a referral program and since I'm having fun with searching through their website I'd love to see more people find out about it. You can subscribe through my link and receive 25 tokens. I will get 25 tokens as well once you have earned 100 tokens yourselves through the website within 60 days. So subscribe and set presearch as your home page (which is what I did) and you'll get used to it soon enough! And earn some money by doing something you already did before for free anyway :-)
---
Since this post is an experiment I'd love some feedback. Did you already hear about these projects? Did you hear about them from me for the first time? Would you like me to do more of these posts in the future? If yes, is this the right format or could I do something more/less/different?