Social Wallet - An Introduction to WIRE
---
Bringing cryptocurrency to the people!
---
Social Wallet aims to make cryptocurrency accessible to everyone by combining the limitless power of the blockchain and the interconnectivity of social media.
We are strongly focused on our goal of introducing over 2.5 billion plus social media users to cryptocurrency. Our guiding philosophy on this journey revolves around the mission of mass cryptocurrency adoption through social media outreach.
Our two pronged approach of implementing an easy-to-use platform, alongside the launch of a Social Wallet Initiative, will help drive new users, who have never used cryptocurrency before, towards Social Wallet in an effort to hyperconnect the world.
Our Mission
---
With the evergrowing number of social media users and the booming of blockchain technology innovation, it's inevitable that both of these powerful forces will finally be brought together. That is exactly what we aim to do.
What is Social Wallet?
---
Social Wallet leverages blockchain technology to enable cryptocurrency transfers over today's existing social media infrastructure.
No prior setup or knowledge is needed when receiving a transaction. The process is illustrated in these simple steps: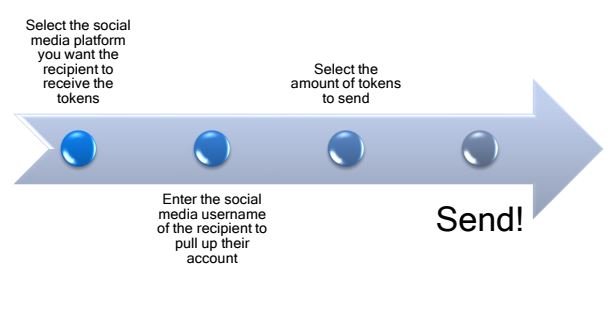 ---
What is the WIRE Token?
---
The underlying token powering the social media transactions is the WIRE token. WIRE token is used as:
the cryptocurrency sent to the recipient
a transaction fee for the transfer
Once the recipient has received the WIRE tokens, he has multiple options to use them:
keep the token in his wallet
send them to friends, family or co-workers
make a purchase using the Social Wallet Debit Card (upcoming feature)
What are some possible use cases for the WIRE token?
---
Scenario 1:
Jack runs a study group and his time is valuable. His students can pay for his time, sending him WIRE directly via the same social media network that Jack uses to train his students with.
Scenario 2:
Joe, Matt and Ilana decide to go on a weekend trip to a cabin on the east coast. Collecting funds for the trip has never been easier as all payments can be done instantly via their social media group.
Scenario 3:
Everybody loves birthdays. Long gone are the days when receiving an Amazon gift card felt like a cool and unique experience. Think about your best pal who just got 50 "happy birthday" notes on Facebook. Why not trump them all by sending him some WIRE as a present?
Scenario 4:
Everybody needs a bit of help sometimes. WIRE tokens have the potential to be used for community building and social relief efforts. They can be sent to help out a friend who recently went through an unforeseen event or even assist an entire community victimized by a natural disaster. They could also be used to reward amazing stories of heroism.
The ability to use WIRE tokens for social good is extremely promising. And that's what the Social Wallet Initiative is all about; it will use its budget to actively focus on championing such altruistic causes wherever they may be found throughout social media.
---
What about the technology powering Social Wallet?
---
WIRE uses the XEVAN algorithm, it was founded by the Bitsend developers and has since then proven to be a stable, ASIC resistant and efficient algorithm. The Xevan hash algorithm is a unique combination from the dual X17 difficulty algorithm with an extension to 128 bits.
Coin specifications:
---
250,000,000 circulating supply
30 second blocks
5 confirmations (2.5 minutes)
155 confirmations for staking
35,000 WIRE per Masternode
Built on Bitcoin Core 0.10.x. with all v0.13.2 updates and Dash core v0.12.1 BIP38
Encryption/Decryption of Private Keys
Why Steem? A call to action!
---
Social Wallet is a visionary project designed to connect social media users with the world of cryptocurrency. Steemit is an amazing platform in which to reach out to social media users who are already familiar with cryptocurrencies and integrate them into what will be an even larger ecosystem. The goals and intentions of Social Wallet and the Steem community could never be more aligned and as a result we would like to invite the Steem community to join our token sale and be a part of a new paradigm in which cryptocurrency and mainstream social media networks unite. The Steem community and its blockchain will play a large role in our future development strategies so stay tuned for many exciting new developments!
Summing it all up
---
It is Social Wallet's mission to introduce over 2.5 billion social media users to cryptocurrency. Its token, WIRE, goes on sale on February 7th, 2018 at a price of $0.15 per token. The token may be purchased in Bitcoin (BTC), Ethereum (ETH), and Litecoin (LTC). This is a once in a lifetime opportunity to participate in the WIRE token sale and be part of a revolutionary merger between blockchain and social media so don't miss a chance to make history! Visit us on the web at www.socialwallet.io for more info.
---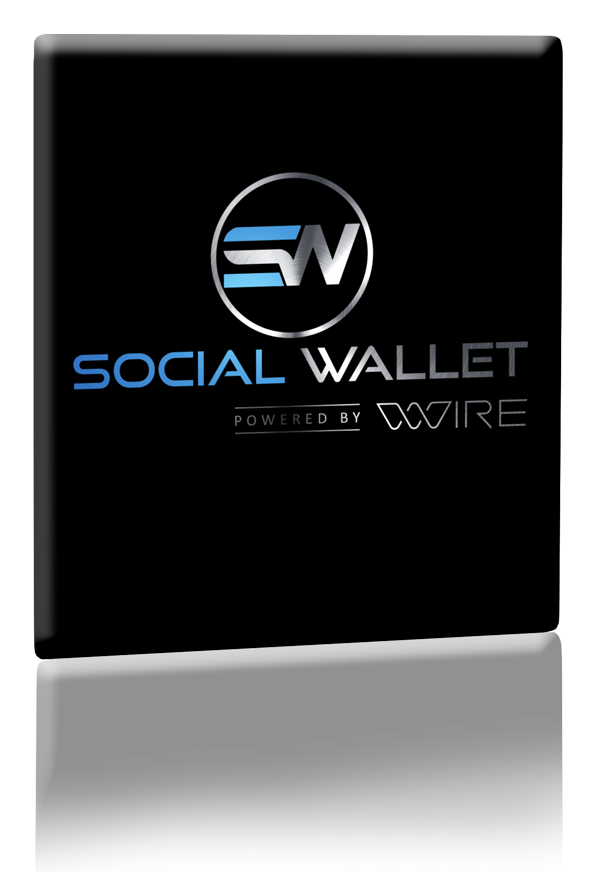 ---
Give us feedback
---
Social Wallet is a platform that has specifically been created for our users. We want people who have very few technical skills to have an opportunity to join the cryptocurrency community in an easy and fun way. Take a moment to leave a comment below and tell us how we are doing!
---
Join the Social Wallet Discord chat
---
Do you have questions left unanswered? Would you like to be part of the Social Wallet community? Take a moment and join our discord room by clicking on the 'Join discord chat' button below!

---
---