PEER-TO-PEER (P2P) TRADING
The GOOD, The BAD & The UGLY
---
At its core, SINEGY is a fintech start-up founded on a mission to build a dynamic cryptocurrency trading platform for South East Asia. Like any tech start-up, especially one based in Malaysia where the pool of coding talent is thin, development cost can be hefty.
When market conditions are tough and competition heats up, survival is the only metric that really chiefly counts therefore controlling our 'burn rate' is of paramount importance.
A year into our journey, what started as an ad hoc project to generate revenues to curtail our operational costs, turned into a full-fledged Peer-to-Peer (P2P) & Over-The-Counter (OTC) trading operation. SINEGY is fortunate to have a team of seasoned finance background folks with experience in trading traditional finance markets. Within six months, we had firmly established ourselves on Remitano and Localbitcoins as a key player in the local market.
As a result, we succeeded in reducing our outlay but more importantly forged important friendships and business synergies along the way. These vital relationships will prove significant and guide us towards building a greater product.
To trade with SINEGY, please register an account at www.sinegy.com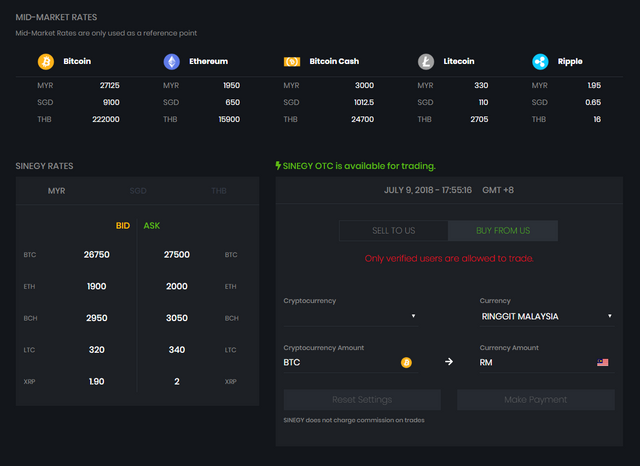 SINEGY-OTC: rates.sinegy.com
The Malaysian crypto scene was very different a year ago when Luno, then the largest centralized exchange in terms of average daily Bitcoin trading volume, was in operation. Having lost their banking partner pending an investigation by the Inland Revenue Board of Malaysia they are unable to accept deposits to this day despite their best efforts.
The absence of a huge exchange dramatically altered the way cryptocurrencies were traded in Malaysia. It opened up the Malaysian market for new entrants like SINEGY and others to serve the local demand.
In spite of Bank Negara Malaysia (Central Bank of Malaysia) enlisting us as reporting institutions under the Anti Money Laundering Act (AMLA), the lack of a clear regulatory framework stifles crypto-related businesses with the understandably cautious local banks.
No competitor was able to immediately pick up from where Luno left off and subsequently trading volumes flowed into Remitano and Localbitcoins, both P2P platforms. Faced with similar limited options, we forayed into both and discovered the good, the bad and the ugly side of P2P trading.
---
Remitano of Vietnam and the largest trading platform there had a sudden influx of Malaysian crypto adverts. As of today, Malaysia is now the 3rd largest market for Remitano behind only Vietnam and Nigeria.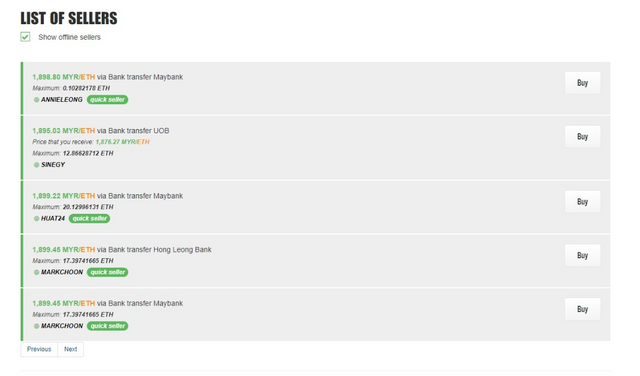 Remitano list of sellers
P2P platforms are essentially adverts posted by individuals looking to buy or sell cryptocurrencies. Websites like Remitano and Localbitcoins simply accommodate a centralized venue for listing such ads, a place for traders to find liquidity from other local buyers and sellers. These platforms also provide an escrow service and means for traders to communicate and dispute trades in return for a 1% commission charge.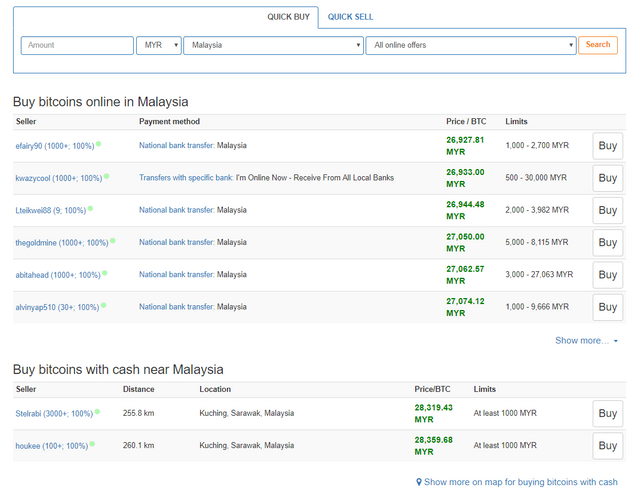 Localbitcoins list of sellers
Another common feature of P2P platforms is the user-rating systems which rate users based on feedback given by other users with whom they have previously traded. This is very helpful to large active traders like SINEGY as it enables us to filter out the more difficult traders and provides us some layer of protection against scammers. Naturally those with low ratings and feedback scores will have a tougher time getting trade opportunities, thereby creating an incentive for professionalism benefitting everyone on the platform.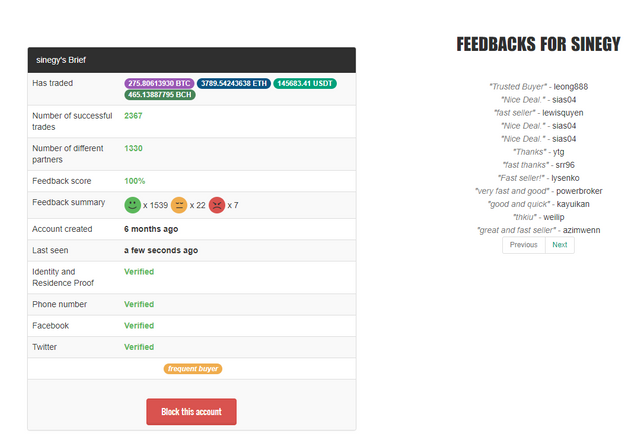 It is because of the user-based system that traders who publish ads pseudonymously on the platform, have some measure of interaction with the individual on the other side of the trade (if only their username) as well as other traders with whom they are competing. By engaging with all different types of traders on various platforms, we have experienced the idiosyncrasies of the Malaysian market first hand.
Our platform will be by traders for traders, removing many of the existing gaps in centralized exchanges today. SINEGY intends to give our users access to our liquidity, corporate privileges and even a rebate on the maker side to allow them to be more competitive.
---
The UGLY
Even the hardest and most seasoned traders amongst us have experienced what we call 'zombie-mode' - where mistakes can be made and professional trading etiquette can sometimes go out the window due to the constant daily grind of aggressive competition.
Cryptocurrencies are the ONLY asset class in the world trading 24 hours a day, 7 days a week, 365 days a year. Every week, our trading team averages 16 hour days including weekends. The nature is repetitive and tiring.
Laborious competition has taught us the hard work and effort to trade P2P platforms and we regard those traders out there doing this day in day out with the utmost respect.
---
The BAD
Scammers. In spite of our best efforts and enhanced KYC protocols, we have been involved with at least two 'Man in the Middle' scams in the last six months. Many of the traders in the P2P scene also shared that they have experienced fraudulent activities at least once. In our case, while we were not the party being scammed, we were used as an intermediary in a complex and elaborate fraud. We reported it to the authorities and always cooperate the best we can in hopes of helping the victims. However, the truth is little can be done. A word to the wise, even a verified account on Localbitcoins is no guarantee of anything - STAY VIGILANT ALWAYS.

---
The GOOD
The best thing about P2P is the ability to talk to traders behind the ads. This is something you will not have access to when trading on centralized exchanges. Even though we have met some fierce competitors over the past six months, we have also established friendships.
A 23 year-old trading whiz kid found us early on Localbitcoins and has since developed into one of our bigger accounts. We converse regularly about market moving events, trends and the most interesting - where to find arbitrage opportunities.
Last week in Kuala Lumpur, our team presented at a small event organized by our good friends at Bitcoin Malaysia. We were thrilled to meet two of our competitors on Remitano. It was a great moment that caught us by surprise; we ended up sharing interesting Remitano stories and having some laughs over drinks.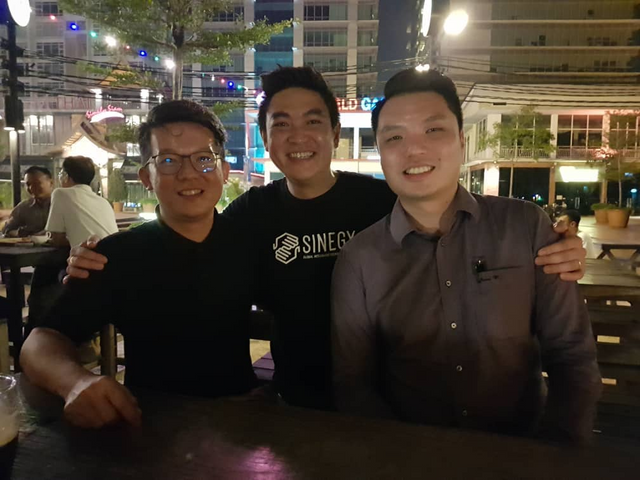 Competition is HEALTHY and GOOD. It is about RESPECT for one another and to compete fairly and professionally.
---
Share your thoughts and experience with us! 🌏
Website
https://sinegy.com/ and https://marketplace.sinegy.com/
Learn about our MKTP Initial Exchange Offering
Social platforms
Facebook Telegram Twitter
Support email
[email protected]