Impressed by and excited about the potential of the digital asset Crypterium (CRPT), I decided to "jump in" to investing in a significant amount of them.
Crypterium is one of the new DEFI (decentralized finance) digital assets holding a lot of potential in the months and years to come, in the opinion of many whose input I respect.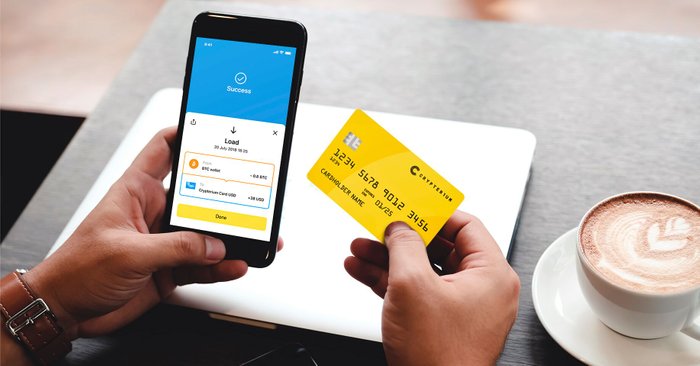 Source: Crypterium's Media Kit
In deciding to invest in some, I found reference to the primary exchange being the KuCoin exchange. I was pleased to find, however, that it was also available for exchange on the new Binance DEX (decentralized exchange)!
At least, that was my initial reaction ...
After successfully exchanging for the desired CRPT tokens, upon attempting to move them to my new Android-based Crypterium wallet, I was confronted with an "invalid address" error. 😧 Ohhh wonderful ... 😞
The ensuing research 🤔 to get over this technical hurdle led to my writing of this post ...

Crypterium Swap ERC-20 <=> BEP-2
As with many cryptos, CRPT "started life" as an ERC-20 token on the Ethereum blockchain. On July 30th, it was announced that CRPT would be listed on the Binance DEX! So ... As a result, there would be both ERC-20 and BEP-2 versions of the CRPT token.
To facilitate the necessary back-and-forth conversions between these two blockchains, the Crypterium team built their Crypterium Swap website. The only tutorial I could find on using this tool, however, illustrated converting the ERC-20 token to the BEP-2 version. I needed the reverse conversion!
It took me way too long to ask for help, get none in a timely manner, and elect to go ahead on my own. Part of the "new world" related to these digital assets, there is still a lot of "fill in the blanks" work to be done. It leaves the typical investor in a quandry, as a lot of money is at stake, if you inadvertently take a misstep. From which you are not likely to recover ...
Moving right along, then, the point of this post is the following details. Note, as illustrated below, the all-important icon to click.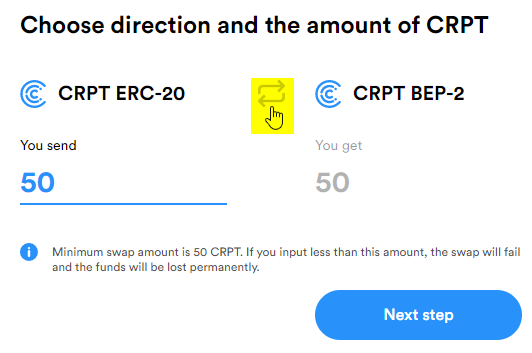 Source: Crypterium Token Swap Website
This is not illustrated adequately anywhere, at least from my experience in Sept 2019, as the default is as shown - converting ERC-20 to BEP-2. As stated above, I wanted to perform the opposite conversion and the tutorials did not illustrate this anywhere I could find!
So ... I was down to what I have experienced over a long professional life - trial and error! Which I think we can agree, dear reader, is far from optimum when you are working with digital assets containing considerable potential value.
Once you've completed the 1st step shown above, you are next presented with this screen: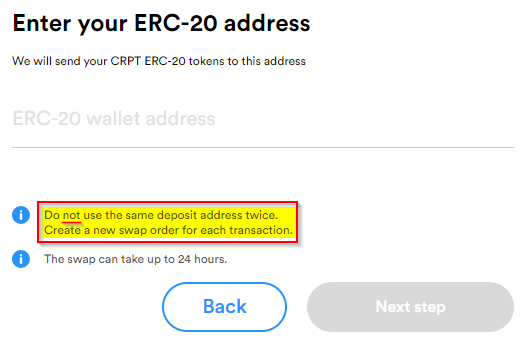 Source: Crypterium Token Swap Website
Here you are entering the address where you want your converted BEP-2 tokens to be sent. In my case, this was my MyEtherWallet address.
Once you've completed the 1st step shown above, you are next presented with this screen: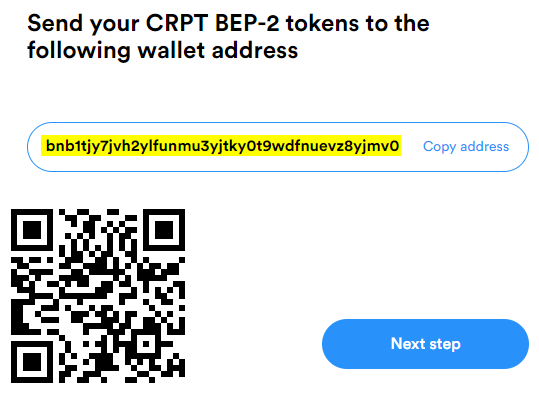 Source: Crypterium Token Swap Website
Here you see the BEP-2 token conversion address (on the Binance DEX blockchain) to which I was directed to send my CRPT-8C9 tokens to be converted to ERC-20 tokens.
"Gotcha" note: I almost made a serious mistake to which I want to draw your attention. At first, I assumed the BEP-2 address shown above was a "universal" address to which I would always send any future BEP-2 CRPT tokens to convert. Saving myself some time ...

Not so! Note the highlighted message in the earlier image. You must create a new swap order each time. And each time you are then presented with a different address! I proved this out, as I always send a small amount first, then more later ...


From here, with the address provided to you, you go to where your CRPT tokens are currently stored and send them to this address. In my case, I opened my Ledger-backed Binance DEX account and transferred my CRPT-8C9 tokens to this address. Worked great!
In the event you are converting in the opposite direction, here is an example of the screen providing you the needed ERC-20 token conversion address (on the Ethereum blockchain):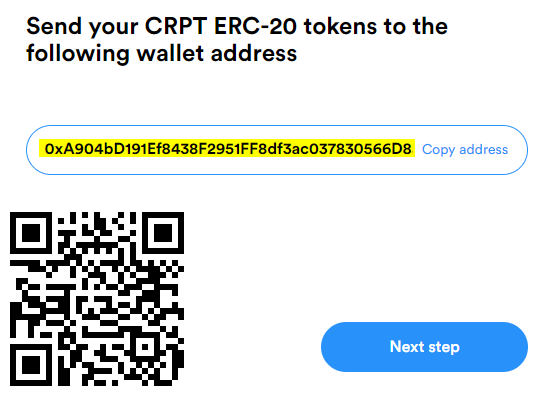 Source: Crypterium Token Swap Website
To finish up, the Swap tool dialog screens have you click a checkbox signifying you agree that it may take up to 24 hours to get the requested conversion made. In my case, it was a little over an hour. At which point, my converted tokens were in MyEtherWallet.
Victory!
________________________
Okay, so I finally got my BEP-2 tokens successfully converted to ERC-20 tokens. Then, and only then, was I able to successfully transfer these tokens to my shiny new Crypterium wallet. Piece of cake ... 😉
Tech note 1: I did read, somewhere "along the trail," that the Crypterium wallet will be handle either the ERC-20 or BEP-2 token. In the future! Of course it will. When I don't need it anymore ...


Tech note 2: The primary listed exchanges for CRPT, e.g. KuCoin, convert your exchange into the ERC-20 version of the token. In these cases, you can send your CRPT directly to the Crypterium wallet, without the need for conversion.

Crypterium Wallet Impressions
So ... Having finally reached my objective, what are my first impressions of this new wallet? Right off the top, it just has a "fancier finish" feel to it, than most any other wallet I have used.
In checking into some of its features, there can be no doubt that the Crypterium team has big plans for the future of Crypterium (CRPT). And while I have only recently been researching it, I learned they have been steadily "chipping away" on their vision since 2013 ("dinosaur years" in the Cryptosphere ...)!
Some brief examples of what they cite as benefits of using Crypterium:
Get their Crypterium card and use it to make purchases anywhere in the world (which accepts credit cards). Using whatever you have in your wallet as the capital to be spent - BTC, ETH, LTC, etc. They claim they'll get the funds to the merchant in their local currency! Wow ...


Instantly (within 3 seconds) transfer money to anyone in the world, with a phone number. The party doesn't have Crypterium? Not a problem! They claim they'll get the funds to them anyway! Wow ...


You can borrow and loan crypto assets, with a 0.5% monthly interest!


You can execute exchanges amongst the different support cryptos directly from your wallet. AI-driven technology ensures you get the best possible rates and performance. Here is what they have to say about their current list of supported cryptos:

"The current version of the App allows you to store your funds in BTC, ETH, LTC, USDC and CRPT. New currencies will be added regularly. At the beginning, we will be focused on the most popular coins and tokens. You can also suggest your favorite currencies in our Telegram Chat, and we shall be happy to review.."

Source: CRPT FAQ


My favorite part: Crypterium is the "fuel" which drives all of the financial transactions. Therefore, a bit of it is "burned" with each and every transaction - as a 0.5% fee. No more CRPT is being created. Day-by-day these transactions are simply reducing the overall quantity of CRPT tokens. Here is what they have to say about that:

"... increasing demand for tokens will increase the price of the tokens thereby reducing the amount that are going to be burned for each transaction."

Source: CRPT Token


There are a lot of other interesting aspects to this token and its fancy wallet. I will leave that to others (see below) to review them in more detail. There is certainly a lot to like! 👍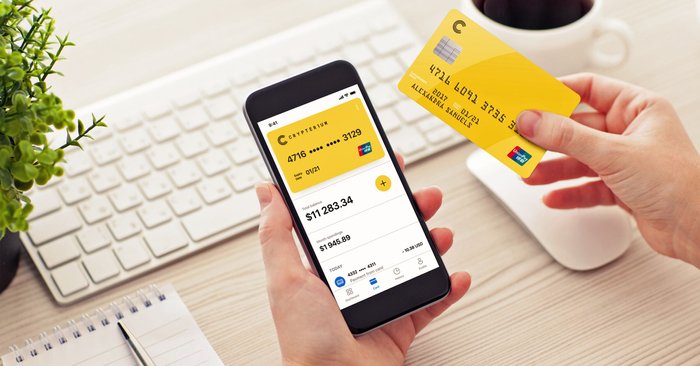 Source: Crypterium's Media Kit
________________________
Is blockchain technology tied to digital assets like CRPT the future of finance? A lot is being steadily written about the future of decentralized finance. And a lot of money, time, and brainpower is being invested into this vision to "bring it to life."
We'll all find out soon enough!
Usual caveat: This post is not to be taken as financial advice. Please perform your own due diligence and research, before ever investing into anything. It is solely your responsibility. Not mine ...



If interested in learning more, here is a link to a PDF brochure about CRPT, supplied as part of Crypterium's Media Kit.

Closing
In closing, for a great review of why you might wish to consider owning some CRPT yourself and utilizing the Crypterium wallet, here is an excellent review post written by our fellow Steemian, @revisesociology.
If you do, I trust you will find this post helpful. If you decide, as I did, that the Binance DEX is where you'd like to handle the details of your exchange to get some CRPT. I'd love to hear any feedback you may be inspired to provide.
Until "next time," all the best to you for a better tomorrow, as we all work together to build up our Steem Communities and increase the value of the Steem blockchain! 👍 😊
Respectfully,
Steemian @roleerob
Posted using SteemPeak and "immutably enshrined in the blockchain" on Saturday, 21 September 2019!

Interested in reading more of my "technical aide" posts? Great!


________________________

SteemPeak: An awesome interface for our Steem blockchain.


Source: SteemLeo tribe founder @khaleelkazi!
SteemLeo: A Steem blockchain tribe devoted to investing!
Discord: SteemLeo's Online Community!
This account is protected by @dustsweeper