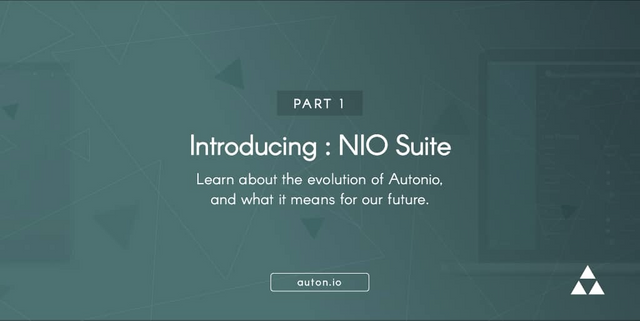 NIO Suite: One Platform, Three Products For Crypto Traders
The NIO Suite provides a foundational toolset for the cryptocurrency trading industry. It bundles the three most widely used components for effective cryptocurrency trading into one integrated platform, which will be available for free to anyone with an internet connection.
Hence, NIO Suite consists of three flagship products available to traders:
1. AutoNIO, an automated-trading terminal,
2. NIOdex, a decentralized exchange; and,
3. NIOnet, a sentiment analysis tool powered by AI.
The current iteration of the NIO Suite, consisting of the Autonio platform, can be downloaded today on the Autonio website. Download the Suite now and join over 1,000 other active traders in finding and utilizing top trading algorithms.
Upcoming integration with NIOnet will bring sentiment analysis directly into the Autonio interface, allowing users of the NIO Suite to make strategic and holistically-informed trading decisions on one central platform. Traders in need of an efficient exchange to execute their strategies, will soon be able to migrate their orders onto the NIOdex, where they can securely trade, stake, refer, and earn cryptocurrency.
The NIO Suite has been carefully designed to democratize access to cryptocurrency trading whilst strictly adhering to the ideology of prosperism: the belief in spreading wealth based on incentivized and equitable sharing of assets.
The NIO Suite's democratic governance structure ensures that individuals will have a say in the future development of NIO infrastructure, ensuring that platform development will never be controlled by the self-interest of a single, powerful party.
More details on the components of the NIO Suite will be released in the coming days. It can be accessed below as the posts are released.
NIOdex
NIOnet
NIO Token Utility
About Autonio Foundation and its products
Autonio stands for Automated Nexus of Intelligent Operations and it represents the trading platform that integrates the relevant tools and services to meet the values of Crowdocracy and Prosperism. We aim to empower the community by providing the tools for financial independence, health, responsibility and security, and we are striving to give the average trader everything it needs to have an edge in the competition with the pros, our products being built by the people, for the people and of the people.
This is a trading system that makes crypto-trading easy, rewarding, competitive and fun, by allowing traders to design their own investment strategies and compete with peers. Traders can learn, take profit and win. For more information, please visit https://auton.io.
Join our community on Telegram: https://t.me/Autonio
Trade #NIO on the following exchanges:
IDEX.market (ETH)
Etherdelta.com (ETH)
Mercatox.com (BTC)
Nebula Exchange (USDT & ETH)
Chinese CEX FUBT.top (BTC & ETH)
Exrates.me (USD, BTC & ETH)
Follow, upvote, re-steem and spread the word.
Thank You