NIOdex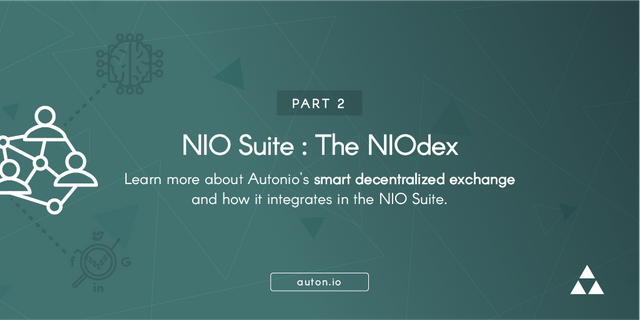 The NIO Decentralized Exchange (NIOdex) is a blockchain exchange designed for smart, secure, peer-to-peer trading. This "smart DEX" built on the 0x protocol, allows users to reliably trade cryptocurrency with minimal friction.
NIOdex was created to solve several of the largest issues associated with decentralized exchanges: high latency, high network costs, low volume, and low liquidity. NIOdex solves these problems using a hybridized design approach, centralizing non-essential exchange components like order matching while maintaining decentralization through wallet-to-wallet exchange
NIOdex was created as a sandbox for traders to test, learn, and trade cryptocurrency with security and a highly-intuitive user experience. The exchange plugs into the 0x protocol as a secondary source of liquidity and bakes in internal incentives for increased exchange usage.
In the future, NIOdex will look to fully decentralize its offerings, providing an end-to-end secure user experience. However, until scalable solutions have achieved mainstream adoption, NIO believes that a hybridized approach is most appropriate for the NIO community.
Exchange Architecture
Off-Chain Order Broadcasting & Matching
Orders on NIOdex will be both broadcasted to and matched on NIO servers. This is done to improve transaction throughput and usability.
This transaction flow provides a sound tradeoff between the scalability of centralized exchanges and the security of decentralized equivalents. By storing orders off-chain, NIOdex is able to circumvent the high latency found in completely decentralized solutions, while still ensuring that funds are transferred without the oversight of NIO servers.
Although on-chain order broadcasting and matching is more "decentralized" (censorship-resistant and tamper-proof), the throughput using this method is highly deficient (~1-2 TPS) and not tailored for algorithmic use.
Gas Fees
NIOdex's off-chain order broadcasting allows for the execution of "gas-free cancellations." Makers on the NIOdex will be able to rescind their order anytime before it is filled by takers, without incurring the gas fees associated with placing an order on-chain. This creates a high liquidity environment ideal for the AutoNIO market maker and other high-frequency trading algorithms.
0x Integration
In order to bootstrap liquidity, NIOdex will be launched with full 0x integration. The 0x protocol, as described in their whitepaper, implements an "off-chain order relay with on-chain settlement."
In layman's terms, this means that orders on the NIOdex can be shared with takers on other integrated DEX's, creating a massive shared liquidity pool. This means that any member of any 0x exchange can take a NIOdex order and fill it, which increasing the liquidity available to NIOdex users.
User Experience
The NIOdex will be accessible on both desktop and mobile systems. The exchange will be ERC-20 & 721 compatible and will list all community-supported Ethereum tokens accordingly.
Using NIOdex, users will be able to deploy their algorithms, send crypto to friends, or diversify their portfolio. NIOdex accounts are free to register, granting any interested trader immediate access to the full breadth of the Ethereum ecosystem.
AutoNIO Integration
Upon launch, the NIOdex will be directly integrated with the AutoNIO algorithm platform. Users will be able to deploy AutoNIO algorithms directly through the NIOdex exchange, as well as run the AutoNIO market maker and other high frequency trading tools. AutoNIO users can use the NIOdex to trade with security and liquidity, and can leverage deployment on the NIOdex to save funds on trading fees.
NIOnet Integration
NIOdex's integration with NIOnet provides users with the ability to conduct sentiment analysis on specific coin pairs through a single simple interface. This combination will produce the word's first "smart DEX", pairing native AI tools with the NIOdex. There are many immediate benefits of such integration, including the ability to analyze and understand the conversations taking place about a specific coin, gauge market sentiment, adjust trading strategy, and make holistically informed traders. This simplifies much of the "due diligence" fundamental to trading, instead allowing users to make simple, effective, logical trading decisions.
For more information please visit our website at http://auton.io/
Join our community on Telegram: https://t.me/Autonio
Trade #NIO on the following exchanges:
IDEX.market (ETH)
Etherdelta.com (ETH)
Mercatox.com (BTC)
Nebula Exchange (USDT & ETH)
Chinese CEX FUBT.top (BTC & ETH)
Exrates.me (USD, BTC & ETH)
Follow, upvote, re-steem and spread the word.
Thank You