NIOnet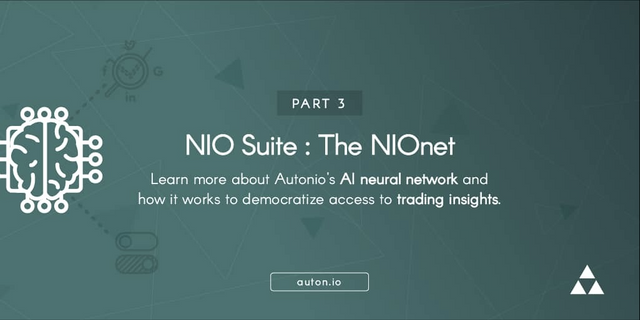 NIOnet is the NIO Suite's AI trading insight tool. It allows users to conduct complex sentiment analysis on supported trading pairs with the click of a button.
NIOnet's goal is to democratize access to trading insights. The tool allows traders who are confined to the use of poorly-constructed analytics to be able to maximize their trading efficiency using proven AI models. NIOnet's data driven analysis takes much of the emotion out of crypto trading, allowing users to make informed decisions based off of quantifiable metrics.
NIOnet leverages the use of the highly-popular Hidden Markov Model to analyze the latest market sentiment and trading patterns. This has manifested in the creation of two specific offerings: Social Media Sentiment AI and Google Search Volume AI.
Google Search Volume AI
Traders using NIOnet's Google Search Volume AI will be able to search any cryptocurrency keyword and determine whether that coin is currently sought after by the market, or out of popular discussion. The AI tool summarizes the vast amounts of search volume data available on Google to provide users with a simple buy/sell suggestion, which is then integrated with the AutoNIO platform and executable upon user permission.
This will be the first component of AI and Machine learning that the NIO team will be releasing to users.
Social Media Sentiment Analysis AI
NIOnet's Social Media Sentiment Analysis AI is designed to analyze Terabytes of Twitter, LinkedIn, and Facebook data to gauge market sentiment levels of desired trading pairs. Upon navigating to a specific market on AutoNIO, users will be informed of whether the pair of interest possesses positive, negative, or neutral sentiment, refreshing every 20 minutes to provide traders with the latest data.
Those looking for more frequent sentiment updates will be able to adjust the interval of analysis, enabling real-time feedback on supported pairs.
For more information please visit our website at http://auton.io/
Join our community on Telegram: https://t.me/Autonio
Trade #NIO on the following exchanges:
IDEX.market (ETH)
Etherdelta.com (ETH)
Mercatox.com (BTC)
Nebula Exchange (USDT & ETH)
Chinese CEX FUBT.top (BTC & ETH)
Exrates.me (USD, BTC & ETH)
Follow, upvote, re-steem and spread the word.
Thank You