Hello Steemians, 4 days ago the JSE Coin web browser mining platform became fully operational! So in this post, I am going to review the mining platform further. What is a web browser mining platform? I will show you. But first, let me remind you (or inform you if you're new to JSE) to keep in mind that there are 2 ways to mine JSE, through a website if you have one or on the JSE Coin website on the web browser mining platform. This post is just about the web browser mining platform though. Let's take a look at it! Here is what it looks like in your web browser before you begin mining: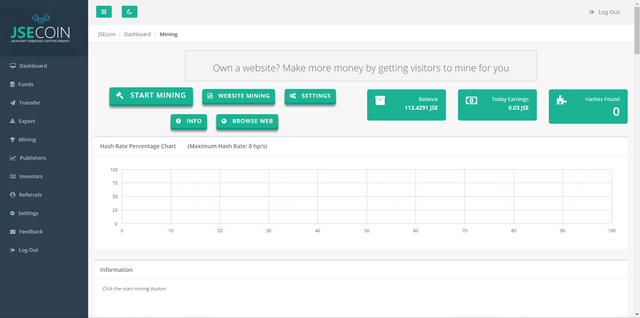 All you have to do to mine is click the "start mining" button & then this is what it looks like when you start mining: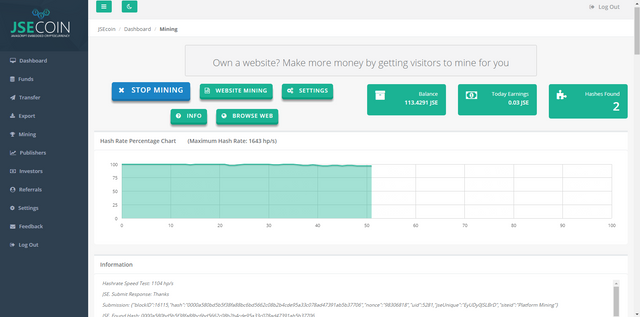 One cool feature of this web browser miner is that you can control your "hash rate accelleration" or how much computing power you are allowing for mining by clicking on the "settings" button with the little gears or cogs. The adjustment is between 1-9 & looks like this once you click on Settings:

So far in about 4 days, this is how much JSE I have earned from mining just in the background while I am on my laptop & letting it run while I sleep: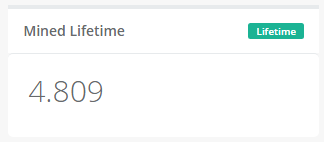 My experience/thoughts so far:
I love how easy it is to use, literally anyone can mine cryptocurrency using a web browser mining platform.
It's cool that you can mine JSE right in the web browser on any smartphone.
I have noticed that in Google Chrome, if I open up a new tab and surf the web my hash rate will drop from over 1k to under 100. To avoid this, I open up a new window for my web surfing. As long as you don't minimize the window you are mining in, your hash rate should not drop too much.
JSE Coin is still in beta so it is not perfect but I think it is on a good track for success.
If you want to try mining JSE Coin, sign up using this LINK & you will receive 0.12JSE as an early user reward as soon as you confirm your E-mail. =]
Thank you for your time!