A Coin with Absolutely ZERO Value - BOOZECOIN (& I have 1,000,000) of them.. you could easily get 100,000 for nothing !
BOOZECOIN
Sounds great doesn't it. What can you do with a Boozecoin? Well you can't drink it (yet). It's the Brainchild of Bryce Distillery who are currently in the process of producing one of alcohol's most notorious and mysterious beverages; the enchanted and bewitched ABSINTHE. It's rumoured that you can see faeries after a few tots of the green magic and is know in French as La Fée Verte, The Green Fairy.
I was given a bottle of Absinthe once by a Belgian friend. It was very small and looked like a poison bottle. I must admit, the taste was quite different to other spirits. It was certainly strong with a botanical kick and a beguiling aroma. It's made with Wormwood leaves and flowers. There's also fennel, anise and other herbs which give it a distinctive taste and smell. I didn't see quite manage to see Puck after a small glass, but it's a drink which has made a comeback after years in the wilderness and one that's gained in popularity over recent years.
BANNED
Absinthe was a popular drink in the 18th & 19th Century originating in the Swiss Canton of Neuchatel. It was a popularly imbibed by writers and artists and in part is probably responsible for the birth of modern art and modern literature. The list of famous adherents reads like a who's who of great culture, Hemingway, Picasso, Proust, (my favourite composer Erik Satie, Rimbaud, Toulouse-Lautrec, Byron, Modigiliani to name a few GREATS ! It was disapproved of by social conservatives, (probably because it was so liberating to the 19th Century libertines and was eventually banned in Switzerland in 1910 after being implicated in a particularly gruesome murder case.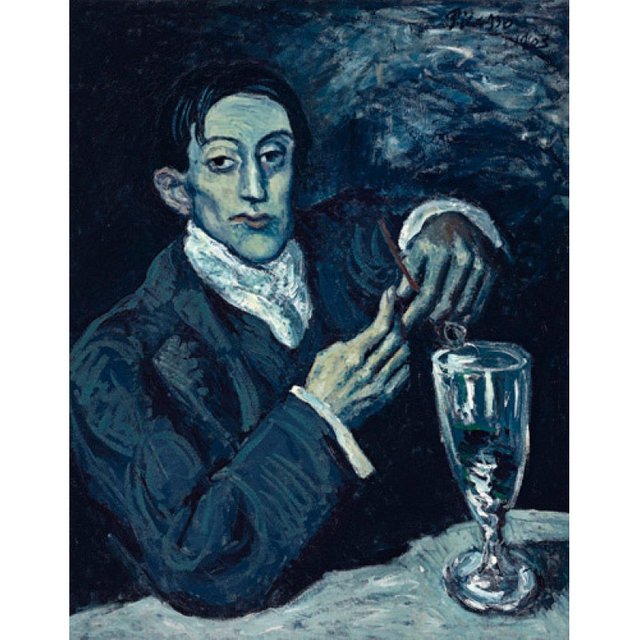 source
portrait of Angel Fernandez de Soto The Absinthe Drinker by Picasso 1903
It was swiftly outlawed across most of the rest of Europe and America. Although I'd guess ordinary beer and spirits have a hand in many an ill thought plan most Friday and Saturday evenings which has more to do with the character of the drinker than the beverage. It's adherents never stopped making it. They just stopped making it green. Who would be able to tell one colourless spirit from another just by looking ? white rum, vodka, who knows !
Revival
It underwent a revival in the 1990's after it was found to be no more harmful than any regular spirit. The active ingredient, thujone, which is present at trace levels were found not to be the powerfully addictive hallucinogen after all ! not so exciting anymore ? well perhaps the high levels of alcohol distilled in Absinthe make it attractive to more serious spirit lovers. It's typically brewed between 45-74% alcohol by volume (ABV) which is up there with the strongest rum @ 90-148 proof which was traditionally used by ships Captains' to knock out the sailors at the end of a hard day's pillaging, looting and racketeering on the high seas.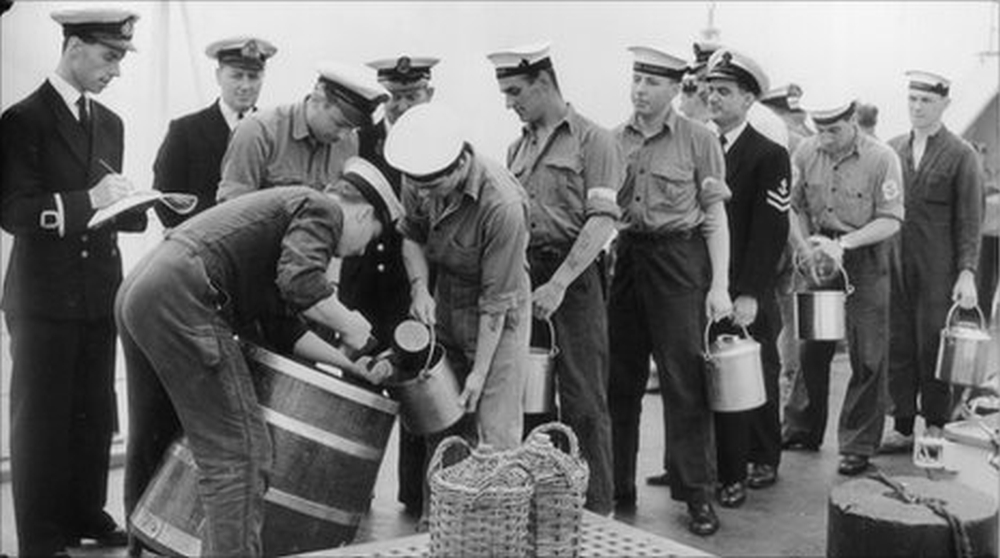 source
sailors receive their rum ration aboard the HMS Torquay - 1956
BryceDistillery
Here's the interesting bit of the story ! Bryce are a Missoula, Montana based start up and their mission is to bring Absinthe to the cutting edge of Cocktail culture. It's big business and particularly fancied by this generation's up and coming culture makers. I live Hackney in artisan produce rich, East London, England, which is a long way from Montana but I have a friend who is a mixologist. It's a serious science and incredibly hip. Botanicals is where the high end of Alcohol is and in the LA La land of entertainment, Absinthe has found it's way to the top table. I really like where Bryce are coming from. Another friend of mine has recently been working with a London Gin distillery who take a similar approach to the importance of a high quality botanical product. He's been helping them with their branding. I teach branding to start ups so I couldn't help but give my opinions.
VISIT INDIEGOGO - FIND OUT MORE AND INVEST
Branding
It's very much about accountability, authenticity, quality and quality control. Bryce have made connections with local suppliers and until they can make their own neutral spirit, have agreed to source theirs from Dry Hills with all ingredients coming from within the state of Montana itself. There are plenty of local botanicals to harvest locally. They plan to make small batch seasonals like apple spirit, in conjunction with Northwest Mobile Juicing and local cideries.

These small batch speciality products will be distillery produce only. They will not be distributed along with the core products. (The best stuff stays at home for the locals. I admire that) and wish them all the best. It's a tough nut to crack and one which requires resilience, passion and hard work. I recently visited a brewery in England (as part of a Stag Do) and was fascinated to see how the hop and malt blends make all the different beers and it was a really interesting day out, (with beer at the end). I must admit, I prefer botanically brewed and high quality spirits, If I am to drink at all. I could just imagine sipping on a tot of sour apple over ice in the garden on a sultry summer's evening. I wonder what the ingredients would be in their apple spirit, something with a tinge of sweetness perhaps ?
BLOCKCHAIN
BryceDistillery are a modern company in the making. They are crypto centric and not only accept payment in an array of your favourite crypto, but are planning to implement a BloclkChain based system of their own to track production. Boozecoin has been created as a valueless Bitshares token. It's open ended what it will be used for but maybe for promotions, tipping, who knows what ? It may even one day have a residual value. I have 1,000,000 of them and I like the idea that I have 1,000,000 of anything. I am on paper, theoretically a cryptomillionaire. Albeit with zero value !
You can read all about it here and find out more about the story. BryceDistillery is a great idea, well thought out and the passion comes across. It's one which I think will take off. As for Boozecoin, go have a look. you can boast to your friends about how many you've got. my OL= outer-ground if you want to see what 1,000,000 tokens looks like.

This is NOT a referral. I repeat, this is not a referral. Boozecoin is a valueless token and nothing is required to obtain free (valueless) boozecoins. This article is primarily about BryceDistillery who happen to have an active interest in BlockChain.