This is the perfect time to do something with Cryptocurrencies...
Cryptocurrencies are showing signs of life!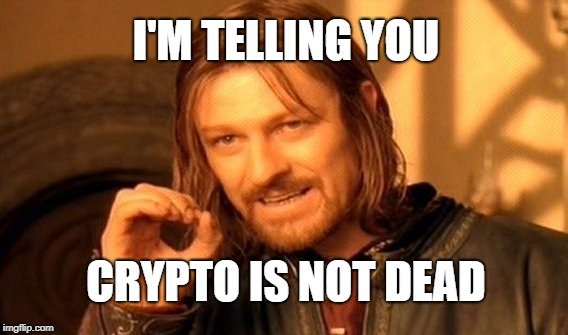 If you are familiar in the current cryptocurrencys space I'm sure you already know the founder of Litecoin, Charlie Lee, who has a lot of experience in the crypto market and has been active in this young sector for 7 years. According to Lee, it is difficult to predict when the current negative sentiment is turning. But price is not a good indication for the evolution of the sector. A deep correction is the ideal moment ... 'to Get Stuff Done'.
"It is the long term that will determine the success of cryptocurrencies. Short term does not say much. This year, for example, there is an enormous adaptation of Bitcoin and Litecoin, while the price of these cryptocurrencies is 60% to 70% lower. This is all speculation. Future prices will show the real success of crypto coins. "- said Charlie Lee.
However, it is difficult to predict when the crypto crash of 2018 will end. Lee has already experienced various periods of optimism and pessimism. One time the sentiment returns after 6 months, the other time it takes 2 to 3 years.
Focus on technology, not on course of the cryptocurrency
"But ..." emphasizes Charlie Lee, "the periods of a crypto crash are ideal for developers to focus on technological development, adaptation and find solutions to challenges such as scale."
"I'd like to see more [talk around] Lightning Network and sidechains, ways of helping Bitcoin and Litecoin to scale. I think with the price depressed, it's actually a good time for people to [...] get stuff done. That's what I've seen in the past few bear markets actually. "
Get stuff done
In my opinion this also includes buying some crypto. With prices of most cryptocurrencies still 70% lower compared to their all-time high, the end of this year is a perfect buying opportunity to make some profit during the next bullmarket.
Earlier today Bitcoin, the number 1 cryptocurrency had a small rally towards 7,200$ where it is now facing some resistance. Further upward movement to 7,500$-7,700$ is definitely possible but not guaranteed. If the market does break this resistance the probabily for the beginning of another cryptocurrency bullrun become greater.
During these bearish days and weeks I have been busy accumulating more cryptocurrencies and building my portfolio. Have you?
Which crypto coins have you been buying?
Do you think this the beginning of the next cryptocurrency bullrun?
Let me know in the comments!
HODLers, the end is near!
---
Thank you for reading.
Feel free to upvote, comment, resteem and/or follow my blog @maxdigi if you like my content. I greatly appreciate your support!
Kind regards,
MAXIDIGI