What is the Reddit community saying about Crypto?
Recently I researched what the top 50 crypto projects were stating on their homepage and also what was keeping them busy according to GitHub. This time I checked what the Reddit community is saying about cryptocurrencies. The most popular Reddit page concerning crypto surprisingly is named "Cryptocurrency" and has over 650.000 readers.  After doing some research the "daily discussion" page seemed the most neutral way to find out what the community is saying about crypto. On this page the Reddit community can freely speak of crypto, discussing various subjects. To check the comments, I used the Python Reddit API Wrapper named PRAW. Here are the results: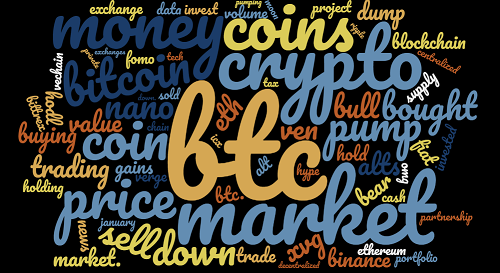 Top 10 words:  1.Bitcoin (165x), 2.Market (113x), 3.Crypto(102x), 4.Money (90x), 5. Coins (88x), 6.Price (76x) 7.Coin (74x), 8.Pump (57x), 9.Down (51x), 10.Nano (48x).  
The results
As we also saw in the results of the top 50 crypto projects homepages and GitHub pages, Bitcoin is mentioned the most on the daily discussion (BTC 165x, Bitcoin 64x). Other coins mentioned often are Nano (48x), VeChain (38x), Verge (36x), Ethereum (35x), Omesigo (17x), ICON (15x) and Ripple (10x). Other words used mostly concern the current market sentiment. For example the terms Pump (57x), Down (51x), Bull (37x, meaning the people have faith in the market), Dump (29x), Bear (28x, meaning people don't have faith in the market) and HODL (24x, meaning people are holding coins) are used. It seems like the positive terms are mentioned more often, which corresponds with the current market upward movement. Also the community is talking a lot about trading: Sell (47x), Bought (45x), Trading (34x), Buying (30x), Gains (24x), Trade (23x), Exchange (19x) and Portfolio (15x). Also the exchanges Binance (28x) and Bittrex (17x) are mentioned the most.  Other terms used in the crypto space are: Fiat (23x), Blockchain (23x), News (22x), FOMO (19x) and Tax (14x). 
I will be keeping track of the terms mentioned on the Cryptocurrency Reddit page, comparing it to my previous findings. Also I will add other Reddit pages and other sites, to create an even better image about what people are saying about cryptocurrencies.