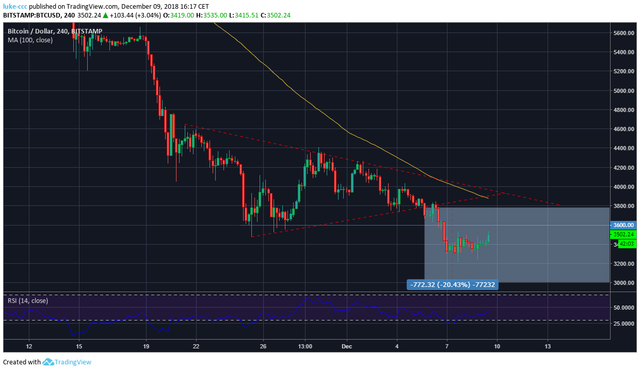 Source: tradingview.com @luke-ccc

Last week stock exchange indices recorded strong declines. Drops also did not miss the cryptocurrency market. Bitcoin also started to test the trend minima. At night, a bottom was broken at $3,600, and since then BTC has been slipping down as a breeding ground for bears. It seems that the bottom break is quite persistent, because previously there has been a successful re-test of the trend line from the bottom.
The first target point for the observed deletion from the triangle is an external measurement of 161.8%, or about $3,150, and then a slightly lower barrier $3,000 or well from September 2017. The improvement will only take place after returning to the triangle or above the level of $4,000.
---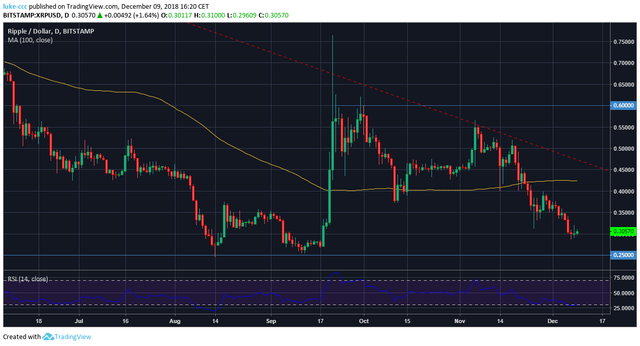 Source: tradingview.com @luke-ccc

Looking at the Ripple quotes, we notice that despite the fact that in the second half of September this year the market beat the downward trend line, but the increases did not last too long. For some time now we have been observing the decisive advantage of the sellers, which contributes to a significant depreciation of the XRP value. This fact meant that today the Ripple rate was at the lowest level since September 20, 2018.
Analyzing the current technical situation, one can come to the conclusion that if there is no strong demand reaction in the near future, this sale could reach even around the previous bottom $0.25.
---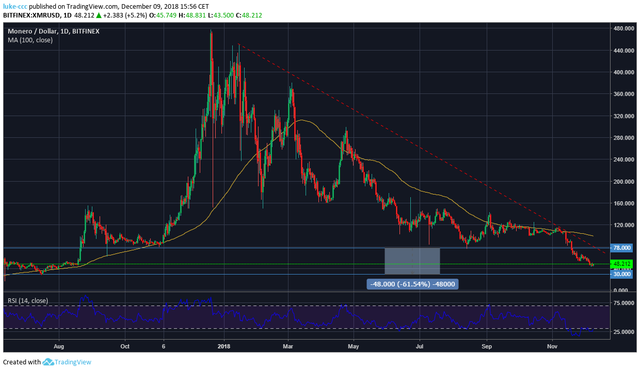 Source: tradingview.com @luke-ccc

Monero's listings are also noteworthy, the rate of which is currently at the lowest level since mid-August 2017. Considering that the nearest, significant support, in the vicinity of which some higher demand reaction might appear is only at the level of $28, in the near future we could expect a continuation of the current downward trend.
So far, it does not indicate much that the general market sentiment should change.
---

If you like this blog, you can support it with a grant:
My wallet address:
▶ Bitcoin: 1MBubGJpQkGieifNWt8TYQRHuoswFGrjj1
▶ Litecoin: LW4cdCHbiPyKYtFBVZAdUQkKBhNHU3TgcV
▶ Ethereum: 0x06B22dAB9dB5C9dDE283102B15cE75dDBED333c3