Bitcoin (BTC/USD): Evening Analysis, Short Term Pause...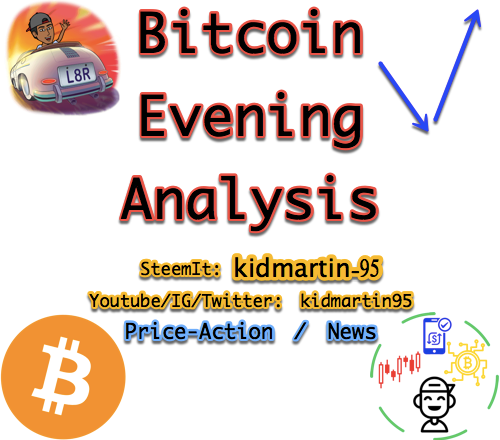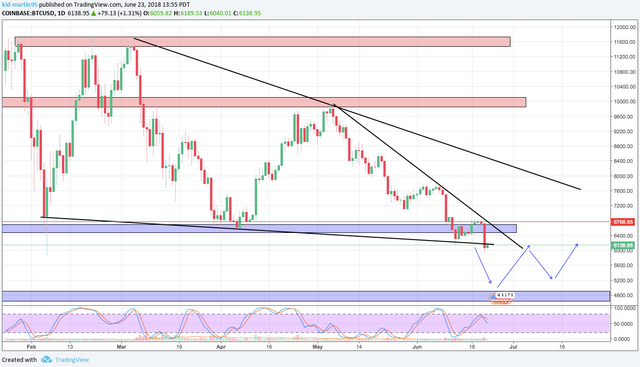 Daily
Looking at our trend timeframe we see price formed a lower high at $6,800 and followed with a radical sell off towards $6,000. Stochastic RSI showing momentum is heading towards the downside with no signs of slowing down. Next stop $5,000, where we are expecting a daily reversal at the level.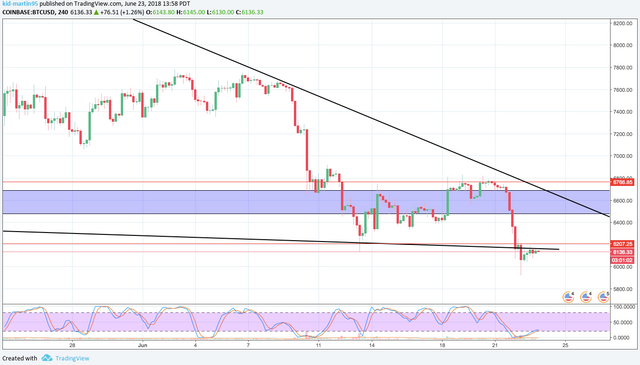 4Hour
Shifting over to our pattern timeframe we see price has pierced below our $6,000 support however if we have not closed below it. Stochastic RSI showing momentum is heading towards the upside momentarily, expecting price and momentum to continue towards the side. A 4Hour close above $6,200 and we should see a run up to $6,700, a 4Hour close below $6,000 confirms the drop towards $5,000
Conclusion
Buy: After Daily Close Above $6,200 / Daily Support At $5,000
Sell: Por Que

Comment Down below what coin you want me to do next! ;)
Thank You for Your Support, Upvote and Follow!!! New Blog and Video everyday
Social Media:
Twitter
Instagram
InvestFeed
Tradingview
Crypto Trading W/ Leverage
How to Draw Trend-lines & Identify Trends
How to Draw Support/Resistance, Price Only
Disclaimer: I am not a financial advisor nor am I giving financial advice. I am sharing my biased opinion based off speculation. You should not take my opinion as financial advice. You should always do your research before making any investment. You should also understand the risks of investing. This is all speculative based investing.