A bit of a whale circlejerk, but I really enjoyed this recent talk by angel investor Naval Ravikant. Great overall view of the playing field and highly recommended. It's true that just about everything in the human experience is made up of stories and are part of networks. Money is a story, a network. The same goes for religion, nation states, and the digital platforms that we use. So for better or worse, cryptocurrencies (or networks and stories with strong capital incentives) will definitely bring huge changes in societies around the world. It's also a fundamentally new way of organising humanity, away from old-world constructs that are based on violence.
One book he brought up during the talk is The Sovereign Individual: Mastering the Transition to the Information Age, which is something that I'd recommend too. Also, Naval mentioned that he wants to see a decentralised social media platform. Hello? Steemit is up and running for more than a year already.
The host of the talk is Ryan Shea, co-founder of Blockstack, which is something pretty similar to the BlockSurf: Your Gateway Into The New World Economy idea. Difficult to pull off, since it would take a lot to bootstrap a hub or discovery app without leveraging off a frequently used blockchain-related platform like Steemit.
Dug a little deeper into some of Naval Ravikant's older videos and I have to say, I'm now quite convinced that I should embrace my new path of being an investor rather than mixing it up with being an entrepreneur. Been in both positions since last year, and it has definitely generated some conflicts within myself. Investors and entrepreneurs really do require vastly different modes of operation. I shall write about this soon. To conclude this post, here's one of my favourite tweets from the man himself about the heuristics of investing:-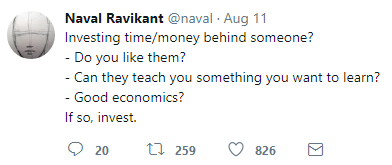 Thanks for reading and be sure to check the videos out!
---
You can follow Naval Ravikant's twitter at https://twitter.com/naval