Review of Binance, KuCoin, and COSS.IO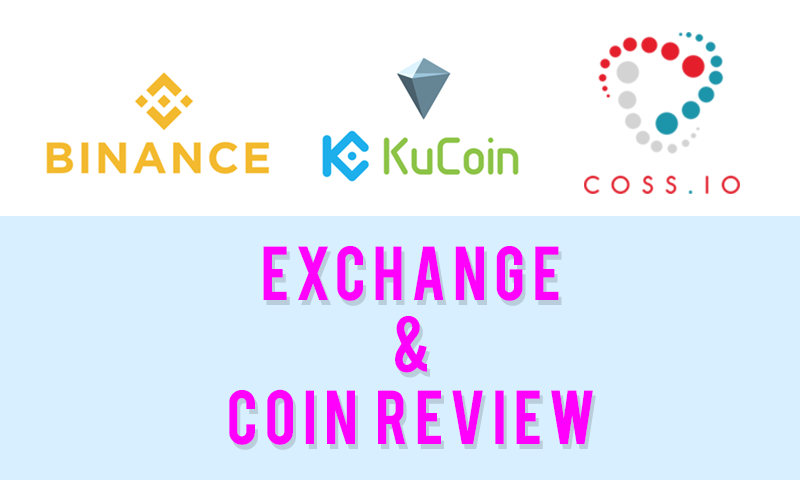 I've been trying out new exchanges over the past couple of months so here are some of my thoughts about them. Please note they're currently centralised exchanges, each controlled by one company just like Poloniex, Bittrex, and many others. So it's recommended that you only park small sums of funds in these exchanges. Don't count my word on it, but they might transform these exchanges into decentralised ones in the future, so that's something to take note of.
There are a number of decentralised exchanges already like Bitshares. They're safe, but suffering from the lack of trading volume and liquidity for the most part. That's for another post. The reason why I'm sharing this is because I think their centralization to decentralization (again, big maybe) is the smarter move for transitioning everyday users and network activities into adopting the technology.
The special thing about Binance, KuCoin, and COSS.IO is that they've their own cryptocurrency as well. Let's check them out! It's also a good time for me to share my referral links for these exchanges since I've never got any referrals before my whole life!
1. Binance - Exchange The World

Possibly the fastest growing exchange in the industry. At first, I didn't really like the user interface but I've gained an appreciation of the exchange over time as I start to understand their approach to building out the world's best cryptocurrency exchange.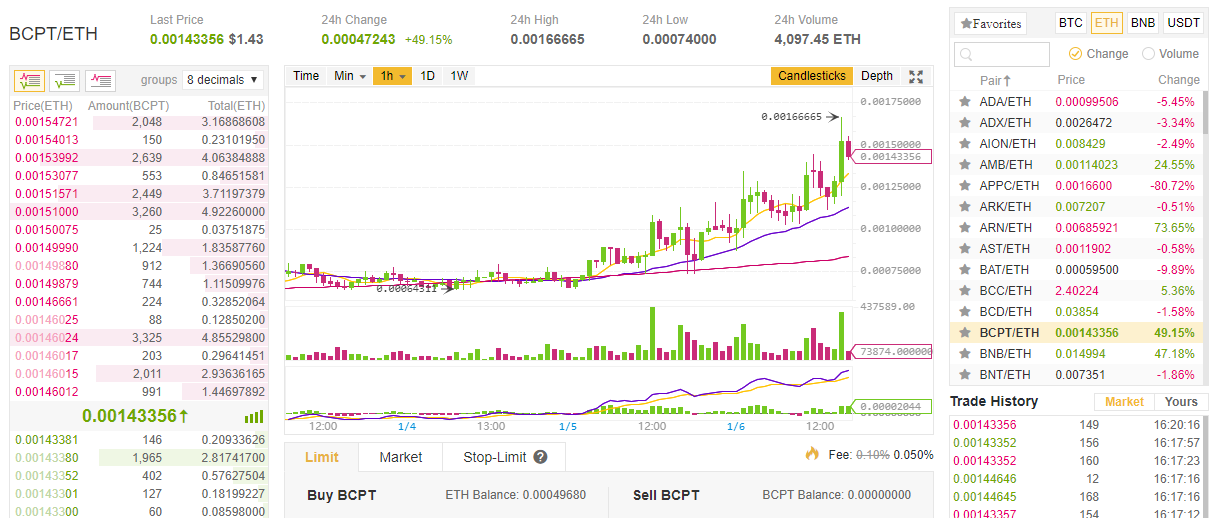 So far, the user experience has been second-to-none. Quick and responsive user-actions and exchange-feedback makes all the difference. Just about every button you click on the exchange operates at lightning speed from inserting and cancelling orders, to trade-pair switching and fund withdrawals. They've a high-performance engine in place that's capable of processing more than 1 million transactions per second.
The exchange is also very pro-active in running trading competitions and giving out Lambos to the top traders, essentially doing all they can to attract capital and activity on their platform. Now they're one of the leading exchanges in record time with the highest trading volumes. Expecting to see them grow really huge in the future. Hopefully they'll remain secure enough until their decentralisation phase.
They also have the lowest trading fees in the game at 0.1%. The Binance tokens (BNB) can used to reduce and pay for trading fees by 50% in the first year, with discounts halving each year until 0% discount at the 5th year of operation. There are other use-cases for the BNB on the Binance platform and that includes crowdsale participation, access to advanced features, and staking (perhaps in the future when they plan to decentralise).
Here's my referral link for Binance: https://www.binance.com/?ref=11593586
2. KuCoin - The People's Exchange

First noticed this exchange when people are spamming all about it in Telegram channels a few months ago. They seem to have the same modus operandi as Binance although the exchange doesn't have the same high-performance engine. The UI is better one eyes with smooth edges and all, but at the cost of browser rendering speed.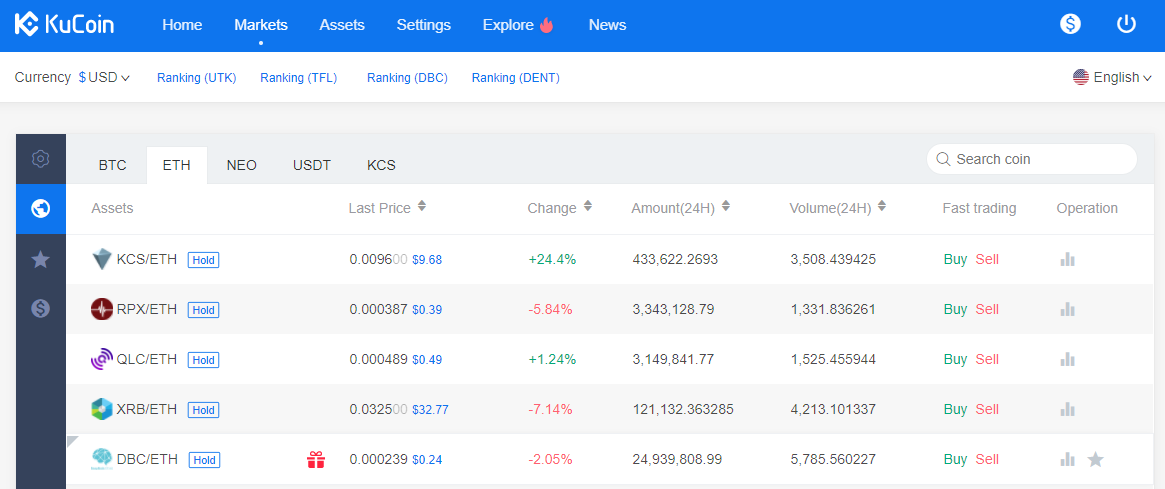 Regardless, it's still a great and growing exchange. They've even added Raiblocks recently with a whole load of other coins, running trading competitions and all just like Binance. Their trading fee is also at a competitive rate of 0.1% with referral modifiers.
As for KuCoin Shares (KCS), it's a departure from Binance's BNB token away from savings. KCS is all about profit sharing (at 50%, with a decaying rate every year) from trading fees in the network. Just get KCS on the exchange and leave them in your wallet. You'll accumulate fractions of all sufficiently-traded cryptocurrencies on the platform every 24-hours, every single day. This is awesome because it's a great diversification tool.
Here's my referral link for KuCoin: https://www.kucoin.com/#/?r=1vy16
3. COSS.IO - Crypto-One-Stop-Solution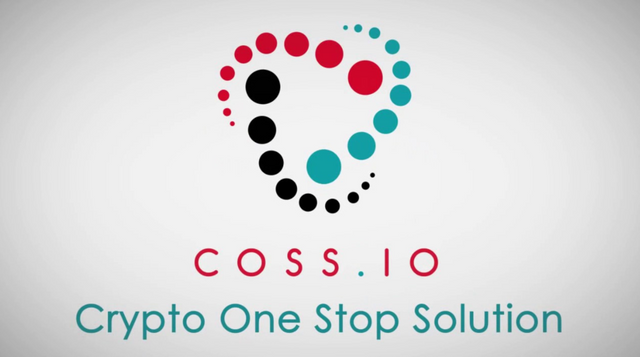 This is a far more complex project with many moving parts other than a simple exchange. However, COSS.IO has so far been operating one of the worst exchanges I've ever used. It's slow and terribly designed at its current state. I hope they have good plans to focus on getting a great exchange up and running first before everything else they wish to achieve.
The only redeeming factor at the moment is its relatively cheap COSS token and a great potential if the developers learn from the teams in Binance and KuCoin. The COSS token is also similar to KuCoin's as it shares 50% of the trading fees (and to my understand, the ratio will be maintained at 50% throughout the project's lifetime, unlike KuCoin's decaying profit-sharing ratio).

Trading fees being at 0.2% is also not as competitive as the rates in Binance and KuCoin, but not a bad deal for a profit-sharing exchange. As for the COSS token payout from profit-sharing, the process is a little more complicated than KuCoin's and you don't actually get to own a diverse range of traded coins. On COSS, you'd have to convert them to Ethers. It's a weird design choice, in my opinion. It's also based on weekly payout that unfortunately has a more cumbersome process than KuCoin's.
Regardless, the price of the COSS token under $50m being 10-30 times lower than BNB and KuCoin is reflective of its current state. Until their exchange is able to handle trading volumes of more than $1-2 million, I'm not expecting any growth in this coin. High risk, high potential I guess. So far I have feeling they're not moving fast enough. Now that I'm stuck with some COSS tokens, I really do hope they continue to improve and make strides in their roadmap.
Here's my referral link for COSS.IO: https://sso.coss.io/api/invite/PN91PSNK71Z
Conclusion
Performance and satisfaction by rank:-
Binance (Exchange 5/5; BNB token 5/5). High-growth potential but makes it likely to be targeted for exploits.
KuCoin (Exchange 4.5/5; KCS token 5/5). High-growth potential but makes it likely to be targeted for exploits.
COSS.IO (Exchange 2/5; COSS token 3/5). Low token price compared to BNB and KCS. Could grow upon improvement.
At time of writing, it seems all 3 projects have plans for transitioning into decentralized exchanges, so again, might be worth noting this information. I hope Steem gets listed on these exchanges at one point, especially Binance.