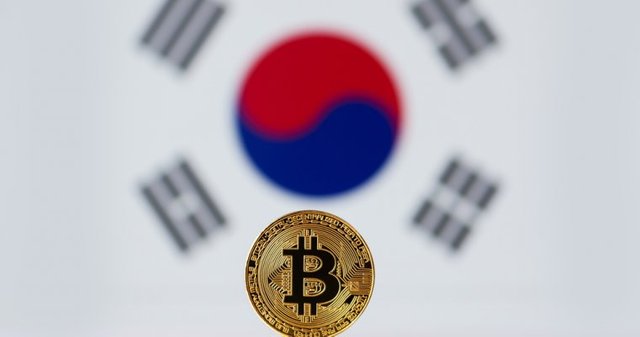 In official news released by the South Korean government, it was confirmed that no cryptocurrency trading ban would be coming now or any time in the near future.
The official translated release from the Korean government can be read here:
"First, the South Korean government will pursue the crackdown on anonymous cryptocurrency trading accounts and will punish market manipulation, money laundering, and fraudulent transactions through joint investigations participated by the local law enforcement and financial authorities.
Second, the cryptocurrency trading ban proposal introduced by Justice Minister Park Sang-ki was a suggestion made by the Justice Ministry on December 28 to bring speculation within the cryptocurrency market under control. The proposal will be discussed and changed by the task force participated by the Ministry of Strategy and Finance, central bank, Fair Trade Commission, and other agencies.
Third, excessive speculation and fraudulent activities will be met with severe consequences. But, the government will support and even finance blockchain technology development."
(Source: https://www.ccn.com/south-korea-govt-confirms-no-cryptocurrency-trading-ban-market-optimistic/)
Exchanges in the region now optimistic about doing business?
Two of the largest exchanges, Bithumb and Korbit, are now very optimistic about the decision by the government to further regulate the space instead of outright banning it.
In fact, it was confirmed by a person from Bithumb that practical regulations are already being implemented on the exchanges.
According to the announcement, exchanges in South Korea are happy to comply and are saying that they will be compliant with the new regulations and policies in order to ensure the market remains "transparent, fair, and stable."
(Source: https://www.ccn.com/south-korea-govt-confirms-no-cryptocurrency-trading-ban-market-optimistic/)
It is also reasonable to believe that the increased regulations will encourage MORE investment from Korean investors as they feel safer to put their money to work in presumably a safer investing environment.
Did the people's response to the original announcement have something to do with this?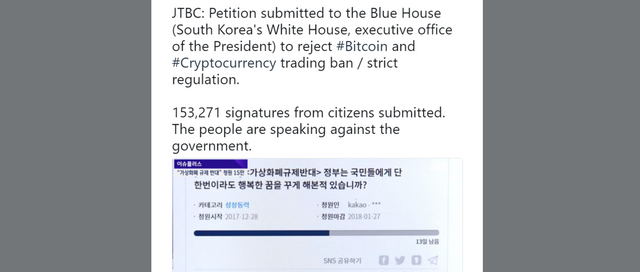 (Source: https://twitter.com/iamjosephyoung/status/952183566531612676)
I would have to say that it probably did.
Any time that you have 150,000+ signatures sign a petition against something you are proposing within the first couple days along with a massive outcry on social media platforms, it is probably a pretty good indicator that you don't have the public's backing.
However, this sets an interesting precedent going forward. It somewhat creates a blueprint for what other investors/traders can do should their country decide to ban cryptocurrency trading.
If they try to ban cryptocurrency, just tell them (in large numbers), that you won't stand for it and there is a chance it might get reversed.
Overall, this was hugely positive for the markets as South Korea was responsible for roughly 10-12% of the total volume of crypto trading, depending on which day you checked.
There you have it, after days of fearful trading in the crypto markets, it turns out it was all much ado about nothing.
Now, the question becomes, what will prices do now that a major headwind has been removed?
I have a guess...
Stay informed my friends.
Image Source:
https://www.ccn.com/south-korea-govt-confirms-no-cryptocurrency-trading-ban-market-optimistic/
Follow me: @jrcornel