Is This The Beginning of Cryptocurrency Mass Adoption?
As I was checking emails this morning, I came across two things that really caught my attention. 
The first was an email from StockTwits.
StockTwits is a twitter like website where traders talk about different trading ideas as well as what is going on in the markets. In most cases it focuses on US and global stock markets. 
However, today when I opened the email, look what was second on their most talked about list: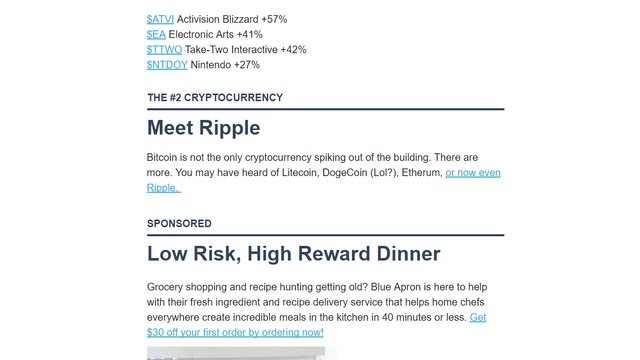 Ripple was one of the most talked about investments on the platform...
Then as I scrolled down a bit more, I came across this: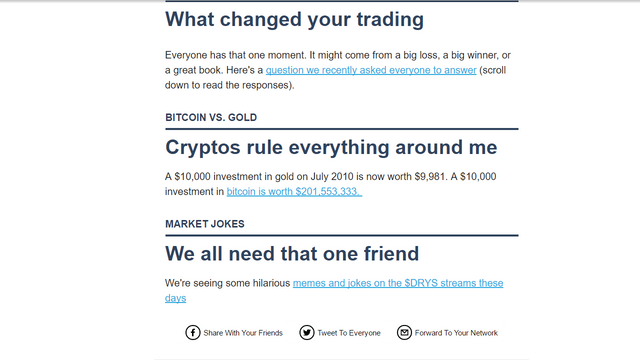 A blurb about cryptocurrencies in general.
A few months ago I never saw headlines like this. There was the occasional headline about Bitcoin but never about other coins or really even about the cryptocurrency space in general.
Is this the beginning of a changing of the guard?
Those two things were nice, but what really got me excited was what I stumbled upon a few minutes later.
It was an article about Mike Maloney, the founder of precious metals broker GoldSilver.com, talking up his usual doomsday scenario: 
"Back in the year 2000, it was stocks. In the year 2008, it was stock and real estate. This time, it is stocks, real estates and bonds and they are all in some of the biggest bubbles of all time. When these burst, it's going to be devastating for most people but it doesn't have to be devastating for you." 
Only there was a little twist this time.
He said to buy physical gold and silver of course, but he also had this to say:
"You want to have an alternative monetary system that is already ready to go and those actually exist today. They are called cryptocurrencies. It started with Bitcoin. There have been several others that have been introduced. I own a few of them. I don't own a lot of cryptocurrencies but I think it is something that is necessary to be prepared because if the monetary system fails, you'll be able to do transactions right away with other people and you can do them over long distances. You can do them over the Internet just like you pay with your credit card today." 
Wow.
So, one of the most staunch gold and silver guys is now including Bitcoin and cryptocurrencies into his basket of possible safe havens if the global economy collapses or if there is fiat monetary collapse. 
Many investors in the gold and silver camp view bitcoin and cryptocurrencies as too risky of an investment for several reasons. A main one being that if the internet were to collapse, they would essentially be worthless. 
However, Maloney notes that cryptocurrencies make a lot of sense from a person to person transactional perspective. They are fast and can be done over vast distances. He didn't advocate loading the boat up at these levels, but he did disclose that they make up a small part of his investing portfolio.
By the way, check out what Bitcoin has done versus gold (as well as many other assets) since 2010: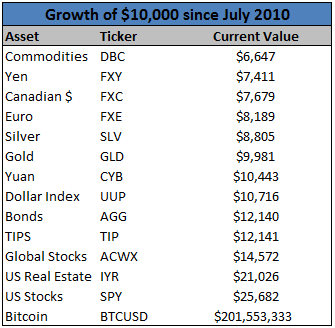 Talk about out-performance! 
So, we got stock-trading news letters now talking about cryptocurrencies and we have gold and silver bugs mentioning them as possible hedges against the impending financial doom. 
It seems we are on the right track. Hopefully this is just the beginning!
Stay steeming my friends.
Sources (including images):
http://mailchi.mp/8d9ab9578c8d/cryptocurrencies-and-video-games?e=d48cf0b97e
https://cointelegraph.com/news/keep-bitcoin-for-impending-market-crash-prominent-gold-investor
https://stocktwits.com/charliebilello/message/82819194?utm_medium=community-email&utm_source=dailyemail&utm_campaign=outboundteam
Follow me: @jrcornel