Earlier this morning Ether surged to over $350 per coin. Setting yet another all time high. 
Since early January Ether has been on an incredible run. Trading for around $8 at the time, it has now run up over 4,000% in just the last 6 months. 
During that same time Bitcoin is up just over 200%. A great return in it's own right, but it is pretty clear to see where the major returns are coming from.
To put this run that Ether is currently on into even more perspective, it was trading for around $.90 in January of 2016. I won't even get into the percentage returns on that, but it's huge.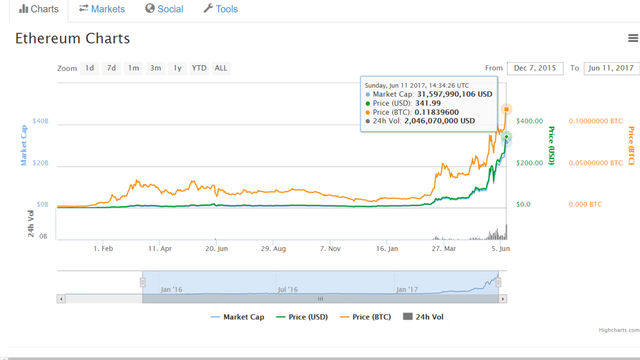 Ever since Bitcoin was created in 2009, it has been Bitcoin and then everyone else.
However, in the last couple months there has emerged the first real legitimate challenger to Bitcoin's throne. 
Ethereum is backed by big time Wall Street corporations such as JPMorgan, Microsoft, and Intel. 
The entire list can be seen here:
 https://entethalliance.org/members/ 
I did a post a few weeks ago talking about some of the companies backing Ethereum, it can be read here:
https://steemit.com/bitcoin/@jrcornel/bitcoin-tops-usd2500-and-ether-tops-usd210-both-all-time-highs
The dollar trading volume between the two has gotten startling close.
Usually the dollar volume traded each day is dominated by Bitcoin. However, over the last 24 hours, Bitcoin and Ether have both traded roughly $2 billion USD each.
Furthermore, Ether's market cap now sits at $31 billion, which is over half of Bitcoin's current market cap. That might not sound like much, but no coin has really ever gotten close to challenging Bitcoin's market cap leadership position until now. 
Bitcoin has fallen below the 50% threshold of the entire market cap of the crypto space for several months now, and even though it has risen over that time, it still hasn't been able to regain that 50% threshold.
The primary reason is because of the incredible surge taking place by the rest of the virtual currency space.
What is Ethereum?
From their website (https://www.ethereum.org/), Ethereum can be defined as:
A decentralized platform that runs smart contracts. Applications that run exactly as programmed without any possibility of downtime, censorship, fraud, or third party interference. 
These apps run on a custom built blockchain, an enormously powerful shared global infrastructure that can move value around and represent the ownership of property.
This enables developers to create markets, store registries of debts or promises, move funds in accordance with instructions given long in the past (like a will or a futures contract) and many other things that have not been invented yet, all without a middle man or counterparty risk.
Basically, Ethereum hopes that it could one day become the backbone for the entire world with many decentralized applications running on top of it in some shape or form, casting a much broader net than Bitcoin. Scaling issues aside, that is the ultimate vision from Ethereum creator Vitalik Buterin.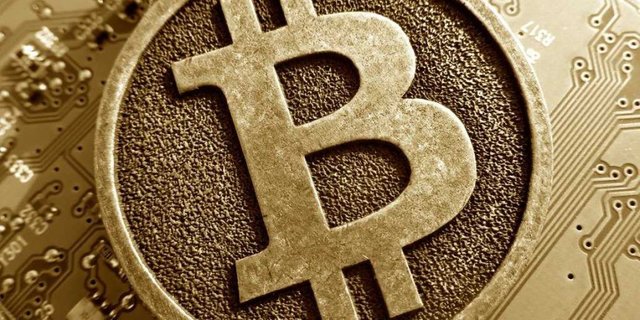 Either way, Bitcoin is not going away.
No matter if Ethereum or some other coin eventually overtakes Bitcoin in terms of marketcap, it is not going the way of the dinosaur. 
It is already too entrenched to completely disappear. Even if the technology behind it's blockchain is a bit dated. 
It seems likely that at some point someone will overtake Bitcoin, and it looks likely that someone might be Ethereum. However, even when that happens I still find it hard to believe that Bitcoin is not the first name mentioned when talking about crypotcurrencies. It's hard to replace it's first mover advantage. 
Perhaps with enough people using a Steem powered social media site we can one day talk about Steem surpassing Bitcoin as well in terms of market cap. 
That day seems a long ways off, but it sure would be a fun day indeed. 
Stay informed my friends!
Sources:
https://themerkle.com/ethereum-value-surges-to-us350/
https://bitcoinmagazine.com/articles/vitalik-buterin-on-his-long-term-goals-for-ethereum-1462381147/
Image Sources:
https://bitcoinmagazine.com/articles/vitalik-buterin-on-his-long-term-goals-for-ethereum-1462381147/
https://coinmarketcap.com/currencies/ethereum/
Follow me: @jrcornel