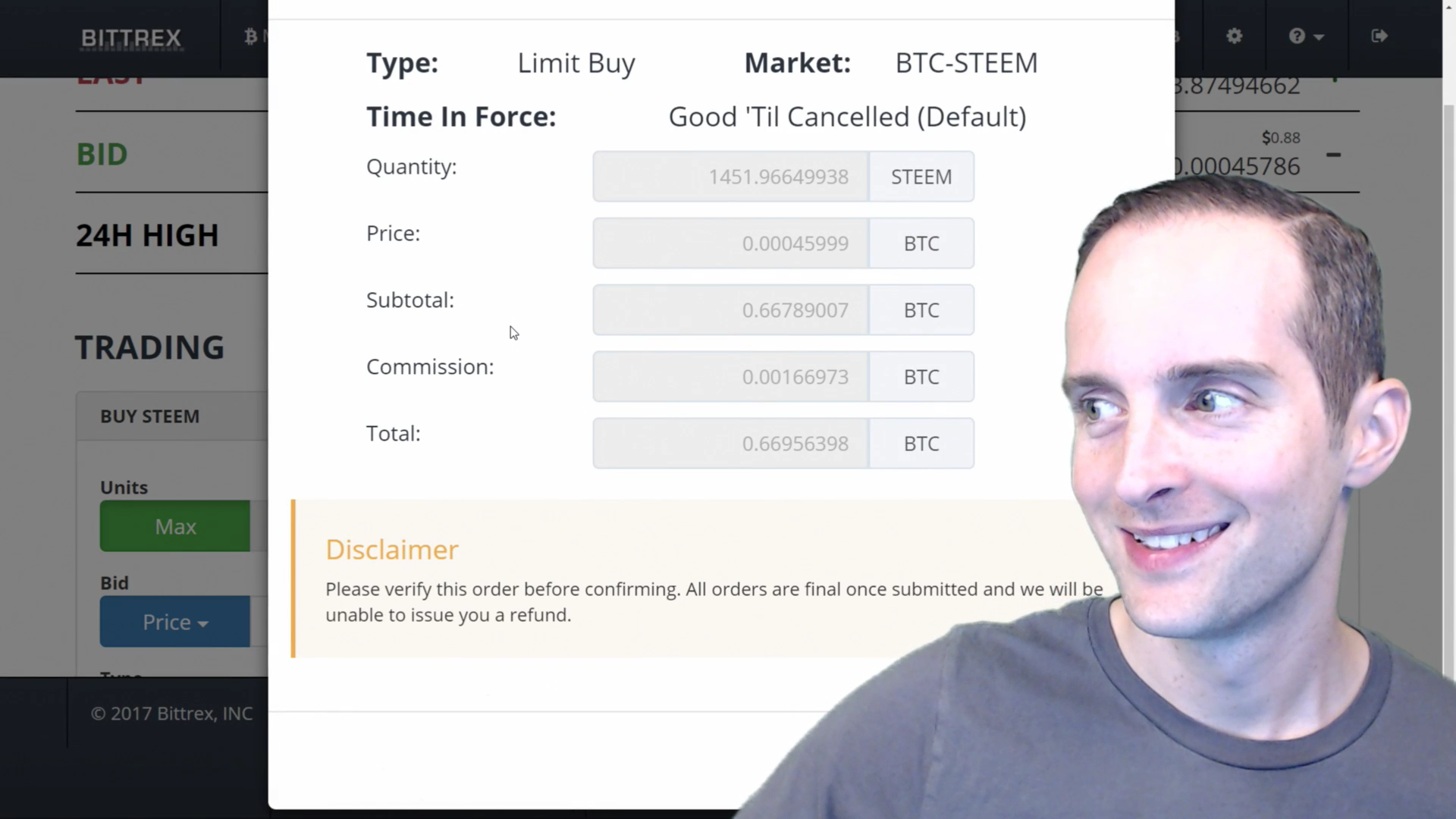 This cryptocurrency sale is amazing because prices for Steem are not likely to ever be this low again! I bought 1451.966 more Steem on Bittrex today after buying 1023.206 STEEM yesterday because I think Steem is going to hit $10 within a few months! If the price would drop down to $0.50 or lower over the next few weeks I would be really excited because then I will be able to load up before the increase! On Coinbase, I am depositing $5,000 more and am loving what I see as the last opportunity to get Steem cheap before it goes to outer space!
Why are all cryptocurrency prices dropping?
On August 1, 2017 the Bitcoin network is going to update to follow the Bitcoin Improvement Proposal 148 (BIP 148) which will update the network to an improved protocol featuring an increased blocksize, script versioning, signing of input values, increased security for multisig via pay-to-script-hash (P2SH), reducing UTXO growth, efficiency gains when not verifying signatures, and malleability fixes. Read more at https://github.com/bitcoin/bips/blob/master/bip-0148.mediawiki.
The fear and uncertainty from this change has led to a lot of selling in almost every digital currency meaning more seller orders than buy orders keep driving the price down.
Will there be a soft fork or a coin split or some other disaster?
No because the majority of miners will want to protect their investments by not causing any trouble with splitting the blockchain and will benefit from the improvements. Naturally this update is a good focal point for fear and uncertainty amidst what has been an insane buying wave recently for altcoins especially. There is nothing to worry about with this change because it will make Bitcoin better and presents huge opportunity to buy in while prices are low! For total safety, sell Bitcoin into an altcoin like Steem to avoid any potential issues in case I am wrong!
When was the last time the market dropped like this?
In 2014, I was certain that the Bitcoin price would be over $1,000 again someday when it was at $600. I started buying all the way down to $170 at which point I had almost $10,000 invested. The problem was I trading for short term profits more than planning to buy and hold. Every price drop jumped me into fear and often prompted me to sell at exactly the wrong time including selling all my Bitcoin for around $200. Today I realize that when the market is dropping that is when I want to buy in and then hold indefinitely because the profits are there. I am grateful I started buying Bitcoin again at $300 which was hard to do after I had sold it all because long story short that is how I now have over 40,000 Steem today.
Is today the best time to buy Steem we have seen in a month?
Yes! The price has not been this low since May 2017 and I think after the next big price jump will never be anywhere close to this again maybe for 10 or 20 years. You can see how much I bought today and I am hoping to be able to buy thousands more while the price is low before Steem goes crazy as with hit critical mass with people discovering that this is really a top 5 currency with #1 potential! I made a matching with this post that you might enjoy on YouTube!
Thank you for reading this and for every comment you have made already! I am reducing to 1 or 2 posts a day again after my experiment and am scheduling more time to spend with you in the comments because your feedback helps me better serve you!
Would you please vote this post up today if you found this helpful because your upvote is how I know that you would like me to write more like this?
Love,
Jerry Banfield