Cryptocurrency Market Cap Exceeding $200 Billion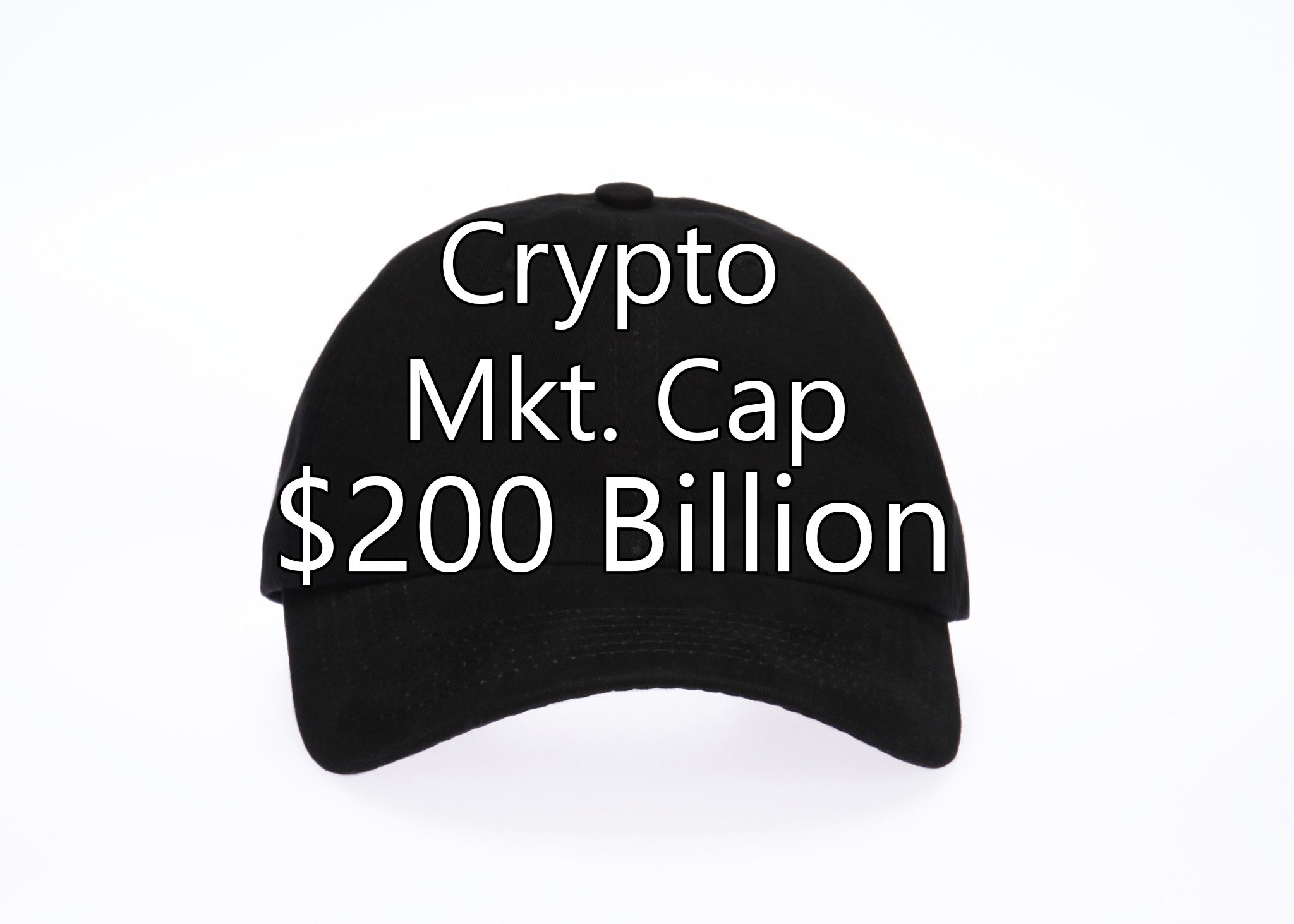 On November 5th the total cryptocurrency market cap broke through $200 billion, mostly thanks to Bitcoins run from $6000 to $7000 plus. Current Bitcoin dominance (percentage of total cryptocurrency market cap) is 57.1% as of writing this. Bitcoin's market cap is now $115 billion per Coin Market Cap data.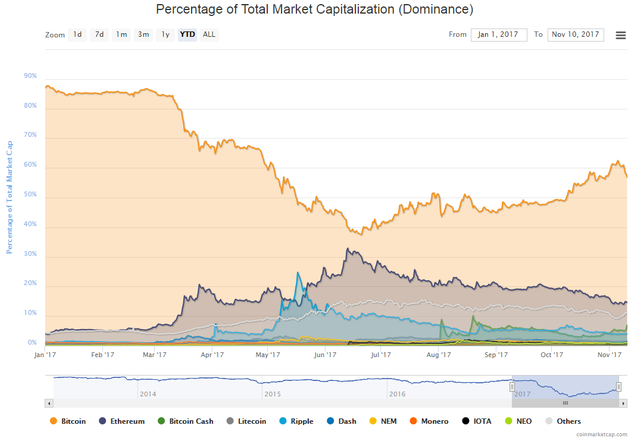 Photo courtesy of Coin Market Cap
The cryptocurrency market cap has went from a dainty $17 billion at the start of 2017 to over $200 billion in 11 months. That's 1100% plus growth for the market space in a very short time. Many people worry that it is a bubble just waiting to pop, and now people are trying find the "top" of Bitcoin. I agree that this is 100% a bubble, but this is what happens with any new technology, whether it was the tech bubble of the 1990's or when the railroad bubble popped in the 1890's where a quarter of railroads found themselves bankrupt.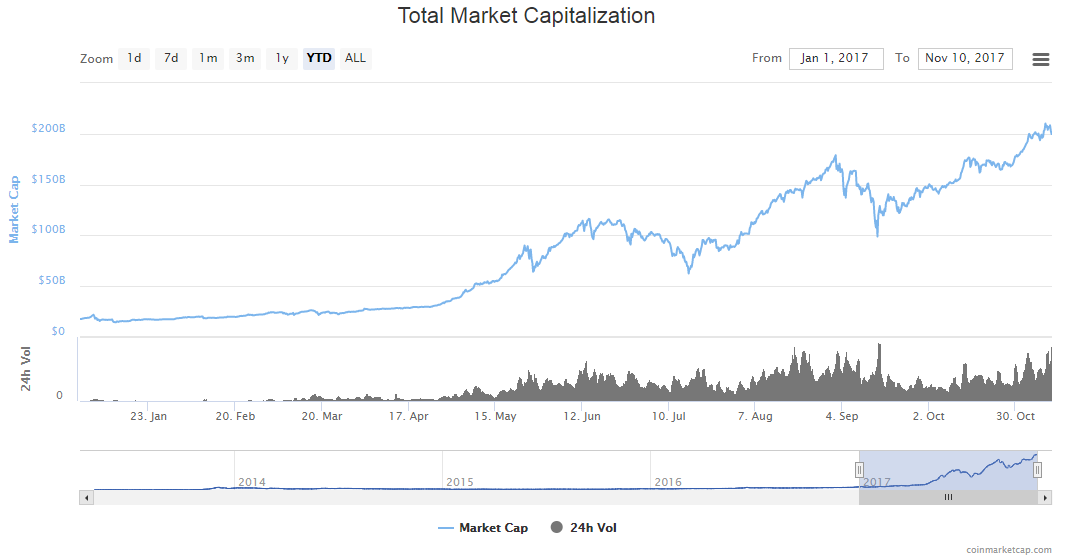 Total Cryptocurrency Market Cap courtesy of Coin Market Cap
On the year to date (YTD) view, the market growth doesn't look to concerning, but if you zoom out, it looks much more concerning. There is no doubt we are in a bubble, all you have to do is look at Coin Market Cap and look at the 1,273 coins listed and ask, "does this coin make any business sense and does the token have utility, or is it just a speculation vehicle." Back in May Coin Market Cap had only 700 coins listed, and what's even more concerning is this tweet by ICO Alert.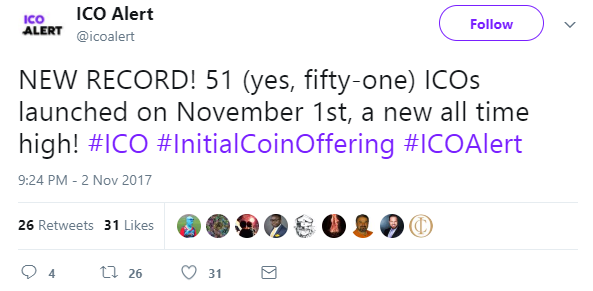 That tweet should concern anyone in crypto, and it goes to show that the ICO train is still running strong. Back in September I wrote an article covering the absolute insantity that Initial Coin Offerings (ICO) had become. At the time I thought it was bad that their were five new ICOs launching a day for the rest of September, clearly that pales in comparison to what we saw on November 1st.
The inevitable day when there is a correction to the crypto market will be painful for many, especially since there are no kill switches. Kill switches allow market administrators to "kill" trading in the event of market disruption or major trading events. Most regulated exchanges like New York Stock Exchange (NYSE), or Chicago Mercantile Exchange (CME) have them to ensure market fairness. In crypto, there is no market fairness and the markets run 24/7, 365, so you could be well asleep while the coin you're holding loses 80% of it's value.
This is a good reminder to Invest what you can afford to lose.
Future of Cryptocurrency
Crytocurrency is here to stay and the cat is out of the bag at this point. Many try to say it's not backed by a government, so it can't be trusted, but with time they'll come around. Plus recent polls have shown millenials are much more accepting of cryptocurrencies.
Woonomics made a great photo that truly says it all.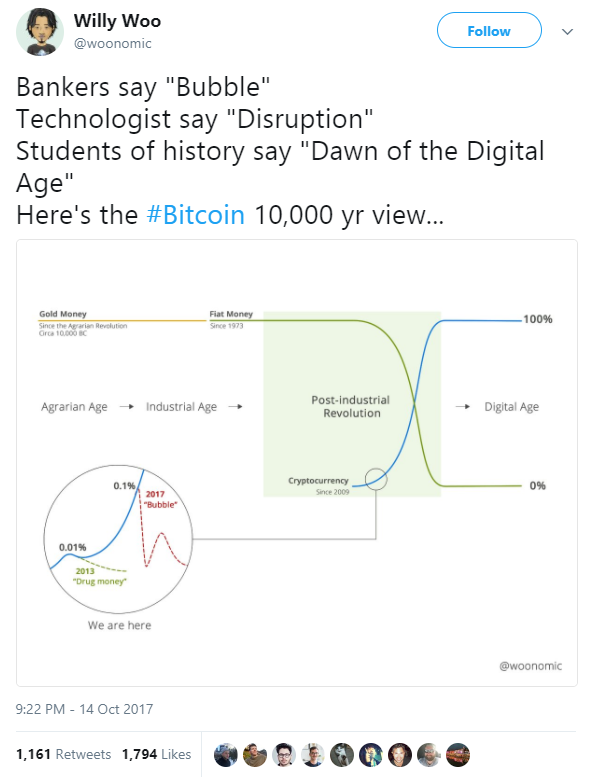 My prediction is we will see a trillion dollar cryptocurrency market cap by December 2018, and that's being conservative for the rate cryptocurrency has been going up this year. With more institutional money seeping it's way into cryptocurrency it's only a matter of time before we cross the trillion dollar mark.
When do you guys think we'll cross the trillion dollar mark? Comment below and we can come back later down the line and see if our predictions were right.


If you liked this content, please upvote, comment, share, and resteem it!
Follow me @investoranalysis
Thanks!
Disclaimer: This is not investment advice, always do your own research. It is very important to do your own analysis before making any investment based on your own personal circumstances.