If you are in crypto for some months now, and holding, there is every probability that you are exhausted much like I am. If you entered in December last year or at the peak of January, and still holding, I know your pain. It's been that kind of story for months now. Dip. Dip again. Another dip. Yet another dip. We have been dipping since the end of January and there seems to be no stop to it. But let's hope there is. Let's hope the stop is here and the good times are ahead.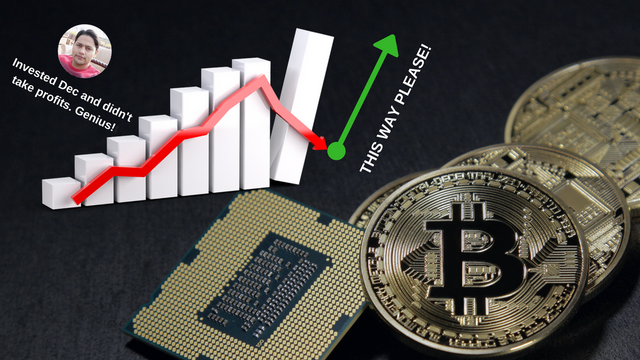 Dip: The Time to Buy!
The best thing about dips is that you can buy more coins with less money. If your investment dips even further, you can buy even more to create an average price. If the dips don't stop, you can keep adding small positions. Adding positions on dips gives you many advantages.
Whenever the price rises significantly, you can sell whatever amounts are in profit while keeping those amounts which were bought higher.
If after you sold your coin, the price drops again, you can buy even more quantity by utilizing funds from the purchase. A rise again means an opportunity to sell again at profit.
If you wish to be invested in a project for the long term, a dip is a nice opportunity to add some more coins to your portfolio. Your gains will be many times after some months/years because of low buy price.
In the short to mid term, a dip is a nice way to put your fiat money into Bitcoin or altcoins and take it out when there is a significant profit in a few days/weeks/months. (Do this keeping in view tax laws and other considerations).
Too Many Dips Break Your Motivation
You may be a very good investor with a great mindset but when your investments go down regularly, it hurts. It can be very demotivating to see your coins being sold like crazy because there is FUD (Fear, Uncertainty, Doubt) in the market. I have seen my coins fall upto 80 % (and I was wise to buy some at lower prices). Crypto was crazy in December and any coin could make anyone rich. That's not the case anymore. There are no more get rich schemes left. What's left is a dull market with far less volume than witnessed a few months ago.
However, it's not the time to get out of crypto. I think it's the best time to get in if you haven't already. Majority of newcomers in crypto got in in December/January period. If they got out with some profits, fine. But if they held like some of us, it was the worst time to get in.
I Think Market is Near a Bull Run 
And a bull run isn't 10, 20 or 30 % gains. A bull run is a massive influx of institutional money combined with the FOMO (fear of missing out) money which results in epic gains like 100 % or more in a few weeks in almost every coin out there. It's a frenzy.
I do think there is one around the corner. This dip may very well be the last dip before a happy time for crypto lovers. I strongly think so.
My Favorite Coins
I have exhausted all my current resources already so I can't buy anything for some days now. Except EOS, I have collected almost all of my favorite coins in some quantities. I am not a trader and have an emotional attachment with the technology and projects. These traits may harm my chances of making money in the short term but I do know that I am positioned well for the long term.
Here are the coins I bought during this ongoing dip.
CARDANO - I added some quantity to the already existing one.
Matrix AI Network - A recent project with interesting tech and partnership.
THEKEY - A digital identity on the blockchain project to be used in China. Interesting partnerships and collaborations.
SUBSTRATUM - One of my favorite projects working on decentralized web. Bought just before a further dip but glad to add some to an already held amount.
ICON - Korean blockchain project with a lot of backing and hype.
NEO - Neo Smart Economy is a thing to watch. Interesting project with seemingly great future.
NEBLIO - Blockchain platform being compared to Ethereum and other platforms.
SMART - SmartCash is an interesting project with a great roadmap. In it for passive income via Smart Rewards and a potential rise to prominence on the cards.
I will miss not being in EOS. I am still finding ways to get a stake in EOS. It should not be missed. 
No Financial Advice  
Contents of this post are not to be taken as financial advice. Do your own research (DYOR). The purpose of this post is to start a discussion on crypto and in a way educate new people about this nascent economy. I have included some terms like DYOR, FUD etc to familiarize people with crypto lingo. There will be more detailed posts about crypto in future.
What coins are you invested in?
Which coins did you buy recently and why?
When did you enter crypto?
Do share your answers in the comments below. Resteem this post to start a positive sentiment about crypto. Thanks for being such an amazing community.

Some Crypto Blogs of Mine