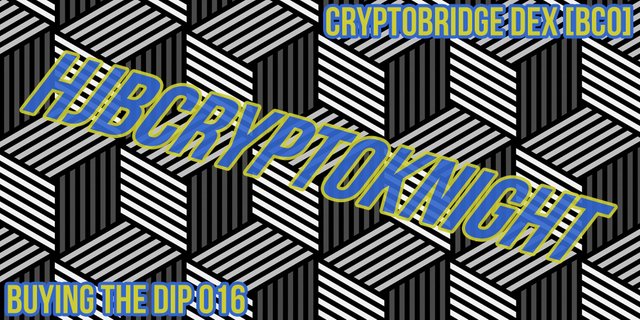 Hello Steemit.

Today is not a good day for crypto, not at all. But I don't want to talk about that today (just a quick moan on that note, I'm done now). What I do want to talk about is the progress I'm making in the market, progress that I make more even in these slumps. The easiest progress I seem to be able to make is expanding my opportunities to invest in projects as the earlier I can catch a coin, the more benefits I can see when other people jump on board. This week I have created accounts on three new exchanges and took out positions in two of them so far. The other two exchanges I joined this week are BiBox and StellarTerm, the latter being where I have made one of my investments (in Mobius). Today I will be looking into CryptoBridge, a decentralized exchange hosting a few coins I am interested in and one of which I have taken a small position (to be increased) in.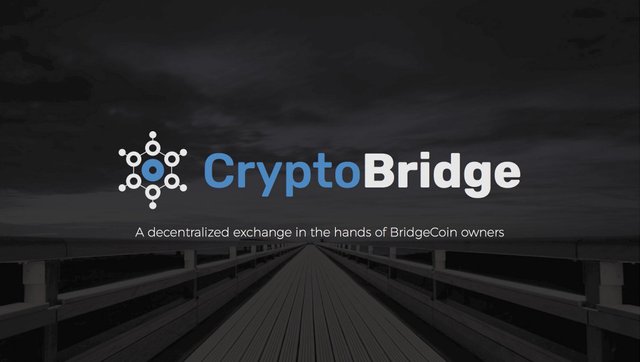 CryptoBridge is part of a shared DEX asset band that includes other DEX's made up of the BitShares protocol so this will cover all of those in a sense, but the reason I bring attention to CryptoBridge in particular is the sheer amount of assets available on the platform. The asset I was most interested in was that of HTML Coin. HTML has seen a rise in interest again recently which was sparked mainly by a high placing in KuCoin's latest coin vote. I have heard from some sources that this may still go through considering the controversy surrounding eBTC's victory in the voting. This is however unconfirmed but I feel that my small investment in the project is not to be ignored and could pull in a fair return. I may cover HTML Coin in further detail at a later date. Much like Cryptopia, CryptoBridge offers many low prices coins of interest including ECC, ColossusCoinXT, Experience Points, Shield, Electra, Digibytes and Verge as well as other mid prices coins I have taken interest in including another near success via voting on Cobinhood in ALQO as well as Vertcoin and PivX.

All fees on CBDEX are handled in BitShares, the umbrella to all of the BitShare DEX's including OpenLedger which offers exchanges on Steem.  It is via this method that I was able to invest in my BitShares in the first place and those funds came via your support so thank you very much for letting me use this platform as an opportunity to reinvest in the market. Because it is via your support that I am able to make any purchases on CryptoBridge I will be keeping you updates on any purchases I make via the platform, it is the least I can do.

The process was simple enough. Utilising BlockTrades via Steemit and Steemconnect I was able to transfer all of my SBD to BTS which was sent straight to my account, which is as simple as an account name with no need for a long address line akin to the likes of BTC et al. (If you wish to help fund my progression there donations are welcome to hjbcrypto15, spare change is always welcome.) CryptoBridge still trades in BTC for the most part so I then exchanges my BTS for BTC and made my HTML purchase with no limits on decimalisation which is my biggest problem with Binance, thereafter. Simple.

As with any exchange these days, decentralised or otherwise, CryptoBridge have decided to offer their own token which I am not yet invested in however the possibility remains in my head. BCO offers the best of both BNB and KCS in the ability to recieve reduced fees when using it as your fee providing asset and the ability to stake your coins for a percentage reward of the fees on the day. But if it is just the same coin, why do I feel the need to mention it? There is a bonus scheme on top of this as well, that is why. Your staking time is for you to decide and there are staggered bonuses for the amount of time you choose to invest as highlighted below.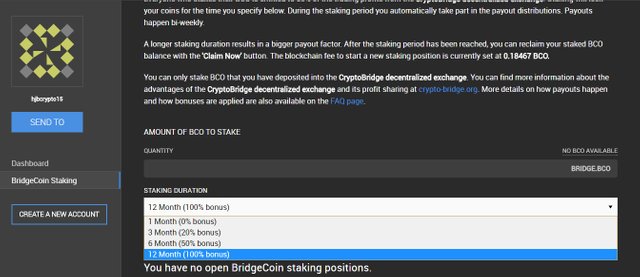 As highlighted in my recent post regarding ICO's as my approach towards them, I am trying to readdress my risk-reward strategy to match the conditions of the market. It is for this reason that I am willing to consider forking some of my funds into some BCO and staking them. I am a long term trader who is holding my positions as I have stated several times so forking funds into a situation like this is not something I am against, not in the slightest. BCO currently sits at ~$5.47 with an all time high of ~$8.74 so now seems like a good time to get into BCO. With a 12 month staking position I can double the returns I would see with a 1 month return, the figures are clearly in my favour. My next investments via CryptoBridge will be a 40/30/20 split between ALQO, BCO and HTML coin with 10% remaining in BitShares which I probably haven't quite expressed my interest in enough with this post and again this will be done via my Steem profits (minus what I leave in the Steem Power section of my wallet) so as always your support is welcome in any form, either by donating to my BitShares account hjbcrypto15 or by upvoting my work here on Steemit.

Decentralized Exchanges seem to very much be the way forward in the current climate and I will continue to use them more and more as time goes on. It is sometimes hard to find the low market cap projects with great community support without signing up for several risque platforms with large withdrawal fees and large hacks such as the NEM hack that took places recently have led to an increase in these projects alongside further regulation in the market as time goes on. The NEM hack led to a large shoot up in the price of ZRX (which yes I sold before the rise, but at a profit all the same) and signaled what I believe is just the beginning of a move from the more savvy among us to move to DEX's including the aforementioned StellarTerms which has taken on great projects including SmartLands which shot up over 100% and Mobius, a project I think will go far and hopefully reward my position in.

All of this is from your support, so thank you again.
HJB. CryptoKnight.

Twitter:
@hjbcrypto

Dtube:
@hjbcrypto