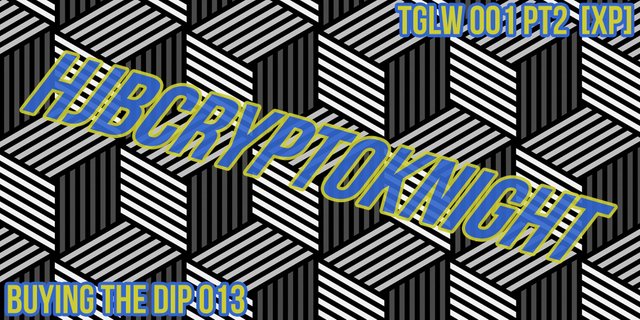 Hello Steemit.

The new series just keep coming and coming. This one is one I had been considering for quite a while but the downwards momentum of the majority of the market postponed that as the value of this project wasn't quite the same. Now that we are starting to see normal movements within the market again I think the time has come for this project to have some legitimacy. As opposed to covering all the gainers and losers (via CoinMarketCap) I will be covering just one per week for each respectively. I will be choosing this via a means of personal choice based on the surprising nature of each of where I see future opportunities for each selection. This selection process will be limited to the 30 options available to me for each seven day period, however during the briefing of each post I will highlight which coin has been at the top of each list at the time of writing. My post on the Gainers can be found here.

Top loser: Bitok [39.32%]
My pick: Experience Points [14.04%]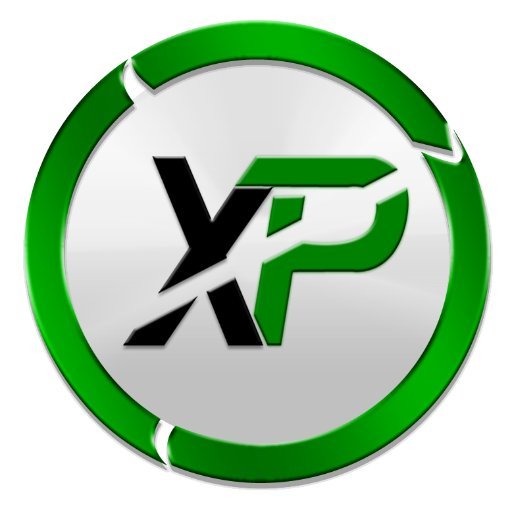 XP is a coin I am indeed already invested in and this if anything gives me a chance to talk about it a little more. Firstly, this sat at number 29 on the losers list so it's only just made it's way in and secondly the word invested might be a bit of a stretch as we are talking minuet amounts with it currently taking up around 0.07% of my ever-diversifying portfolio. However the word currently should be taken very literally as this figure should only continue to go up. My position into XP came via the small amount of DOGE that I was gifted via faucets (yes I use them) and my strategy is continue this whenever I receive the necessary amount of DOGE to transfer to CoinExchange.io, the exchange on which I purchased my XP. Eventually I will make a more substantial investment in XP, but the fact of the matter is that I'm in no particular rush as although I have interest and believe in this product, I don't belive it is anywhere near where it wants to be just yet. It doesn't lack ambition and god loves a trier but we're not looking for triers, we're looking for projects of the future.

XP has never been valued at even $0.01, currently sitting at ~$0.001 with an ATH of ~$0.005. This might not look good, but we're talking about percentages and not amounts. If we were to see this same rise again, we're talking a lot of profit and how much you can gain from that comes down to one simple thing and that is how much you are willing to invest. As you can see I would not describe myself as bullish on this project but what funds I don't have predetermined allocation for may well see itself forked into this highly ambitious project.Here is it's movement for the last seven days. What is particularly interesting about is how volatile it is on an hourly basis and more importantly how it has currently reached a level of equilibrium with BTC value, with this in mind specifically, if it returns to how the rest of the weekly BTC value pattern looks, you could well make an extra bit of profit were you to invest.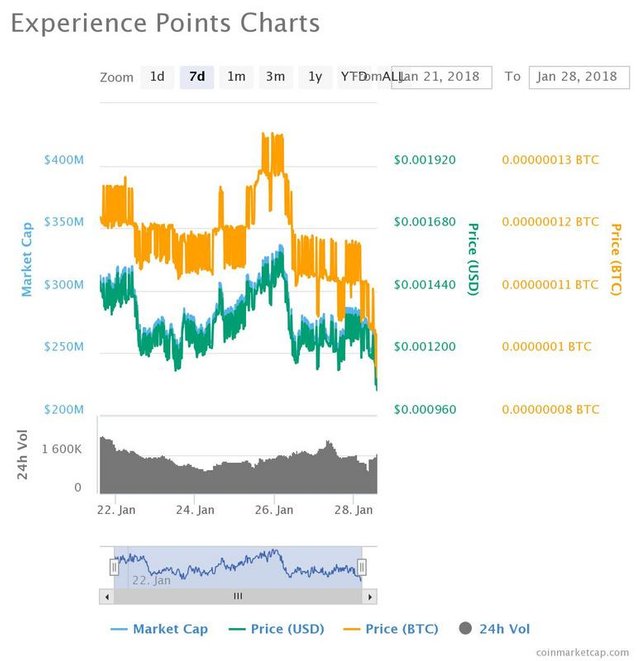 Experience points describes itself as "a rewards incentive and digital currency combined to a single blockchain designed to reward gamers, students, people positively contributing to society and providing a universal high street currency". It has a very large and active community and my time spent on their discord group was both pleasurable and informative and I found them to be very welcoming. I believe it is this community that is keeping the price where it is but also this community that will lead to it being a riser in the future. Once people start taking more notice of XP, it is these people that will drive the believe in the project in a positive way. This is purely an extension of the practices of XP themselves who view one of their utility methods via a means of a Peace and Conversation incentive programme. They state that you can "contribute to your local community, help conservation projects around the world and be a model citizen to receive XP ". I like this idea a lot and think it will help grow the community further.

XP doesn't just aim to be used for gaming however. As well as that and the above stated reason they want XP to be a measure of real life milestones too. Quite how this will be verified and run I do not know, but it is an idea that I like all the same. In reference to sporting activities they say that "instead of medals for first, second and third, everyone can earn XP" and also say that  you can "earn XP at schools, colleges and universities for attendance, achieving good grades, or graduating to help for the next stage in your career." Again, a great idea and one that if it catches on could be adopted at an exponential rate.

What worries me about XP is the length of it's roadmap. Some roadmaps (like Tron's) are far too long and this can be off-putting, but it is nice to see that the project is keeping you informed of their often ambitious ideas. With XP, currently we only have a roadmap for the first quarter of 2018 and no more. What is on it however is interesting. In March we have a revised whitepaper and it may be in this period that we see either another re-modelling of the vision of XP. February however has a few plans throughout, starting with a "game of chance" plugin. It will be interesting to see what effect this has but it seems to be largely for the community so they can use their XP a bit more than they currently can. 100% of all house winnings will be donated to a charity chosen by the community at the end of each quarter. To repute my implied statement that currently you cannot use XP functionally all that well, they also intend on expanding the XP Market, a built in marketplace where users can exchange real life items including Steam Wallet keys (where I see their plans of utility being long term). Their plans are to allow users to list their own items and service on the market which should see a greater usage of XP whilst keeping the circulating supply in the hands of people who believe in the product. Finally, the most ambitious part of February's plans, they intend to launch an XP Indie Development Portal where users can offer special promo items, DLCs and other game-related content. If this is to be as successful as it could be, we could definitely see real growth.

XP is a PoS coin and has a functional staking pool, a webminer that has it's issues but has been seen to work and a faucet that I have never been able to utilise. I hope this works as a general analogy for XP; great ideas but no real return on that so far. That being said, what coins haven't had their issues? This technology in general is still in it's formative stage and we can expect to see this from many other coins as time goes on and have seen it in many other coins that are still finding their feet and place in the market. XP might have it's problems but it's vision is great. If it can pull off what it offers I see great things for the project.

For the first part of this article looking at this weeks gainer, check out this link here.

I hope your coins are going up today, the market is looking good.
HJB. CryptoKnight.

Follow me on twitter:
twitter.com/HJBcrypto

Youtube/Dtube:
Coming Soon