Top names in crypto: Chris Larsen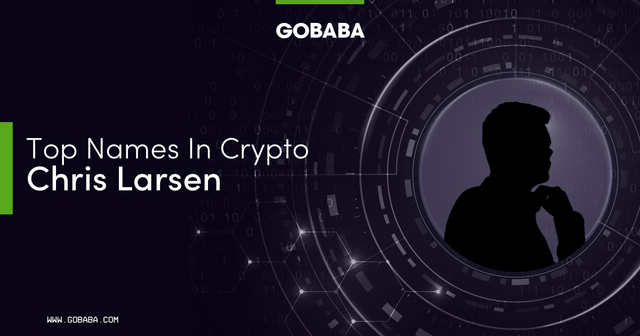 Hello!
Greetings and happy holidays to all!
Our top name in crypto this week is Chris Larsen, co-founder of Ripple Labs — the company that was named one of the 50 Smartest Companies by MIT Technology Review. Ripple Labs was also ranked 4th by Fast Company on a list of the World's Top 10 Most Innovative Companies in Finance, in 2015.
Here are 5 interesting facts about Chris Larsen:
Larsen was born in San Jose, California in 1960. He graduated from San Francisco State University with an international business and accounting degree in 1984 and he went on to receive an MBA from Stanford University. Chris Larsen worked for Chevron in different countries such as Ecuador, Brazil, and Indonesia.
In 1996, Chris Larsen co-founded an online mortgage lender company named "E-Loan". In the year 2000, E-Loan's market value was estimated at 1 billion US Dollars. Larsen left the company when it was sold to Banco Popular in 2005.
Larsen also had a big hand in the passing of the California privacy law in 2003. He founded the "Californians for Privacy Now" coalition, gathering 600,000 signatures to pass a bill to protect the privacy of customers from financial institutions.
In 2012, Larsen co-founded the OpenCoin, the company that initiated the development of a new payment protocol called Ripple, which was based on the concept developed by Ryan Fugger. In September 2013, OpenCoin changed its name to Ripple Labs. It was then announced that the source code for the peer-to-peer node behind the Ripple payment network was open source. In 2014 Ripple was the second-largest cryptocurrency by market capitalization after Bitcoin.
When XRP's price peaked on January 4 2018, Larsen was worth $59.9 billion. That put him among the five richest people in the U.S. based on Forbes' rich list — wealthier than Google's founders.
Let's end this week's post with a quote from Chris Larsen; "Banking now is like sending a letter, you send it you don't know if it reached there. Ripple is more like sending an iMessage, you send it and you immediately know."
Please let us know who you would like us to feature in the coming weeks in the comments section.
Watch this space for updates on our platform and don't forget to hit the upvote button below if you enjoy our posts.
Join the Gobaba Community
Instagram: https://www.instagram.com/gobabaofficial
Facebook: https://www.facebook.com/gobabaexchange
Twitter: https://twitter.com/GobabaExchange
Telegram Chat: https://t.me/gobaba_tr
Telegram Announcements: https://t.me/gobabaannouncements
Medium Blog: https://medium.com/gobabaexchange
Discord: https://discord.gg/2d3Wafe
YouTube: http://bit.ly/gbb-youtube