COSS up over 130% in less than 3 days | Updates + Major News Coming Late Feb + March!!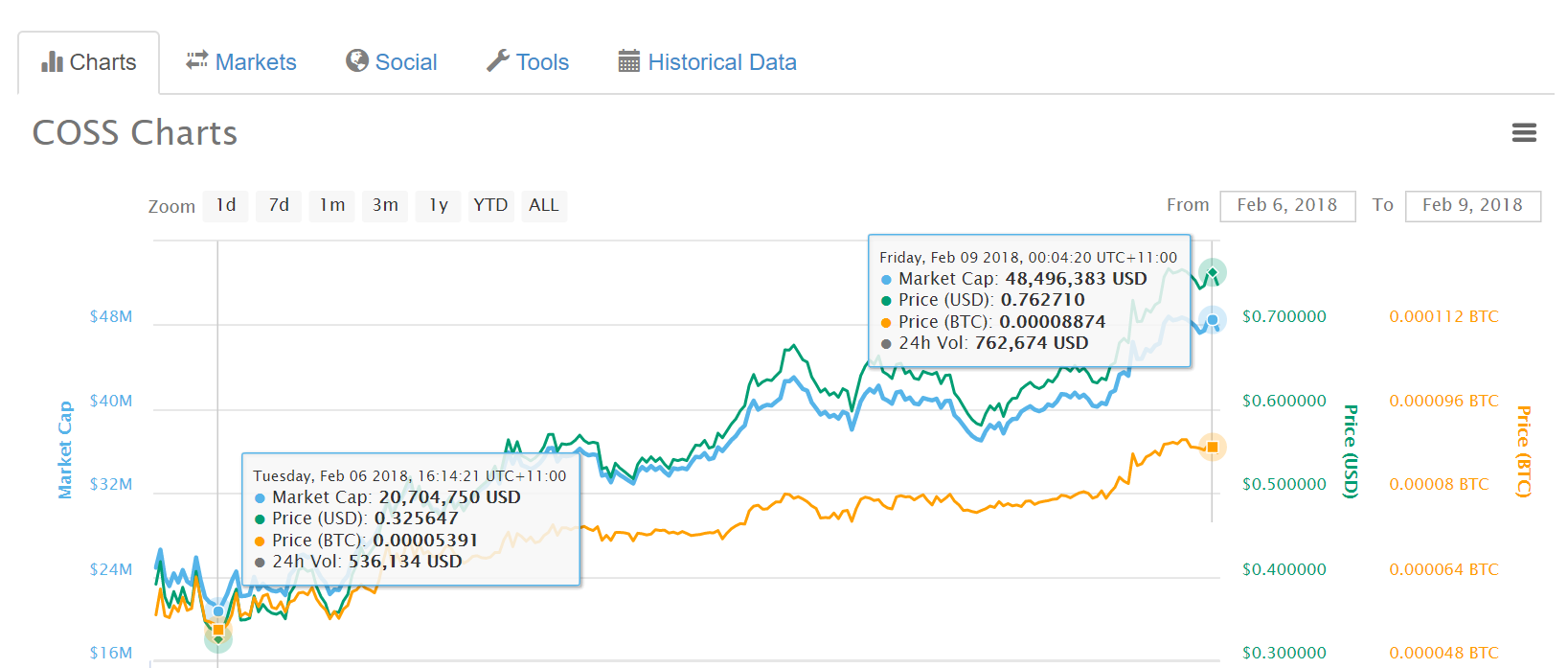 Hey guys! I'm back with another COSS update, great news already with more to come in the coming weeks!
Table of Contents
My COSS Journey
COSS team and community
Highlights from the interviews with COSS members
Summary of recent news
Analysis of recent news
Firstly, my COSS Journey
I first bought my majority of my COSS at around $2.50
I bought some more at around $1.00 thinking this was the dip
Finally bought a tiny amount at $0.35, as that was all the money I had left LOL
Average price of $1.70
Why I believe in COSS
Basically, I love the team and community. Testimony to this is the recent interviews conducted by a community member, who flew down to Singapore and interviewed the main cogs of COSS purely to gain a better understanding of the team for himself and the community! This was a truly bonding experience between the team and the community as Raphael (the community member who flew to Singapore) represented us and asked many community questions to many key personnel of the project! I would like to thank everyone involved in this initiative (including the devs, Raphael and the community who asked interesting questions) as it truly makes me comfortable to be all in on COSS (apart from my STEEM)!!
Highlights from interviews
Highlights from interview with Mong (engineering director)
Highlights from interview with Praveena (compliance department)
Highlights from interview with Rune (COSS founder)
Interview with Mong, Engineering Director (full interview here)
7 new in house devs starting in about a month
Engine will be built and replaced in stages, with improvements released regularly
Mong hints new engine should be ready in less than 6 months
Mong has previously built a team to build an engine for 5 million + users (BLoyalty)
Claims to be aiming for Binance's volume (ambitious long term goal I assume)
Aims to make security "perfect", with many evaluations and penetration tests
Mong says we're still in stage 1, implying this is just the beginning for COSS
Interview with Praveena, head of compliance (full interview here)
8 years of client services and compliance experience
Familiar with cryptocurrency regulations
Must ensure tokens are not a securities and that they're legit
Singapore requires KYC (know your customer) verification on exchanges, Praveena needs to ensure everything is in line with Singaporean regulations
In terms of regulation and parliament, cryptocurrency is given the all clear in Singapore, just waiting on the exact regulations which will be decided in April
Hiring many more dedicated people to go through the KYC applications, aims to get through 1,000 per day, maybe more in the future should the need arise.
Very optimistic about fiat being introduced successfully at a competitive fee
Will work in steps: fiat via credit card, then bank transfer, then opening merchant gateway etc, will also depend a lot on regulation requirements
Interview with Rune, COSS Founder (full interview here)
6 million USD worth of ETH (as of feb 1) as reserves in funding raised from ICO left to use
Plans to hire many more
Fiat introduced for BTC and ETH
Great community of 80 volunteer devs on the Trello board helping out with problems
2-3 million volume a day is almost enough to cover their upkeep, over 10 million a day means they will be looking very "financially healthy"!
Other interview with Rune (full interview here)
Engine will be scaled as we go as necessary
Currently ~60 million tokens are circulating, with ~40 million to be released to devs, advisers, and shareholders in March. 50 million set aside for future funding, likely won't be touched in 2018. Also a large pool set for an affiliate program to bring merchants on board in the future.
Aiming to relaunch payment gateway in Q3 2018!
Summary of good news (tl;dr)
US regulations bullish on cryptos
Singapore (where COSS is based) gives all clear for cryptos
COSS traffic up 340% as in January
Hiring more in house devs to speed up development
Team getting more organised
New updates to engine pushed out yesterday
MANY trading promos
Fiat pairs coming out in March
Volume picking up after a slow start to Feb
US and Singapore's positive regulations
Big news for COSS!! Basically means US residents will be able to use the COSS exchange to deposit and withdraw fiat with KYC verified, I'm assuming this will be a large amount of COSS's volume assuming COSS's fees are competitive with already running fiat gateways. Also means that COSS can continue to be based in Singapore, but no one really doubted this in the first place.
COSS traffic up 340% in January
This is a massive increase as January has been quite a mediocre month for COSS, imagine what February and March will bring! Furthermore, even with this massive increase in traffic, the servers have been holding up pretty steady. This suggests that Rune's claim of scaling as we go is accurate!
In comparison, Kucoin is up 600%, Binance 80%, Bittrex -21%, Bitfinex -40%, Coinbase -27%, GDAX -15%, Huobi 51%, Upbit 97%. Kucoin likely up due to the Kubit.com FUD + introduction of XRB.
More devs coming on board
COSS was criticised heavily recently for their small team, many assumed they were lacking the funds so many of the community offered to help for free. With a Trello board of 80 helpers and more in house staff coming, development seems to be underway faster than ever!
New engine updates came out
Honestly, I didn't trade on COSS before the engine updates, I've only started trading on COSS now for the promos, so I don't know what the differences in the engines are!! However, my experience has been smooth, apart from having to refresh my tab sometimes for the updates prices.
TRADING PROMOS GALORE
SOOOOO many happening right now. If you're not interested in COSS, you should just head down there to participate in these promos, there are so many with massive prize pools and very low volume. For a full list, head here.
Trading promos brings more volume + assets on the exchange. This is good as not only the volume increases short term for the promoted trading pairs, often the capital stays on the exchange and gets put into other popular trading pairs.
Fiat coming in March
This will be the first major step for COSS. If this goes well, I'm expecting to see a massive influx of users, volume and thus COSS's price. I feel confident they can make it happen, especially after reading Mong, Praveena and Rune's interviews.
Volume picking up again
I remember seeing volume in the few millions when I first bought into COSS, probably because the volume of the COSS tokens itself were $10 million!! Recently, I've seen 6 figure volume and only just started being 7 figures again. I'm expecting 8 figures in the coming weeks, especially when fiat comes.
Discussion, reply in the comments!
What do you think of the potential of COSS? Truly a great project or over-rated?
What's your price prediction for COSS?
How long have you followed this project for? Is this the first time you've heard of it?
Follow me for more interesting articles and your chance to win free Steem EACH WEEK, EVERY WEEK! More details here!!