Liquidity Network The Hybrid Exchange Chain
One of the biggest pain points and restrictions currently facing blockchain technology is the ability to scale and provide a robust network that can handle rapid global transactions without any lag and keeping transaction costs reasonable and even negligible.
When BTC and ETH hit their all-time highs back in January of last year, we saw this weakness exposed with users having to wait hours for transactions to be confirmed to the blockchain while transaction fees become unreasonably expensive.
This was the end of the run, the network could handle no more, and the market peaked before reducing by almost 90%. Where could we have been if this was not a factor for blockchain? Would adoption continue? Would price have continued to rise? For now, we will never know.
Since then blockchains like BTC and ETH have looked at providing second layer solutions such as the lightning network and the Raiden network to help provide a scalable solution. However they primary blockchians are not the only ones looking to solve this problem, with a number of cryptocurrencies like Gochain and now the Liquidity Network
focusing on scaling solutions.
Why scalability is an issue
If its only about making transactions cheaper, faster and handling load balancing surely a network would be able to do all of that with the technilogy we have today? Correct! We have plenty of networks that can handle these issues however they are all centralised services that offer a single point of failure and produce a concentration of wealth and the ablity to be manipulated. Blockchain solutions want to move away from this by remaining decentralised.
So far the big issue has been the scalablity trilema, where we're able to pick 2 out of the 3 key compontnets to scalablity but not have all 3. The 3 components are:
Decentralization which is a core tenant upon which the majority of this community is built. Decentralization enables censorship-resistance and permits anyone to partake in a decentralized ecosystem without prejudice.
Scalability which concerns the ability to process transactions on any given network. If public blockchains are to be usable by the masses, then they must be able to handle a scenario in which there are millions of users on the network.
Security which pertains to the immutability of the ledger and its general resistance to attacks such as 51% attacks, Sybil attacks, DDoS attacks etc.
So how do we encoporate all 3 without scarifcing one for another? Well, The Liquidity Network thinks it has an elegant solution
An introduction to the Liquity Network
How the Liquidity Network aims to tackle scalability
The Liquidity Network is built on the Ethereum Blockchain with the sole purpose of supporting millions of users and bring about mainstream adoption. It aims to achieve this lofty goal with the use of 2 compontents namely:
The Liquidity Hub NO-CUST
Nocust enables off-chain non-custodial transactions that forgo the costs associated with on-chain transactions. This elimates lag from the network and allows the number of transactions per second to be dependant only on the internet latency and bandwidth available.
REVIVE is an algorithm that enables different hubs to rebalance their payment channels off-chain. Having the rebalancing done through off-chain transactions removes plenyt of congestion of the given chain and provides a faster network.
Off Chain transactions on the Liquidity Network
The Benefits of using the Liquidity Network
Retain your keys
Users within hubs own their own funds via their private key. Hubs are interconnected in a similar fashion to those on the Lightning Network and Raiden. Users are free to enter and leave hubs at any time and make use of Revive to transact with one another within each Hub.
Easy access
The Liquidity Network wallet is already available on both desktop and mobile devices (Android and iOS) making it easy to interact with the chain and perform transactions.
Off chain settlemetns
Improves speed and lower transaction costs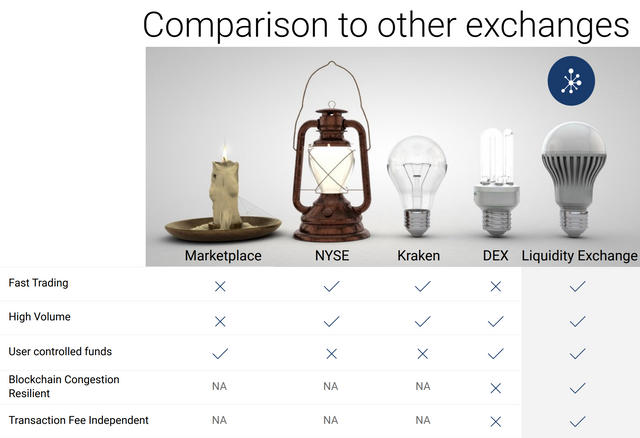 Comparing the Liquity Network to other cryptocurrency services
What I think of the Liquidity Network
While I definitely think we need improvement in terms of speed on blockchain networks as well as the reduction in cost with help of centralsed servers and off-chain settlements I can see how the network will have merit and garner support for it.
Blockchain purists will shy away from it due to a piece of it being centralised but this could also be a stop gap for what the Liquidity Network as they continue to expand, improve and find alternative solutoins.
My only concern is with the fact that bigger chains aren't sitting still and Bitcoin has already deployed SegWit and they're testing out the lightning network to help its scaling issues while Ethereum is looking into sharding.
I do still think more solutions to scalability problem is needed so that every concept can be evaluted fairly for its merits in helping us solve this issue hampering the expansion of blockchain and the Liquidity Networkwill have a party to play in the push for a real solution.
More Information & Resources:
If you found my review on the Liquidity Network interesting and would like to know more I would encourage you to do your own research and make use of the following resources.
---
Disclaimer: This article should not be taken as, and is not intended to provide any investment advice and is for educational purposes only. As of the time posting the writers may or may not have holdings in some of the coins or tokens they cover. Please conduct your own thorough research before investing in any cryptocurrency as all investments contain risk.
Let's connect
If you liked this post sprinkle it with an upvote or resteem and if you don't already, consider following me @chekohler


---
Get Daily Upvotes With SmartVote

Trade Bitcoin, Ethereum, Litecoin, Doge or Dash for STEEM instantly
Check out blocktrades to quickly exchange popular cryptocurrencies for STEEM, STEEM power or STEEM Dollars or trade your STEEM, STEEM power or STEEM dollars for popular cryptocurrencies.
---
lqd2019
lqdtwitter2019