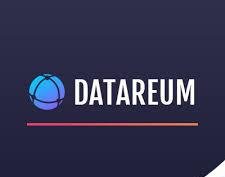 Aktualne airdropy przez nas przeanalizowane
Signals
SOFIN
CloudBounce
Axens
BitSchool AI
Appics
---
Opis projektu
Czym jest Datareum
Jest to zdecentralizowany rynek danych wysokiej jakości. Dostawcy danych zarabiają tokeny DTN za dostarczanie danych. Nabywcy zaś - płacą DTN-ami za korzystanie z tych danych. Decentralizacja zapewnia unikalność oraz niepowtarzalność danych, które nigdy nie zostaną usunięte czy też zduplikowane. Dokładniejszy zarys działalności projektu możemy zobaczyć na stronie projektu.
Jak działa platforma Datareum?
Aby dostarczyć wysoką jakość danych stworzony został kanał weryfikujący. Jeśli kanał sprawdzi je pod względem jakości, trafiają one do rynku danych a dostawcy zostają nagradzani tokenami. Potem, dane trafiają na rynek danych, gdzie osoby zainteresowane mogą je odkupić za odpowiednią cenę. Pierwszy klient zakupuje dane z bazy i po skorzystaniu z nich - może je odsprzedać platformie. To głównie jest innowacją zdecentralizowanej bazy danych - właścicielem jest jeden podmiot. Odsprzedane dane od klienta A, może kupić klient B. Część środków z sprzedawanych danych wpływa do funduszy bazy danych aby ciągle ją rozwijać. Dokładniej sposób działania platformy można poznać na whitepaper projektu.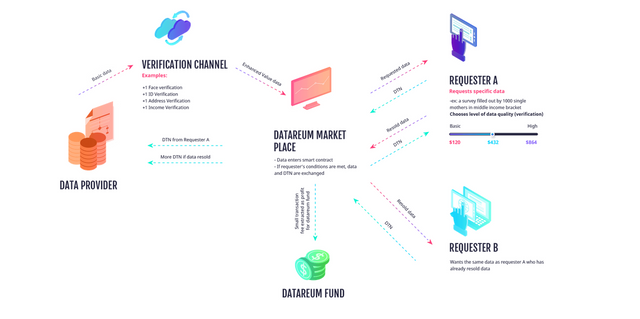 Podsumowując Projekt jest obiecujący, co można stwierdzić po samej idei projektu, sposobie działania platformy jak i solidnym zespole. Nie są to przypadkowi ludzie i nie anonimowi. Wróżymy temu projektowi sporo sukcesów.
---
Dane liczbowe
| Nazwa | Info |
| --- | --- |
| Ilość ogólna wytworzonych tokenów | 1 000 000 000 |
| Ilość tokenów dostępnych w ICO | 600 000 000 |
| Ilość tokenów możliwych do otrzymania | 16 600 000/przez liczbę użytkowników |
| Wartość w ICO/aktualna wartość | 0,03$ |
| Przewidywana data otrzymania tokenów | 2-4 tygodnie po zakończeniu ICO |
| Przewidywane pojawienie się na giełdzie | Do ustalenia |
| Czas potrzebny na otrzymanie tokenów | 20 sek !!! |
---
Opis kroków do wzięcia udziału
Dołącz do Telegrama
Wypełnij Formularz
---
Aby być na bieżąco z projektami znalezionymi przez nas zapraszamy do śledzenia naszych profili na mediach społecznościowych
Facebooku
Twitter
Instagram
LinkedIn
Bitcointalk
Życzymy udanych łowów i do usłyszenia jutro !
~ Grzegorz