Some Analysis on CryptoBridge BRIDGE.BCO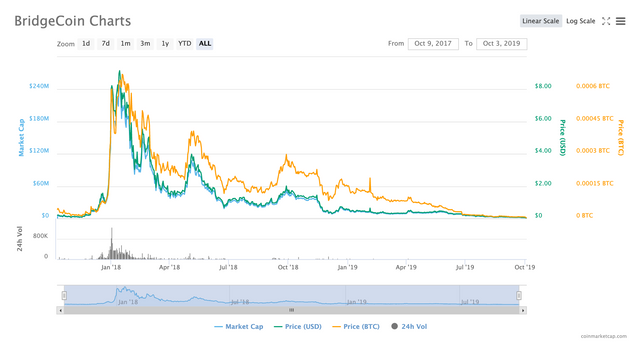 Crypto Bridge is the biggest and most active Gateway on the BitShares Blockchain. BitShares has taken a beating recently due to internal politics as the CN vote group has voted up the refund 400K and defunded many other workers. CryptoBridge has also rolled out KYC Know Your Customer on all their customers worldwide. This happened without prior notice.
Beyond just exchanging tokens, CryptoBridge has its own token, Bridge.BCO which represents an interest or ownership in the exchange.
CryptoBridge started just a few years ago with what was a few guys who built up quite an operation in a short period of time. Crypto-bridge has been popular as it has had a large number of lower quality alt-coins and has provided a route for smaller coins to get onto exchanges. CryptoBridge makes money from both the listing fees it charges to get a token on the exchange. (Something in the order of 0.35 to 3 BTC per token). (With BTC at $9,000, that is $3,000 to 27,000). CryptoBridge also makes money from trading fees on the asset. Trading fees tend to be 0.3 to 0.5%, but volumes can vary greatly).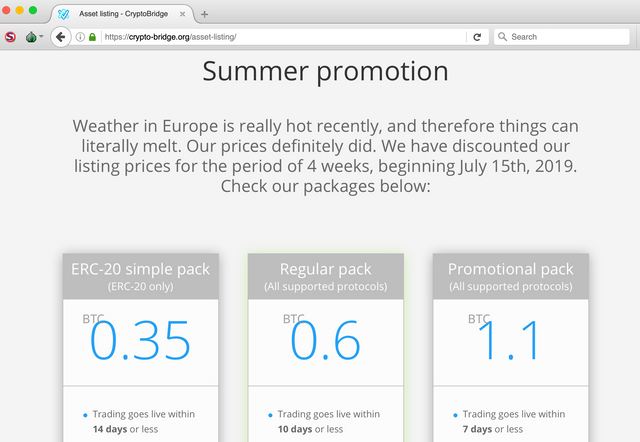 Bridge.BTC recently had a volume of $248,000.
BRIDGE.STREAM had a volume of $42,000
BRIDGE.BCO had a volume of $7,800
BRIDGE.ETH had a volume of $4,000
Back of the envelope map shows a 0.5% fee on $300,000 is $1,500 a day.
Bridge.BTC has a market fee of So 0.2% of the 248K in volume is $496 a day.
BRIDGE.STREAM has a market fee of 0.1% which is $42 a day.
With $500 a day in fees, the project has revenues of $182,000 a year from fees. This is hardly enough to run and maintain a business on. This is probably the before tax cost of employing one smart computer programmer in the USA.
CryptoBridge has had something like 641 assets since Oct 10, 2017. That 641 assets over 716 days means there is a new asset almost every day. Obviously, the revenues from listing new coins plays and important part of their revenue stream.
CryptoBridge is an important part of the BitShares community, a decentralized exchange that may not survive the current round of speculation. BitShares is having issues with too much debt as debt holders are issuing smart coins, like CNY and USD struggle against Hodlers and others in the ecosystem. Debt issues want more leverage and less selling and want to take on more risk, much like in the subprime financial market of a few years ago. Without proper protections and employing debt on debt and particularly, selling issued CNY and USD for BTS and then margining the additional debt, collateral ratios are reduced significantly. (It is complicated.) Things can happen fast in the frontiers of crypto finance. Infighting, political consensus and development can be hard. Even writing about these important issues can potential bring up hard feels, unhappy people and envy and more as some pay prefer not having numbers publicly broadcast, and all these numbers are pretty broad "generalizations." It is important the community understand businesses and sustainable business models if the platform is going to succeed.
However, there is now a Crypto-winter and growing pains. Know Your Customers laws also bring out a lot of opinions in the Crypto community. Everyone One of these issues is a hot potatoe, that could cause problems.
Let's take a look at BRIDGE.BCO.
Let's take a look at some basic statistics on this coin.
This coin is traded on the BitShares blockchain. So all data is all open and transparent.
There are 12,965 accounts that have a balance of this coin.
All of these accounts have a total value of 6,811,637 coins.
If you take the total number of coins 6,811,637 and divide it by the total number of accounts 12,965, you get 525.3866 average coins per account.
The coin BRIDGE.BCO was valued at $0.033 recently.
So if we have 6,811,638 coins, valued at $0.03 each, that means the total market cap is $227,032. Other data such as from coin market cap has put the number at closer to $1 million. This reports is focused on the BTS holdings.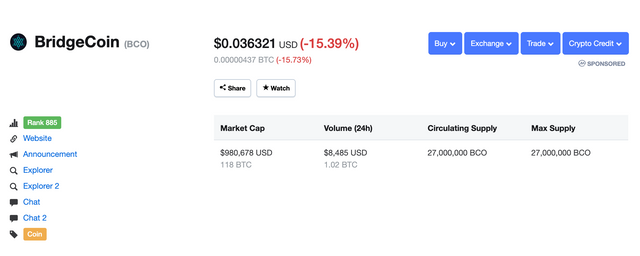 With an average balance of 525 coins, and a coin value of $0.03 the average account is worth $17.51.
Sample Data Points
To get a better feeling about the data, let's just take a few pieces of the data.
The account b has a balance of 1.5.
The account questzero1 has a balance of 0.
The account ico-investor has a balance of 0.
The account ethereum-addict has a balance of 73.2368.
Coins are not distributed evenly.
Here are the largest coin holders
The account arhj3zhfuhar7pqkr9lceabav3tncrsz has a balance has 1,000,000.
The account cf5spwqrugnnczvnhht9pgu8s5qmar5x has a balance has 500,000.
The account zulu2 has a balance has 493,312.559.
The account talkabs2 has a balance has 480,392.0129.
Removing the top 4 accounts, the rest of the accounts have a balance of 4,337,933 coins or $144,583.
Excluding these top four accounts, that would give us an average balance of $11.15 per account.
The richest account is valued at $33,330.
The most common account balance is 0 and 1,120 accounts have this exact balance. This may also be the result of rounding errors.
Percentile Groupings
We can get a better understanding by look at distributions and USD equivalent values of this coins in various groups.
The richest (one percent) 130 accounts have and average balance of $1600.07 each.
The rest of these groups each represent about 10% of the holders in each group.
There are 1167 accounts with an average balance of $15.48 each.
There are 1296 accounts with an average balance of $1.11 each.
There are 1296 accounts with an average balance of $0.18 each.
There are 1296 accounts with an average balance of $0.03 each.
There are 1296 accounts with an average balance of $0.01 each.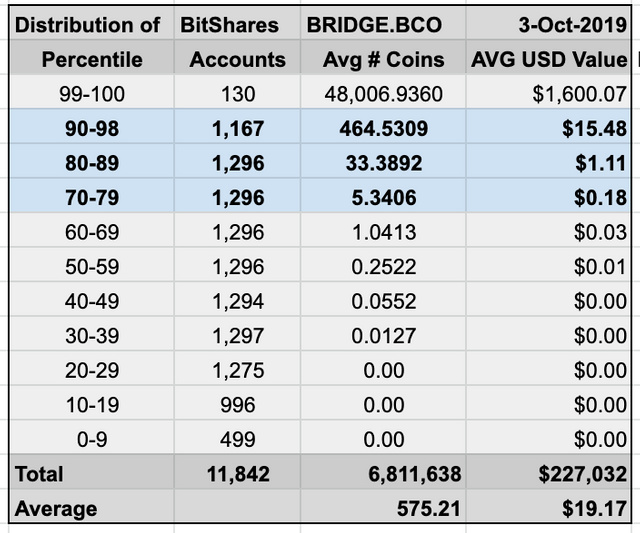 Quality
Using Cryptick's Algorithm B, this market rates better than 92% of recent markets looked at.
For Algorithm B, a higher number is better.
Cryptick's Algorithm B uses a unique advanced sophisticated proprietary algorithm to quickly and concisely look inside BlockChain projects.
Trading Activity
What is the trading volume of this coin?
One day there was a total volume of $7,832 traded on this coin.
Realistically, that number should be divided in half to $3,916
That is an average volume of $0.30 per account holding the coin.
People represent a very important aspect to any project.
One way to look at the account data is to look at the number of people it potential represents.
Now it is true, one person may have more than one account.
It also allows one to see how much stake or potential value each account has.
BCO may have had airdrops to its customers to help them own a piece of the exchange.
Value is subjective, and can be measured in many different ways.
Activity can also be measured in many different ways.
Details...
The data I have referenced here, is not real current but it is from the last last couple of months.
All of the numbers here are estimates. They are based on recent numbers. By recent, I mean numbers within the last few months.
Doing Your Own Research is Very Important in Crypto.
About BitShares...
BitShares is a Decentralized Exchange where you own the keys to your own coins.
Helpful Links...
Run a Free Market Making Bot https://www.dexbot.info/
See this market
https://wallet.bitshares.org/#/market/BRIDGE.BCO_BTS
https://wallet.bitshares.org/#/market/BRIDGE.BCO_CNY
https://crypto-bridge.org/
https://openledger.io/
BlockChain Explorers for More Research
https://bitsharescan.com/
http://open-explorer.io/#/dashboard
http://www.bitshares-scaner.org/
http://cryptofresh.com/assets
https://wallet.bitshares.org/#/explorer/blocks