[XVG] The big Verge announcement - Crypto news
Loads of you will have noticed that for the last week or so Verge has been pumping on the exchanges. Even though it's been a disastrous couple of weeks for crypto Verge has been smashing it! Just look at my favourites list on Binance right now: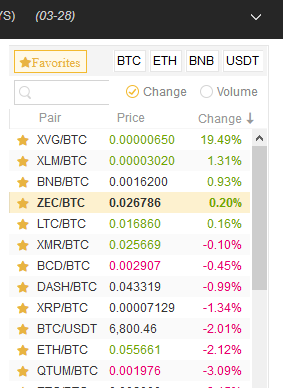 Top of the list!
This has been achieved by all the heavy speculation from investors because of Verge dev Justin's claims that they were about to announce the "largest cryptocurrency collaboration to hit the market."
Exciting stuff. Especially for me, I invested in Verge when it was $0.01 and sold about 2/3rds at $0.11 (it had been up to $0.21 so I'm not that clever).
Anyway, I think I have found out the collaboration (kind of):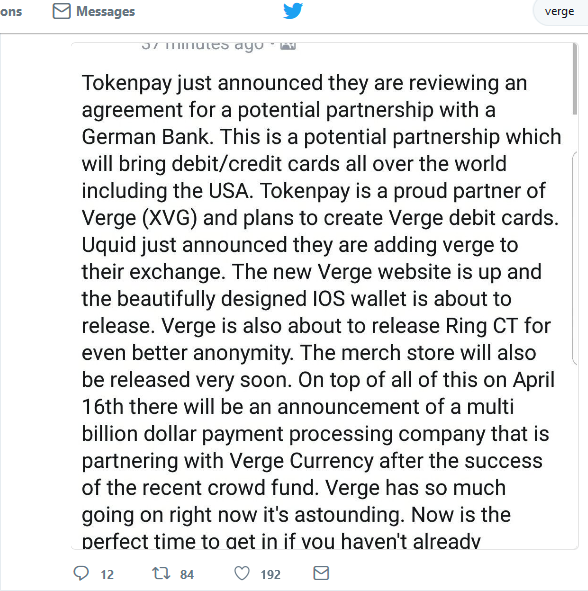 A deal with a payment processing company would definitely be a step towards mainstream approval and brilliant news for Verge. Another big partnership for Verge is in the porn industry with pornhub.com. It's one of the top 100 most visited sites in the world (possibly top 40). The privacy features of the coin being desired for discretion.
It's all looking very good for Verge at the moment.

P.S. I am not saying go and invest without doing your own research. These are my views but I do not offer investment advice. In general crypto is not considered a safe investment yet so please only invest wisely people. I personally have just sold 75% of my Verge at this high, anticipating the pump to end soon so I really have no advice in regards to investments.
Thanks for reading. If you liked my post then please upvote, resteem and/or comment.