---

---
Probably you don't like your job, and you are dreaming about a new wonderful, stressless and free-boss job.
9-17 job is so stressfull and most of the times not fulfilling enough.
What about to change your job and become a freelancer? Journalists, photographers, dancers.. they are all freelancers and most of the time they don't have a boss, so they can work for themselves! Seems awesome, don't you think?
What if i tell you that you can propose yourself, your qualities and your services to all the online world, through a decentralized platform? Yes, exatly, this is really impressive, and this platform is called STIPEND .
---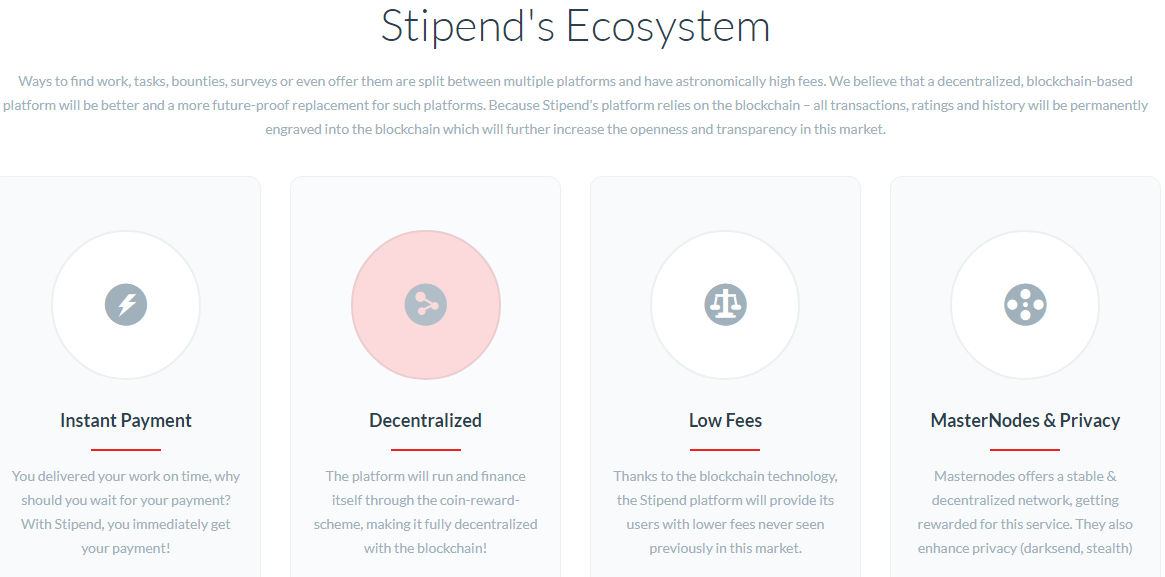 ---
Stipend aims to be an ultimate solution for decentralized jobs marketplace. We want to create a platform which both the freelancers and the clients will love, with low fees, instant payments and never seen before rewarding scheme that rewards the top users. - Stipend Motto -
---
STIPEND platform is simple as that:
Enable anyone to post an offer or accept an offer without restrictions
Pay and get paid is their currenc, SPD
Secure and transparent. There will be a record of user performance, history, and many other data.
---
This will change the way we look for a job right now, Stipend will change everything. I know i've captured you attention and you want to know more, so i give you all the links and useful datas where you can learn a lot more things.
Stipend Coin Specifications
-Low supply
Hard cap amount of SPD is 19,340,594. This is the result of a consensus among developers. We think that this is the right supply to create demand with investors.
-C11 & SHA256-d Algorithms
C11 algorithm is made of 11 differents sub-algorithms, that enhance the security of hashes. It is the one used in the Proof of Work. In the Proof of Stake, we are using the Sha-256d
-MasterNodes & Privacy
MasterNodes allows a sure and stable network with a copy of the blockchain stocked in each node. Privacy will be enhanced with future TOR/Electrum servers developments.
-Low Fees
Stipend is a no-fee coin. This enables the user to do multiple transactions at almost 0 cost.
---
Official website: https://stipend.me
Join Stipend on Discord: https://discord.gg/TpYaUqv
Whitepaper: https://stipend.me/wp-content/uploads/2018/02/Stipend-Light-Whitepaper.pdf
Reddit: https://www.reddit.com/r/stipend/
Twitter: https://twitter.com/StipendOff
Telegram: https://t.me/StipendOfficial
Ann thread on Bitcointalk: https://bitcointalk.org/index.php?topic=4694590.0
---

---