No new accounts on Bittrex for now! What to do?! (read his)
I woke up a little hangovered with a message from a friend I met with last night. It was a party but I spent like 81% of the time talking about crypto, go figure. Well, apparently I had a new convert!
"Dude, I can't sign up!"
My head was thumping and couldn't focus ( Hey! I told you that I spent the rest 19% drinking...).
"What?!"
"BITTREX!! They do not accept new signups! What do I do now?!".
I had to check it for myself first and voila, a message from Bill!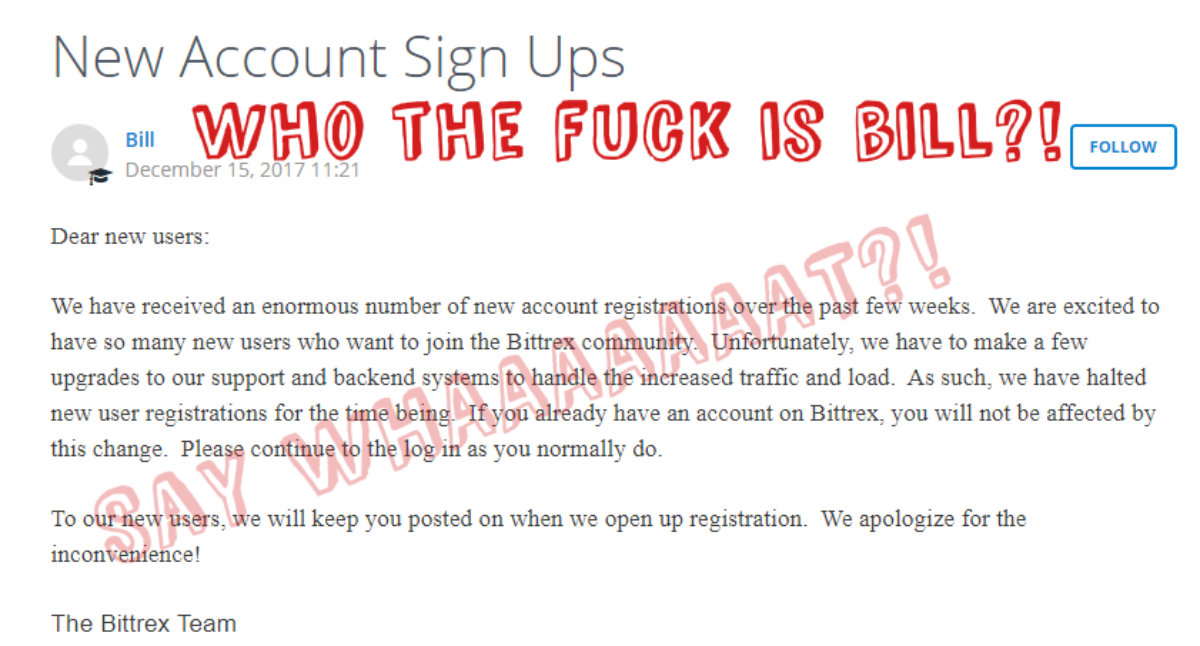 It was unfortunately very very true!
---
So I'm gonna tell you what I told my friend: go with the Chinese :) Aka the new exchange that are up and coming.
Binance is a new exchange that simply has amazing ambitious. But well deserved as they beat Bittrex for most volume in only about 6 months!! Their plans go well beyond remaining a normal exchange: margin trading and eventually decentralization is on their roadmap. I honestly can't say good enough things about this one.
The team is top notch, the UI is great, they have almost all coins you might want ( except for STEEM/SBD) and they have VERY LOW FEES. They have basically 60% lower fees than Bittrex if you care for this kind of thing.
They also have their own coins: BNB which you can use to get even lower fees!!
Sign up for Binance here


I wrote about this one a few weeks back. Please read here my review.
Meanwhile a few things changed: they have more coins, they have better volume and they KCS coin, which gives you a part of all the fees back went insane ( was 50 cents, is now 3$!). I think KCS has a lot of room to grow and I'm pretty confident they will!
It's great for little known coins and quick ICO flipping if you are into this kind of thing. They also have low fees and if you hold KCS you get a huge part of the fees back. So that's nice too.
Sign up for KuCoin


---
I also want to mention that these have - besides a very aggressive and good marketing campaign - a refferal program. The links I used are mine and you will be my refferal which basically means that instead of giving 100% of the fee to the exchange, a small part of it goes my way.
Once you have accounts you can invite your friends too and get a part of their fees.
---
So this is it!! If you want to trade in 2018, you have where.
As always, never keep in exchange more than you need!