680 STEEM ~ Sponsored Writing Contest: Buddy
Welcome to the @OriginalWorks sponsored writing contest! Status: CLOSED. Accepted Languages:
Start Time: ~8 PM ET, Saturday
End Time: ~8 PM ET, Tuesday
Special Twitter 0.5 STEEM bonus! Details outlined at the bottom.
This is a call to all great Steemit writers! Buddy has sponsored a Steemit writing contest!
Please make sure to read the contest topic carefully. Good luck!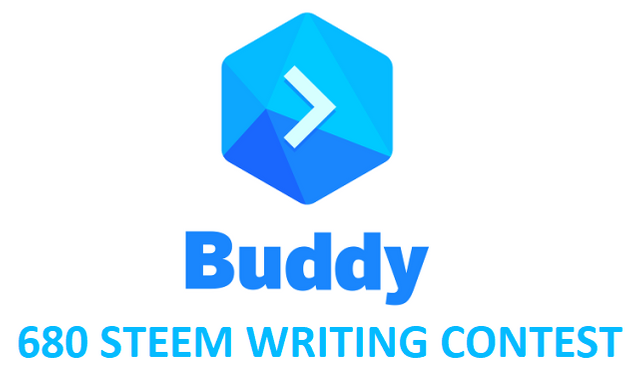 Prize Pool Total: 680 STEEM Prizes: 560 STEEM + 120 STEEM (60 bonuses of 2 STEEM!) + Twitter Bonus (Details Below)

1st Place: 60 STEEM
2nd Place: 52 STEEM
3rd Place: 46 STEEM
4th Place: 40 STEEM
5th Place: 35 STEEM
6th Place: 32 STEEM
7th Place: 25 STEEM
8th Place: 23 STEEM
9th Place: 20 STEEM
10th Place: 18 STEEM
11th Place: 16 STEEM
12th Place: 15 STEEM
13th Place: 14 STEEM
14th Place: 13 STEEM
15th Place: 11 STEEM
16th - 20th: 10 STEEM
21st - 25th: 6 STEEM
26st - 30th: 5 STEEM
31st - 40th: 4 STEEM
41st - 100th: 2 STEEM Bonus

Deadline: 72 Hours
All articles must be submitted within 72 hours of this post to be considered!
Changes in submission rules below
Buddy is a blockchain application development and deployment platform. Buddy optimizes and streamlines the development and collaboration aspects of building applications on the blockchain!
Buddy offers its users - developers, a clear advantage. The benefits can be more difficult to grasp for non-developers, but it is actually fairly simple.
Buddy is a platform of tools that takes care of the time-consuming and redundant parts of developing. The parts that have to be done, but that every developer dreads.
Developing and deploying an application is like building a house.
Boring Part: First the soil needs to be tested. Then the best materials need to be picked. A foundation must be constructed. Framing and roofing must be done. All of these processes need to go through rigorous engineering tests to ensure they meet regulations and safety standards.
Fun Part: Designing the house - choosing wall colors, door designs, kitchen placement etc.
Buddy helps take care of all the boring tasks as it pertains to blockchain application development. This leaves the developers with more opportunity to concentrate on their core product as well as it's design and user interface, while Buddy helps deploy and maintain their DApps!
A Company With a History
Buddy was established in 2015. The Buddy team started working on developing a platform to help reduce redundant processes that companies and developers have to do. The goal was to help them concentrate on what really matters - the actual product.
Buddy has since established partnerships with Microsoft, Google, Github and others.
The Development Process & Issues Today
The modern world of software development is extremely advanced, complex and at times tedious.
Most programs utilize multiple layers of applications in order to deliver the final product. This is true of desktop, mobile or web applications.
With large teams working in multiple programming languages that have to communicate with one another as well as databases, there is a lot of room for errors to occur.
The processes software teams and companies must do are as follows:
Run tests to make sure the software works and is not producing errors
Collaborate with numerous developers, working on different components and requiring those components to integrate flawlessly.
Configuring and maintaining infrastructure. This can be a 24/7 process for larger companies.
The Buddy System
The Buddy system tackles these issues through the three following solutions:
Automation Marketplace
BlockchainOps
Private Automation GRID
Shared Automation GRID
BlockchainOps
Buddy has built automation scripts to assist developers working on blockchain projects! These are maintenance and deployment tools that will cut developer time spent on repetitive tasks.
BlockchainOps already supports EOS and the team is working on adding support for others such as ETH, NEO, ICX, TRX, NEM ect. Buddy aims to enable efficient development across all blockchains!
BlockchainOps not only eases the tasks existing developers have to deal with, but also helps mass adoption by making it easier for new developers to enter the realm of blockchain development.
Automation Marketplace
The automation marketplace is the "Appstore" or "Playstore" for web developers. There is a selection of automation scripts, free and premium, that developers can use to automate all types of tasks! Developers can also submit their own scripts and earn.
These exchanges are facilitated by the BUD token, which incentivizes an economy for developers to purchase and sell automation scripts.
Private Automation GRID
A Private Automation GRID is used to run private instances of Buddy. The Private Automation GRID will use auto-discovery as well as replication to enable scalability. By using the Private Automation GRID, developers and companies will be able to automate the entire development and deployment process.
Essentially, this means that the automation process/algorithm offered by Buddy can be run within a local or private hardware environment.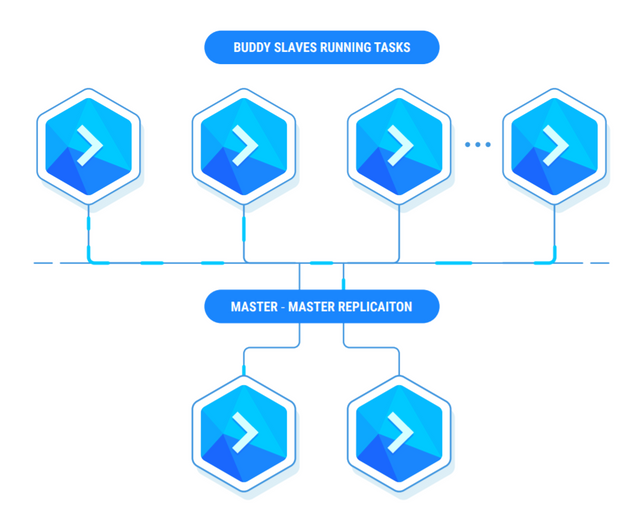 WhitePaper, Page 14
Shared Automation GRID
A Shared Automation GRID is similar to a Private Automation GRID, except that it allows others on the Buddy network to run some of the instances to off-load resource intensive tasks.
The Private and Shared Automation GRID can be integrated to work with one another.
As previously mentioned, developers need to use tests to ensure the integrity of their software.
A good example of a Private and Shared integration would be that the Private Automation GRID is used to deploy a software, and then the Shared Automation GRID is used to perform the tests on the said software. This means that even if there are many different tests to run against the main software, it can be performed at the same time by utilizing numerous Buddy instances as required by the size of the project.
Buddy - Working Product
Buddy already has a fully working product.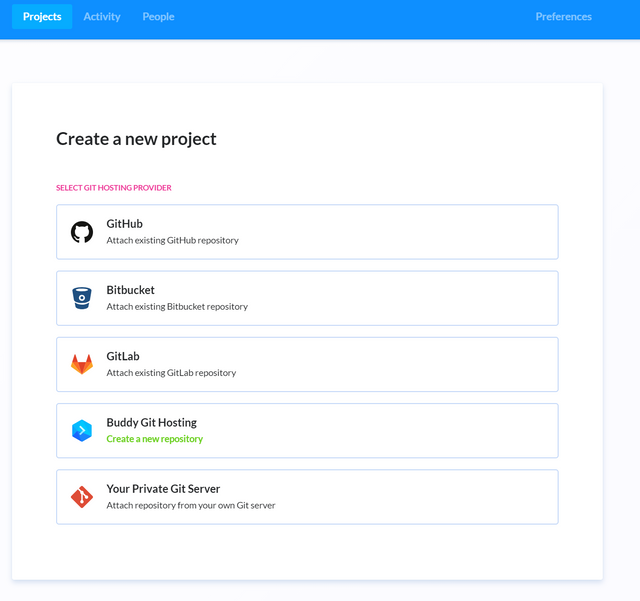 Creating the account will bring the user to a set of options that include well-established platforms for resource management such as GitHub, Bitbucket, GitLab as well as their very own Buddy Git Hosting.
Once a user logs in, it lets them pick from existing projects they have. So for example, if you have a project on GitHub, you can select GitHub and it will list all of the apps you have associated with your account.
Once selected, it will provide the following form: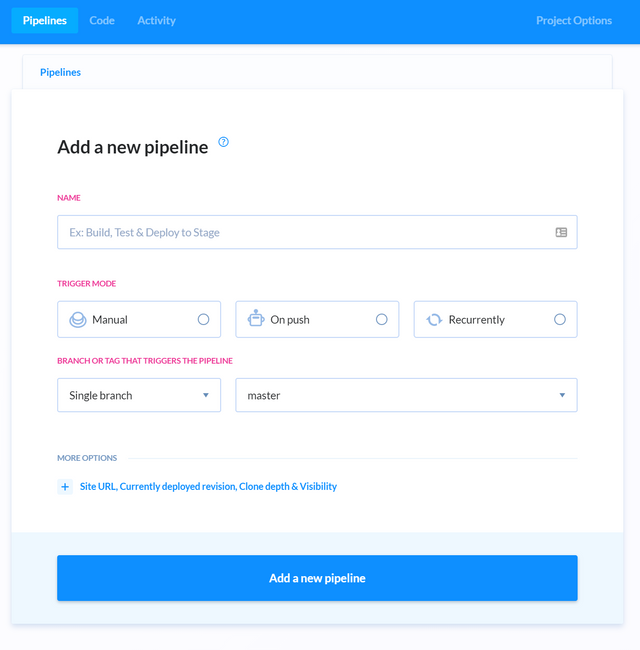 This extremely simple form allows the developer to add pipelines through a user friendly interface!
EOS Integration
Buddy can be used to develop complex projects on the EOS network by creating advanced pipelines to be applied to the git branches on every push!
A Medium Article Explaining DevOps & EOSIO Smart Contract Integration
With Buddy, developers can test the smart contracts. Given that many of these applications are used to transfer value, testing to ensure stability, security and integrity is an extremely important process that cannot be overlooked.
Instead of manually testing, or running numerous tests locally that take a long time, developers can rely on Buddy. Every time a developer pushes a commit to the branch, Buddy will build and test the EOSIO smart contracts. If a developer is working with a team, they can automate notifications every time any of the team members make a commit!
BUD Token & Economy
The Buddy platform already has 7,000 devs who utilize their tools for their projects every day!
The Buddy platform will use BUD tokens to create an economy for developers to make purchases from the automation market as well as utilize the Automation GRIDs.
BUD tokens will allow developers to earn from sharing their tools on the platform while users can purchase those tools using BUD tokens.
By joining the Buddy economy users can also act as nodes for the Automation GRID and earn from their computers being utilized to run tasks for developers!
For more information watch this review:
More Information & Resources: Submission

Write an article about Buddy and how it will impact the development and deployment process! How will attracting more developers to switch over to blockchain development help blockchain technology prosper? How does the Automation Marketplace help ensure that the Buddy ecosystem can continue to grow? How is the current lack of developer tools and automation scripts creating a barrier of entry for developers to work on blockchain projects? As always, the topic is fairly open-ended, so be creative!

To submit please do the following:

Add the word "buddy2018" (without the quotes) at the very end of your article.
Link this post in your submission.
Post the link to your article as a reply to this post.
Resteem this contest post.

Rules

The article must be at least 250 words in length and it is recommended(not mandatory) that the length is under ~1500 words.

At least 70% of the submission must be original. Using "article spinners", and other word substitution tools is also not permitted.

All copied text must be in quotes. Feel free to copy links to resources from the contest post, but please be sure to not copy from other contestants.

Please keep discussions relevant to the contest topic. We would like to encourage a good vibe in the comments!
Please note, any users caught copy pasting or word spinning material without clearly showing that they took the work from somewhere, such as using quotes, will have their submissions disqualified.
Video Bonus

Feel free to use images and media from their website. You can even make your own video and have it in your submission! Videos have a chance of winning a separate bonus based on quality. Videos should be uploaded to YouTube. DTube or IPFS. Please do not remove the videos, or it might impact future eligibility. Feel free to make a new YouTube account for these. We really wanted to use DTube, but sometimes the videos were not view-able at all. We may change this in again in the future. For the time being please ensure whatever service you choose to use is working.

Twitter Bonus
For the Twitter bonus:
Tweet the link to your article on Twitter.
Add the link to your tweet at the bottom of your competition Steemit post!
At the end of your article, add the word "buddytwitter", without the quotes!
This is great because it will also encourage Twitter users to come join Steemit as well!
The bonus for this 0.5 Steem for every article that tweets and meets a level of quality and contest conditions.
How the winners are decided
The submissions will be passed along to the team at Buddy, and they will decide the best method for picking winners and the winning articles.
This can mean that the team judges the submissions, or they ask our team to judge it. Regardless of the method, the final say always lies with the sponsor.
More information & recommendations:

Pay attention to spelling and grammar!
Feel free to use informal language such as "I would, etc"
Use information and resources above to learn more about Buddy!
If you copy something, use quotes. This is an @OriginalWorks contest after all :)
Link the company's website: Buddy so that your readers can do research for themselves.
Articles can be edited up until the deadline.

After writing an article, within a few minutes you should get one of these as a response to your article post:

If you don't get one, let me know by adding a quick message after you submit your link as a reply here and it will be done manually. Sometimes it can take some time, so don't worry if it isn't instant! Rest assured, as long as your link is shared as a reply here, everything is double checked at contest close to ensure that all articles are submitted!
60 submissions will get 2 STEEM each. The article must meet the contest conditions such as word length and a level of quality.
Disclaimer: @OriginalWorks makes no claims as to the legitimacy or operating procedures of contest topics. @OriginalWorks does not offer any sort of investment advice. This is a writing contest. @OriginalWorks only guarantees prize payout. The contest topic company may choose to share the contest submissions that receive prizes. If for whatever reason there are over 500 submissions, new submissions will not be considered.
Good luck to all the contestants!