1250 STEEM ~ Sponsored Writing Contest: Digitex
Welcome to the @OriginalWorks sponsored writing contest! Status: CLOSED Accepted Languages:
Start Time: ~9 PM ET, Friday
End Time: ~9 PM ET, Tuesday
Special Twitter 0.5 STEEM bonus!
Details outlined at the bottom.
This is a call to all great Steemit writers! Digitex has sponsored a Steemit writing contest!
Please make sure to read the contest topic carefully. Good luck!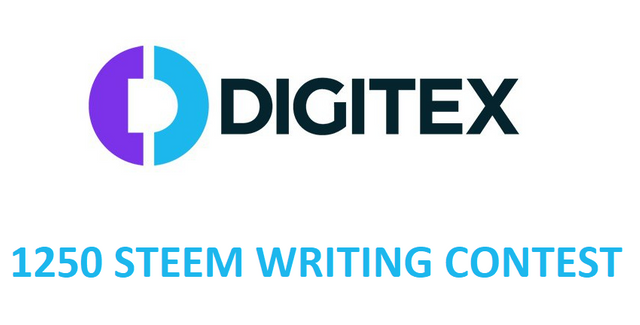 Prize Pool Total: 1250 STEEM Prizes: 1000 STEEM + 250 STEEM (100 bonuses of 2.5 STEEM!) + Twitter Bonus (Details Below)

1st Place: 80 STEEM
2nd Place: 71 STEEM
3rd Place: 68 STEEM
4th Place: 63 STEEM
5th Place: 52 STEEM
6th Place: 47 STEEM
7th Place: 44 STEEM
8th Place: 41 STEEM
9th Place: 38 STEEM
10th Place: 34 STEEM
11th Place: 31 STEEM
12th Place: 29 STEEM
13th Place: 28 STEEM
14th Place: 26 STEEM
15th Place: 23 STEEM
16th - 20th: 15 STEEM
21st - 25th: 12 STEEM
26th - 30th: 10 STEEM
31st - 40th: 8 STEEM
41st - 50th: 6 STEEM
51st - 150th: 2.5 STEEM Bonus

Deadline: 72 Hours
All articles must be submitted within 72 hours of this post to be considered!
Changes in submission rules below
Digitex is the first, commission free Futures Exchange on the blockchain.
Digitex Futures Exchange is free of transaction fees.
That's right. No transaction fees.
Some good questions may be:
How can an exchange be free?
How does it stay operational?
Who pays for maintenance?
Who makes the decisions?
How does this impact token price and economy?
One of the key details about the Digitex Futures Exchange is the operational cost of the exchange's activities will be paid with the issuance and sale of new currency instead of charging a transaction fee on all contracts. The demand and market growth will more than compensate for inflationary cost of issuing new DGTX.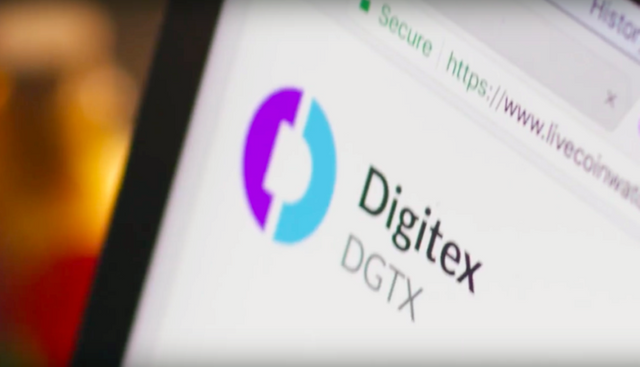 Source: Digitex Blog
Essentially, the users and holders of DGTX will decide how many new DGTX are issued to cover the operational expenses. The beauty of this system is that it will organically ensure that DGTX is well funded and operational.
It is in the best interest of every DGTX holders to:
Ensure that the Digitex Futures Exchange can continue operating.
Not create too much new currency to devalue their own holding.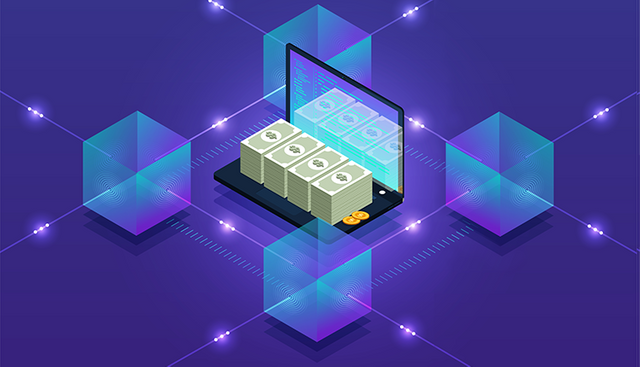 Source: Digitex Blog
DGTX holders can vote on how many new DGTX are issued, or alternatively delegate their voting power to a trusted authority. DGTX holders are organically incentivized to find the perfect balance between a well-funded exchange as well as relatively low inflationary cost.
Decentralized Account Balances
Are you letting exchanges hold your funds hostage?
Digitex Futures Exchange does not hold your private key. This means that you can retain control over your assets. As history shows, there have been exchanges in the past that steal or lose user funds. With a decentralized account balance that possibility is completely mitigated.
Adam Todd, CEO
We want to decentralize account balances, and allow traders to be able to use our exchange in a lifetime trading environment.
What Are Futures?
Futures are a promise/contract to buy something at a specific date - a standardized asset or commodity (apples, oranges, etc), at a specific price.
Futures play a critical role in stabilizing naturally volatile markets such as commodities(prices could vary by season) and cryptocurrencies(prices could be impacted by regulations and market manipulations, etc).
Investopedia Definition:
"A futures contract is a legal agreement to buy or sell a particular commodity or asset at a predetermined price at a specified time in the future. Futures contracts are standardized for quality and quantity to facilitate trading on a futures exchange."
The Future of Futures with Digitex
DGTX will be a self-sustaining and growing economy. Free trades will attract more users, which will in turn increase DGTX liquidity as users purchase DGTX to continue using the Digitex Futures Exchange.
Digitex is in a unique position to take over the entire futures market with a clear advantage over other exchanges - no fees!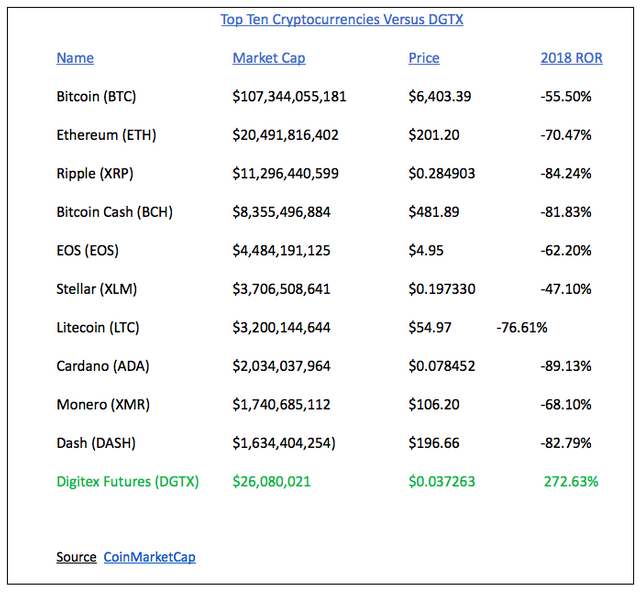 Source: Digitex Blog
It is self-evident that traders are rushing to the platform!
What About Existing Exchanges?
In a well defined and stable market, the margins are very thin. Unlike Digitex Futures Exchange, current exchanges have fees associated with trading futures contracts. On thin margins, these fees can easily make an otherwise profitable trader break-even or even a losing trader.

Source: Digitex WhitePaper, Page 23
The above fees comparison between BitMEX and Digitex Futures Exchange is a great showcase of how a trader will be affected by a fee free exchange alternative.
In the example above, the same trade on the Digitex Futures Exchange made 400% more return than an equal trade on BitMEX.
The exorbitant fees on BitMEX make it virtually unusable in comparison!
The Digitex Token (DGTX) Economy
DGTX are the very reason that the Digitex Futures Exchange will be able to offer commission free trading. Since all profits and losses are expressed in terms of DGTX, traders must own DGTX to take advantage of the commission free system.
This means that there will be a constant need for users to have DGTX tokens! This in turn ensures that DGTX are always in demand. Since the issuance of tokens are decided by the users they will be minimized to ensure that inflation is as low as possible while continuing to maintain a healthy operations fund.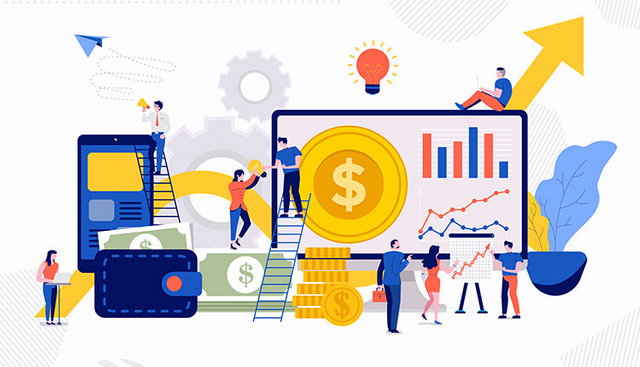 Source: Digitex Blog
The costs associated with operating the Digitex Futures Exchange will be forecasted and estimated in a transparent manner that will ensure that the users understand how the budgeting estimates are determined as well as how the operational funds are spent!
Digitex Futures Exchange has numerous advantages of BitMEX:
No fees means that traders can apply low profit and low risk strategies and still be profitable without the fees eating away at their profits!
Decentralized business model (Users decide the cost of operation)
Instead of a business acting for the benefit of its bottom line, a decentralized vote based business model ensures that the Digitex Futures Exchange will always run at cost and to the benefit of its users!
Digitex already has an amazing program for users to get early access as well as participate in the community to earn tokens.
On top of that they are running a Steem Exclusive Bounty! where users can earn an extra 0.5 STEEM!
For more information watch this short video!
More Information & Resources: Submission

Write an article about Digitex and how it will change the way cryptousers interact with Futures! Why are fees problematic for users trading in Futures? How does creating a no-fee futures exchange allow users to gain more from their trades? With such a strong foundation and fast growth, where do you see Digitex in 2019, 2020, and 2021? How are trading fees killing trader profits? What is the impact of giving users the power and control over how the Digitex Futures Exchange is funded? What are some good use cases? There are many applications, so feel free to give a few! As always, the topic is fairly open-ended, so be creative!

To submit please do the following:

Add the word "digitex2018" (without the quotes) at the very end of your article.
Link this post in your submission.
Post the link to your article as a reply to this post.
Resteem this contest post.

Rules

The article must be at least 250 words in length and it is recommended(not mandatory) that the length is under ~1500 words.

At least 70% of the submission must be original. Using "article spinners", and other word substitution tools is also not permitted.

All copied text must be in quotes. Feel free to copy links to resources from the contest post, but please be sure to not copy from other contestants.

Please keep discussions relevant to the contest topic. We would like to encourage a good vibe in the comments!
Please note, any users caught copy pasting or word spinning material without clearly showing that they took the work from somewhere, such as using quotes, will have their submissions disqualified.
Video Bonus

Feel free to use images and media from their website. You can even make your own video and have it in your submission! Videos have a chance of winning a separate bonus based on quality. Videos should be uploaded to YouTube. DTube or IPFS. Please do not remove the videos, or it might impact future eligibility. Feel free to make a new YouTube account for these. We really wanted to use DTube, but sometimes the videos were not view-able at all. We may change this in again in the future. For the time being please ensure whatever service you choose to use is working.

Twitter Bonus
For the Twitter bonus:
Tweet the link to your article on Twitter.
Tweet should contain article link, mention @digitexfutures and #DGTX as well as one of the cryptocurrency related hashtags such as #blockchain, #crypto, etc
Add the link to your tweet at the bottom of your competition Steemit post!
At the end of your article, add the word "digitextwitter", without the quotes!
This is great because it will also encourage Twitter users to come join Steemit as well!
The bonus for this 0.5 Steem for every article that tweets and meets a level of quality and contest conditions.
How the winners are decided
The submissions will be passed along to the team at Digitex , and they will decide the best method for picking winners and the winning articles.
This can mean that the team judges the submissions, or they ask our team to judge it. Regardless of the method, the final say always lies with the sponsor.
More information & recommendations:

Pay attention to spelling and grammar!
Feel free to use informal language such as "I would, etc"
Use information and resources above to learn more about Digitex!
If you copy something, use quotes. This is an @OriginalWorks contest after all :)
Link the company's website: Digitex so that your readers can do research for themselves.
Articles can be edited up until the deadline.

After writing an article, within a few minutes you should get one of these as a response to your article post:

If you don't get one, let me know by adding a quick message after you submit your link as a reply here and it will be done manually. Sometimes it can take some time, so don't worry if it isn't instant! Rest assured, as long as your link is shared as a reply here, everything is double checked at contest close to ensure that all articles are submitted!
100 submissions will get 2.5 STEEM each. The article must meet the contest conditions such as word length and a level of quality.
Disclaimer: @OriginalWorks makes no claims as to the legitimacy or operating procedures of contest topics. @OriginalWorks does not offer any sort of investment advice. This is a writing contest. @OriginalWorks only guarantees prize payout. The contest topic company may choose to share the contest submissions that receive prizes. If for whatever reason there are over 500 submissions, new submissions will not be considered.
Good luck to all the contestants!