DIGITEX - The Future Exhange with FREE Transaction FEES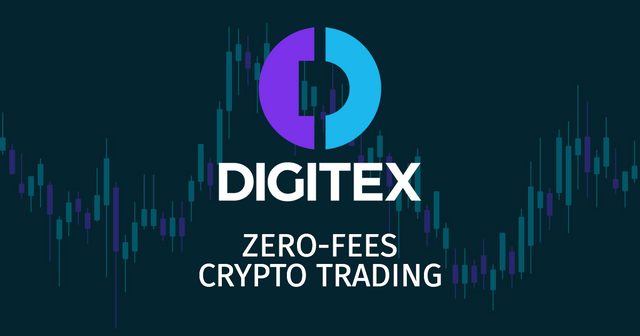 Source Image

ABSTRACT
It is no secret that Crypto Currency Exchange in this decade has almost defeated Conventional BANK transactions. One of the things complained of by users is the amount of fees (fees) transactions taken by the service providers, both as money exchange institutions, and Exhange as a place for the transaction of Crypto Money. Now DIGITEXFutures is present as Bitcoin, Ethereum, and Litecoin Exchange Markets against the US dollar. DIGITEX will help you and increase your trading profit with Zero Trading Fees, Decentralized Accounts, and Decentralized Governance facilities.
INTRODUCTION
In the future, the growth of Crypto Currency transactions will continue to increase. Traders can make cost efficiencies and increase profits because the costs incurred when making transactions no longer exist. For now every transaction, both Bitcoin and the like, users complain of transaction costs that will reduce the margin they earn. Digitex as an exhange that has its own token that stands on Ethereum called the TOKEN DGTX. Traders can enjoy free transaction facilities and increase the profit they will get by exchanging their Tokens into DGTX Tokens in every transaction they make. This DGTX token will be published by DIGITEX parties democratically using the Decentralized Governance by Blockchain.
---
---
1. Project Descriptions
1.1 Commission-Free Futures Trading
Traders in Utopian who have been hoping for free transactions will be real. Digitex Futures Exchange has made the ERC-223 Token on the Ethereum Blockchain (DGTX) which uses the profit as free of fees for trading transactions.
1.1.1 The Digitex Protocol Token (DGTX Token)
As already created in Whitepaper the heart of this Exhange is Token Protocol. in trading on the market the trader must have a DGTX balance that is sufficient to cover losses due to Digitex futures contracts as much as 1 DGTX Token, which means all losses and profits are denominated by this DGTX token.
1.1.3 DGTX Token Supply and Distribution
During the initial sales period, as many as 1 billion tokens will be available, 65% will be sale to the public, 20% into the market maker, and 10% will be allocated to Team and Advisor, and the remaining 5% will be distributed to referrals. At the time of initial presale tokens only released to the market as much as 90% of the total available and circulated.
1000M Total DGTX Supply
650M DGTX (65%) DGTX Token Sale
200M DGTX (20%) Digitex Market Makers
100M DGTX (10%) Team (current and future)
50M DGTX (5%) Referrals
1.1.4 Revenue Generating Token Issuance Starts in January 2021
After 2 years of launching a long-term plan in 2021 Digitex Futures will create again a new DGTX token with the aim of covering costs continuously in Exhange. The number of tokens made will be determined by the owners of DGTX tokens that have been circulating in the market based on voting.
---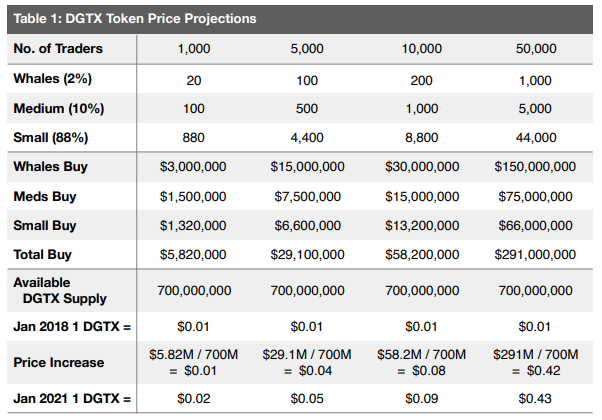 Source Image
---
1.2 Trustless Futures Trading
The balance of a centralized and independent account in the Ethereum blockchain contract, will make traders use Digitex Futures Exhange without having to trust Exhange their money. Hybrid mechanisms are run by machines to match balances that are fully decentralized.
1.3 The Digitex Futures Exchange
Exhange Digitex Futures is a trading market for buying and selling tokens without transaction fees. Traders need not worry about this because they use security centrally from a decentralized system. Free transactions and speed and reliable you will feel when using it.
Main Features and Benefits
Zero Trading Fees
Decentralized Account Balances
Highly Liquid Futures Markets
Automated Market Makers
Digitex Native Currency
Token Issuance Revenue Model
Bitcoin, Ethereum & Litecoin Futures
One Click Ladder Trading Interface
Large Tick Sizes
High Leverage
No Auto Deleveraging
Sub-Millisecond Order Matching
Off-Chain Price Discovery, On-Chain Settlement
Decentralized Governance by Blockchain
Complete Privacy
Blockchain Driven
---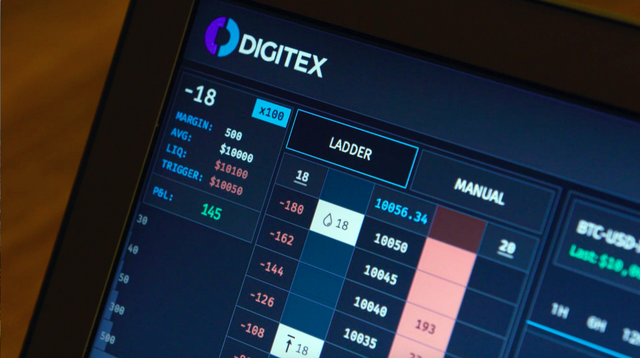 Source Image
---
1.3.1 Bitcoin, Ethereum & Litecoin
Digitex Futures Exhange has 3 markets, that is BTC-USD, ETH-USD & LTC-USD. A contract with a large Tick size will eliminate the noise of funds allowing market prices to come with a Ladder Type interface. Tick values that are dominated by DGTX Tokens will make all profits and losses remain in DGTX tokens.
1.4 Decentralized Governance by Blockchain (DGBB)
Blockchain technology is the driving force behind Digitex: this will make the blockchain exhange to exchange without the free transaction fees, this is possible because krypto currency is made by itself. Digitex also uses blockchain to manage the issuance of new tokens efficiently and democratically through rules and voting systems encoded into smart contracts. One of the great promises of blockchain is decentralized governance. Assuming that DGTX owners will act in their own personal interests, Digitex can move forward as a dynamic organization that is able to adapt quickly and change conditions.
2. Time Line
---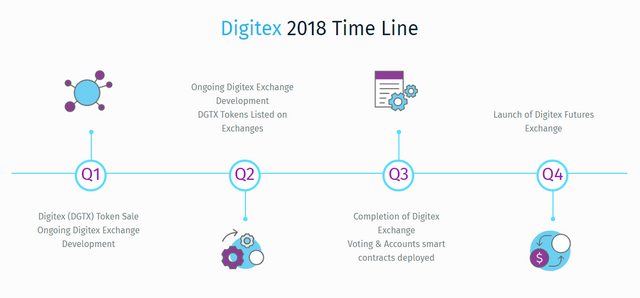 Source Image
---
3. Team
Here is the Exhange Digitex Future team that is very experienced in Krypto Currency. You do not need to worry about things, because their experience in their field doesn't need to be doubted.
---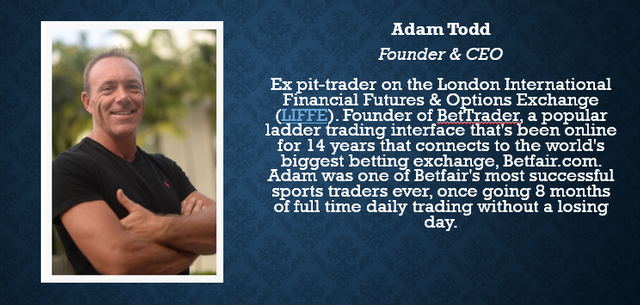 ---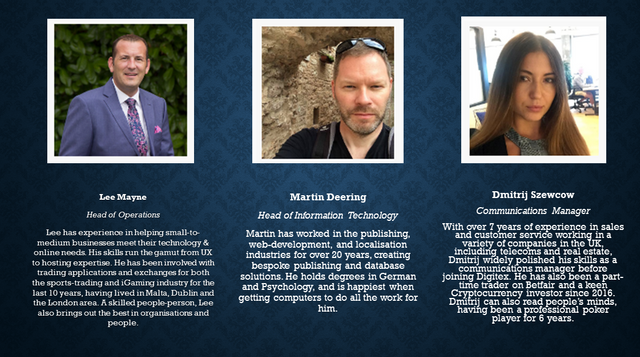 ---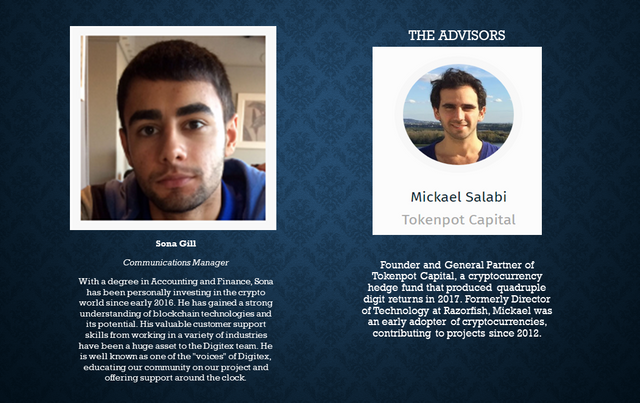 Source Image
---

4. Conclusion
Digitex Futures Exchange is a timed exhange model and is a revolution of the original mints cyrptocurrency to replace the need for trade transaction costs that are free of charge to users. This aims to create high volume in the market, and this will benefit when the cryptocurrency price rises, and the percentage of transaction costs in other exchanges will increase, so traders will switch to using DGTX Tokens due to inflation occurring in the market. With de-neutralized governance by blockchain (DGBB), issuing new tokens for income generating purposes is run democratically by DGTX token owners. Exhange Digitex Futures Market is more stable because it is commission free, fast and reliable.
More Information & Resources :

---
That is my description about Digitex Futures. Hopefully this could be a solution for your problem.

DIGITEX2018
Regards,
Thank your for a Great Contest by @originalworks and sponsored by Digitex
---
References :