Digitex ~ 0.5 STEEM Bounty!
Digitex Futures is doing a Steemit special bounty!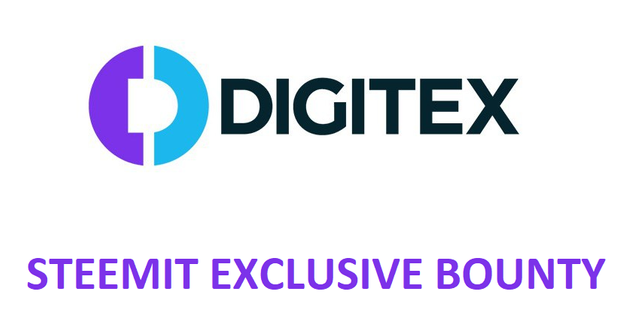 This is a Steemit exclusive bounty!
What is Digitex?
The Digitex Futures Exchange is a commission free futures exchange!
Whereas traditional exchanges eat away at the profits with fees for every trade, the Digitex Futures Exchange does not charge any fees that would impact the profitability of trading.
The Digitex Economy
Digitex is funded by issuing tokens to cover operational costs. The amount required is determined by the existing holders of Digitex, and not a centralized authority! This guarantees that the funding is done in the most efficient manner possible!
Individual account private keys are NOT held hostage by Digitex as is the case with numerous other exchanges.
More Information & Resources:

---

The drop is for 0.5 STEEM, and it will be given to up to 5000 users!

---
Please follow the instructions carefully. Due to the large amount of potential participants, we will not be rewarding participants who fail to follow these instructions!
To participate in the Digitex Steem bounty, do the following:
Only 1 per person!
Register for Digitex Early Access.
Through their program, join Telegram!
Send @bountyworks a memo containing ONLY your telegram user name.

Correct Format Example
Please follow the above format closely! It should be just one term! The bounty will end:
*September 18th 2018
Once the bounty closes, the users will be checked and prizes will be distributed.
Prizes should be distributed within a few days after the event closes!
Thank you to the Digitex for the Steemit exclusive!
Disclaimer: @BountyWorks makes no claims as to the legitimacy or operating procedures of contest topics. @BountyWorks does not offer any sort of investment advice. This is a bounty. @BountyWorks only collects users information and forwards them to the contest topic! @BountyWorks bears no responsibility as to the distribution process!