Dear All,
I am sure you heard that Circle, a GS backed digital payments company is buying PoloniEX. @jrcornel did a nice post about it.
https://steemit.com/circle/@jrcornel/circle-buys-poloniex-for-roughly-usd400-million
Circle CEO is Jeremy Allaire. Used to allow people to buy and sell BTC, not anymore. Circle is best-known product is a mobile payments app called Circle Pay. Think about competition with Venmo/Square using crypto on the backend. They also do massive market making (e.g. Circle trade) in the crypto space. Next is Circle invest which will be an investment product.
With that said, I would like to emphasize the importance of this transaction by giving further context, on the financial and regulatory side.
Size- $400mm for a 3 year old company let's all agree it is a material amount.
"According to a source with knowledge of the deal, Circle paid roughly $400 million to buy out Poloniex, which launched in 2014.
https://www.coindesk.com/circle-acquires-poloniex/
Also I found this leaked document on twitter. Everyone should read it. It gives really good insights on the thinking behind the purchase and the overall regulatory position on the industry. Very positive for people willing to work collaboratively.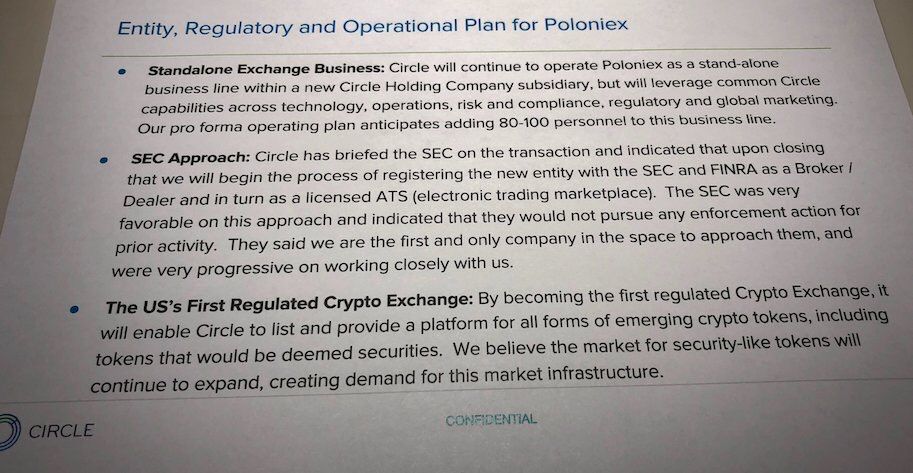 Other note worthy comments:
Erik Voorhees, CEO of digital asset exchange ShapeShift, expects more cryptocurrency companies will consolidate in 2018, especially given the sharp increase in their capital holdings.
The entire cryptocurrency market capitalization has also grown from around $20 billion at the start of last year to around $500 billion in the last few weeks, according to CoinMarketCap.com.
"These markets are still in their infancy but they hold enormous promise," Circle co-founder and CEO Jeremy Allaire told CNBC in a phone interview Monday. "Maybe the first $1 trillion company in the world will be created in this space."
Please comment, follow me and upvote, I will do the same.
Lio
Sources: https://www.cnbc.com/2018/02/26/circle-acquisition-of-poloniex-is-just-the-beginning-of-likely-consolidation-in-crypto.html
Cool video:
https://finance.yahoo.com/news/circle-ceo-will-compete-venmo-coinbase-140012680.html