Streamity.com

Streamity is a multi-faceted platform that is designed to continue growing with their users.



Streamity 's core component is StreamDesk- a P2P exchange that protects both buyer and seller from fraud by utilizing smart contracts to escrow transactions. Streamity is partnering with CIVIC, EOS and NEM to be compatible and effective it processing transactions.

The problem is that those services are not safe or very inviting to new cryptocurrency users.

This is where the StreamDesk platform comes in. StreamDesk uses smart contracts to ensure safe P2P transactions, even with FIAT. The seller's cryptocurrency is blocked within a smart contract. As the fiat is transferred to the seller's account, the smart contract releases the cryptocurrency to the purchaser. The commissions are greatly reduced in comparison to traditional P2P purchase methods while safety is maximized.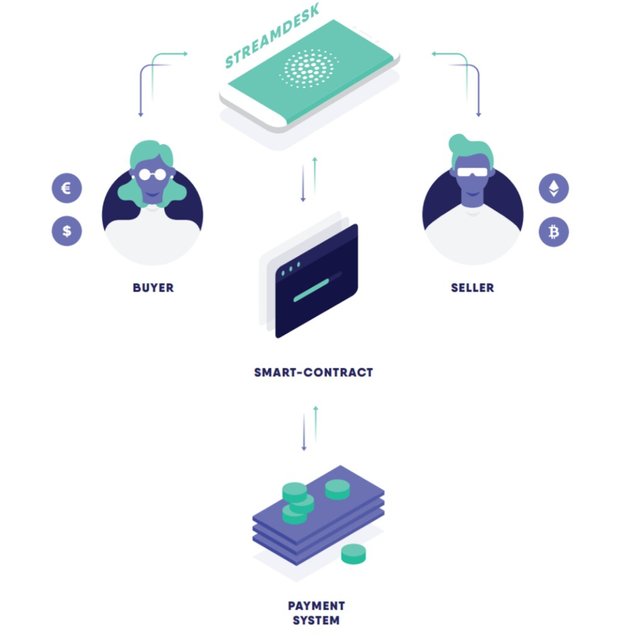 Streamity WhitePaper, Page 24 ?
Fairness of the Blockchain

Streamity eliminates this problem by "binding their customers to the Market section on their platform."(sic) What it does is that it "collects information from major exchanges and display the value of cryptocurrencies and capitalization of companies." This initiative eliminates any possibility of a seller changing prices to gain excess profit. This is because the parties will know what the fees are and hence will not be surprised after the transaction has been executed.
The advantages here are twofold. For the customer, there is transparency with the best security provided by smart contracts simply because the rates are fixed, the commissions are extremely low and there is no more annoying hidden fees that many traders use to inflate the price of their product and hence, rip the customer off. Of course, there is also the larger topic of security. What Streamity has done is to lock the seller's cryptocurrency within a smart contract until the buyer has assured that he/she has paid. And there is no commission.
On the other hand, for investors, there is the ability to make accurate projections regarding profits, seeing that the price will be determined by the market and not by legions of individuals, many of whom use underhanded methods to mulct unsuspecting customers. To bring it more into perspective let us look at a use-case scenario.
Use Case

The X Team just completed a successful ICO by amassing over USD 20 million. However, they are having a few problems. First, they are unable to move that large sum over the centralized exchanges efficiently and cheaply. As it is now, there is a cap on daily transactions. This is too low for them to operate. Additionally, converting that much crypto into fiat is proving just as problematic because of the sheer volume. There are options, but the commission fees are too high. Plus there is the question of legality and safety; safety not only to one's person in the case of the face-to-face transactions that take place with, say, localbitcoin; but there is little transparency. The last time they engaged in such a transaction, the other party changed the price he was willing to buy the cryptos for. Normally, The X Team would have forfeited the contract, however, because they had business to execute, they took up the offer. The result is that both the company and the investors were shortchanged.




Current P2P Exchange Market

In cryptocurrencies, FIAT based transactions are cumbersome and difficult. Users must either trust a centralized exchange with their money, meet a local to do a cash exchange, or find a website where they find buy and sell orders. All of these create a huge barrier to entry and incur high costs while carrying a high risk.

An example of a competitor in this space is Local Bitcoins. While they connect users, they do not ensure the safety of transactions. There is no level of user reputation or credibility that can beat the trustless attribute of a smart contract powered escrow system.



This is an issue that impacts not only existing cryptousers, but also potential cryptousers who are discouraged by the difficulty of the process. This hurts the entire industry as a whole.



Streamitydesigned StreamDesk with the aim to create trustless P2P transactions. They do so by creating an escrow system powered by smart contracts that eliminate any risk associated with P2P transactions.

So, if a user wishes to purchase a cryptocurrency, they enter a smart contract with the seller.

As an example, let's say Betty want's to buy Bitcoin from Sally. Sally wants Betty to send the cash first, while Betty wants Sally to send the Bitcoin first. A very common dilemma in any exchange. Instead of hiring a trustworthy third-party to escrow their exchange, they can use StreamDeskand enter into a smart contract. The smart contract will be triggered upon receiving bot the cash as well as the Bitcoin. Once triggered, it will swap the assets and release them to the relevant parties. This way Betty gets her Bitcoin and Sally gets her cash without having taken any risks in between.



Streamityhas released the Alpha for StreamDesk

Check out the StreamDesk Alpha here.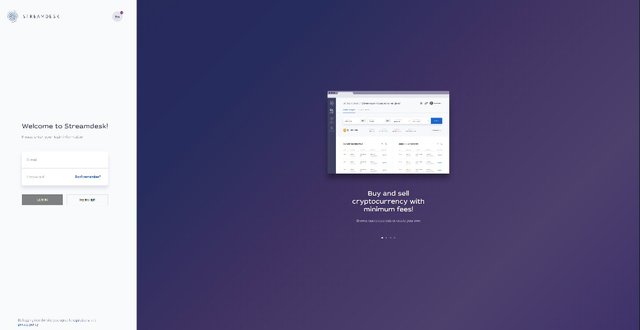 The Process

For a while they proceeded with caution in these matters and in many instances walked away from deals that would have gone sour. Of course, this was an impediment to their business. Then they heard about Streamity. They were able to convert their cryptos into fiat in a fast, transparent and hassle-free manner. Hence they were able to make accurate predictions concerning the financial well-being of their company.
Partnerships

To successfully integrate into the cryptocurrency market, Streamity is pursuing numerous partnerships with blockchains such as EOS and NEM for smart contracts.

For payment systems, Yandex Money and PayPal has already been integrated!

Streamity will continue pursuing partnerships and collaborations to improve the end user experience and bring compatibility to the platform.
The Advantages of STREAMDESK

STREAMDESK have advantages that sets it apart from its competitors. Below are detailed explanation of these advantages.
One of the advantages of STREAMDESK over its competitor is that its fee is significantly lower; ranging from 0 to 2%, depending on the method of transfer the users chooses. This is a great advantage as bigger amounts usually means bigger fees. Imagine if a user decides to trade a big amount of fiat to cryptos and uses an exchange service with fees of 3% or higher, one can only imagine the amount that they have to pay for the trade
Another advantage of STREAMDESK is the use of smart-contracts. Certainly, STREAMDESK is not the only platform that uses a smart contract but how STREAMDESK implement their smart-contracts is vastly different. In STREAMDESK smart-contracts ensure that trades are carry out fairly. If a trade is being executed, the platform will hold the funds in the form of smart-contracts and will release it once both parties have agreed to the tranfer, thus avoiding the scenario where one party transfer the funds and the other runs away with it.
The Solution

Now, The Streamity Project, one of the latest blockchain ecosystems, operating outside of Singapore, has developed the StreamDesk prototype, that will provide the antidote. As part of the Streamity Project, StreamDesk will eliminate the intermediaries that, presently, are the only ones capable of converting cryptos to fiat and vice versa. In doing this, StreamDesk will make the process of conversion cheaper. The platforms providing this service are more or less operating on a free for all basis. Often, they set the price, some of which can be obscene and can be changed at the seller's whim and fancy.
Token Sale

The Phase 2 of the crowdsale will start on June 25th. The project has already raised over $4 million to date.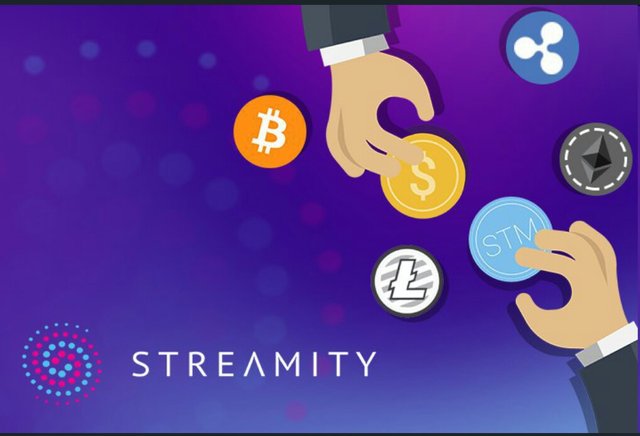 The decentralization of a P2P platform means that users are protected from bad trades and unfair deals. Smart contracts allow for trustless trading. The commissions are completely transparent and prices are based on going rates at major exchanges.



Streamity has a roadmap that outlines its future plans.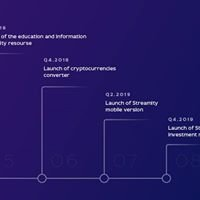 With the alpha out, and the second phase of the token sale coming up, they will continue to further develop their offerings as well as polishing the alpha.

Streamity Live YouTube Event

Streamity is going to be doing a live YouTube interview/Q&A!
Streamity Airdrop

Streamity is also doing a Steemit exclusive airdrop!
https://steemit.com/bounty/@bountyworks/streamity-airdrop
Date: June 24th 2018
The stream can be accessed here (Streamity YouTube Channel)
Conclusion

The prospects for the project are great. Combing through their documents, one finds an ecosystem that will not rest on its laurels of merely providing a superb product for the nonce. Streamity is built for expansion. As promised they have incorporated AI to increase efficiency. This will occur alongside training within their community. They have already formed partnerships with other blockchain companies to consolidate this expansion.
Strategic Partnerships:
Civic: Another blockchain inspired innovation, which gives businesses and individuals the tools with which to control and protect their identities is a perfect addition to the project. After all the bedrock of this concept is the exchange and transference of huge sums of money. It therefore makes sense to involve one of the blockchain's most formidable identity protectors in the Streamity initiative.
EOS & NEM: Scalability, usability and flexibility are some major problems in the blockchain space. With one go, Streamity has solved this problem. Why reinvent the wheel when an entity like EOS has the tools to address this three pronged problem? Therefore, on the matter of expansion it will be used, in addition to NEM, to "using the smart-contract, expand the StreamDesk ecosystem."
There is also IT Test, which "carries out a full cycle of testing and helps in the development of project." Added to this are the integration of Yandex Money and PayPal, thus adding
Furthermore Streamity will also include news, analysis, educational, and investment resources. All the aforementioned services will provide value-added assistance to investors with regard to their management and accumulation of cryptocurrency funds. Each Streamity service will represent an independent business environment and will generate income from its various digital services. Additionally, they intend to keep people informed through community meetups and conferences. In short, a well thought out and comprehensive project.

Feel free to come online and ask questions.

For more information watch this short introduction:
More Information & Resources:
This is work personally done for the summition of the link of the contest held by @originalworks.