Streamity BOUNTY!
Streamity is doing a Steemit special bounty!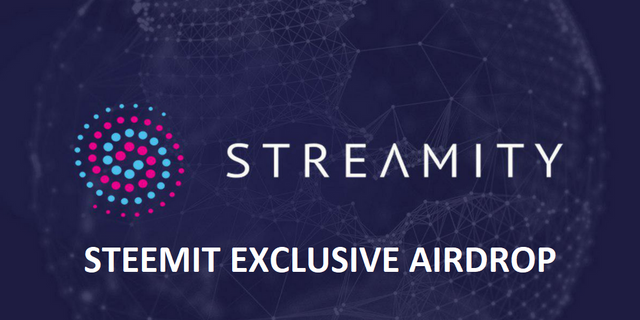 This is a Steemit exclusive bounty!
Streamity changes the way P2P exchanges are made by introducing smart contract powered P2P trading. This opens the door for an easier way to deal with FIAT as well as offer a higher level of security.
While traditional exchanges hold on to the user's cryptocurrency, with Streamity, the transactions are done directly from wallet to wallet.
Smart contracts power Streamity, and function by releasing payment only once both parties have paid their share of the balance.
YouTube Live Stream
On June 24th, there will be a live YouTube Q&A at 11 AM ET with the team!
More Information & Resources: The drop is for 50 STM, and it will be given to the first 500 users who apply!
To participate in the Steemit STM drop, follow these steps:
Join Streamity Telegram
Send @bountyworks a memo containing the following:
Telegram Name
ETH address
This is how it should look!


Please follow the above format closely! It should be just two terms, the first being Telegram username, the second being your ETH address! Any deviation may result in your entry not being recognized. No extra spaces, etc. In the previous transactions of the @bountyworks wallet you can see many examples of users who have sent in there information. The bounty will end:
June 28th
At which point the list of Telegram user names and ETH addresses will be forwarded to the Streamity team! They will check to make sure the Telegram user is present in the channel, and distribute the bounty at a later date when they reach the distribution stage!
Thank you to the Streamity for the Steemit exclusive!
Disclaimer: @BountyWorks makes no claims as to the legitimacy or operating procedures of contest topics. @BountyWorks does not offer any sort of investment advice. This is a bounty. @BountyWorks only collects users information and forwards them to the contest topic! @BountyWorks bears no responsibility as to the distribution process!