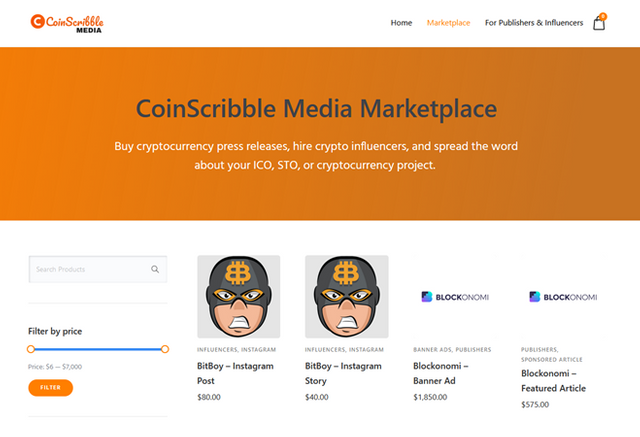 ---
If you've ever launched a project or service related to cryptocurrency, you know how hard it can be to stand out among your competition. In order to get some decent exposure, you might want to spend money to have your project featured by well-known crypto influencers or cryptocurrency-related news outlets.
Finding the right person or website to feature your project can be quite tricky. You would basically have to contact many people and you might get many different price quotes to sort through.
This is where CoinScribble Media Marketplace can help you. There you can easily compare many different options for promoting your cryptocurrency projects and services. You'll have easy access to different crypto-influencers and other professionals who can share your project with the wider world. It's your best bet to make your project go viral!
---
Quality Advertising at Cheaper Prices
By hiring professionals through the CoinScribble Media Marketplace, you can benefit from getting your advertising needs sorted at cheaper prices. For example, if you order sponsored stories and press releases on major Bitcoin news websites through Coinscribble, you will get a discount on their normal rates that they offer on their own websites.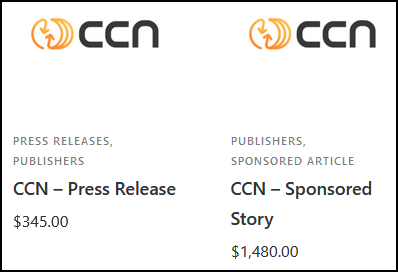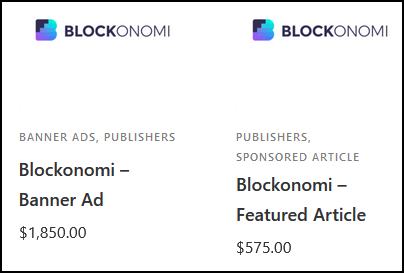 ---
The images above show you the rates that CoinScribble Marketplace offers, which are cheaper than the rates being offered on the respective crypto news websites themselves. The service you are getting in return is exactly the same, so why not fulfill your marketing needs at a cheaper rate?
Rates on CCN's Own Website: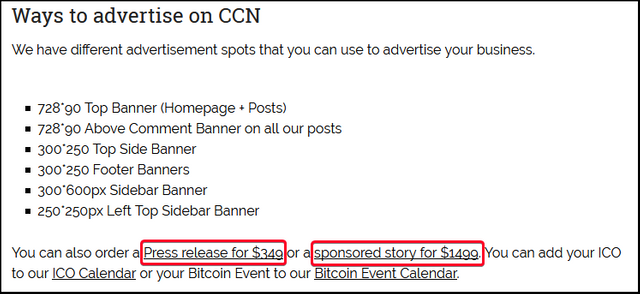 ---
Easy Access to Influencer Marketing
CoinScribble is always adding new influencers to their media marketplace, offering you the best rates available. You can easily get your project seen by thousands of people, without having to go through the trouble of brokering a deal yourself.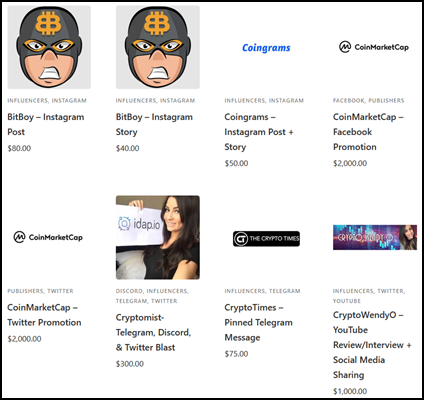 As you can see, there are influencer advertising solutions at just about any price point. It's up to you to choose which social media personality fits your brand the best.
CoinScribble works with influencers on many different platforms:
Facebook
Instagram
Steemit
Youtube
Twitter
Telegram
Discord
Their website makes it easy for you to filter through them, allowing you to pinpoint the exact sort of service you want!
---
Join CoinScribble as an Influencer!
Ever thought about monetizing your following on social media? By joining CoinScribble you can create content and get paid for it by companies that want to promote their product. You don't have to waste your time with sales talks and you're always free to choose the projects you want to work with.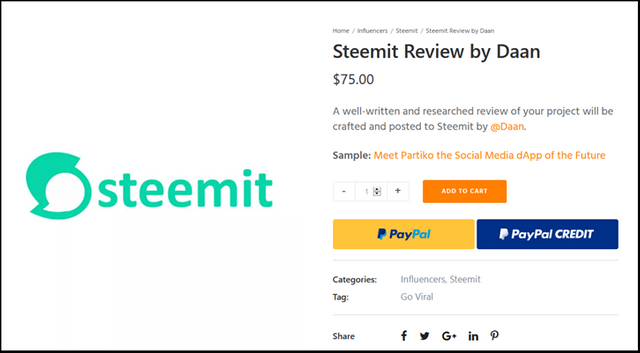 CoinScribble Media will offer you a platform to sell your social media presence to advertisers who want to pay you for it. It doesn't matter which social media platform you're active on, CoinScribble will help you reach the next step in monetizing your social media popularity.
You can choose to get paid through Paypal & various forms of cryptocurrency! I can personally vouch for CoinScribble, as I've done work for them in the past and all communications with them went extremely smooth.
---
Conclusion
Whether you're a business looking for ways to increase your foothold in the cryptocurrency industry or an influencer wanting to get paid for sharing promotional content, CoinScribble Media Marketplace has the right solution for you. On this ever-growing advertising platform, you can reach the people who will help you succeed in business and you're able to benefit from being on the forefront of viral internet marketing in the exciting crypto industry.
I've personally worked with the person behind this amazing platform and can safely say that he's adamant of turning his platform into a success!
---
This post has been promoted using SmartSteem to get rid of the NoFollow tags on links