Ultrain — the Rising Star of Blockchain 2018
Today I want to report an important event in the crypto industry, which can be very interesting from the investment point of view.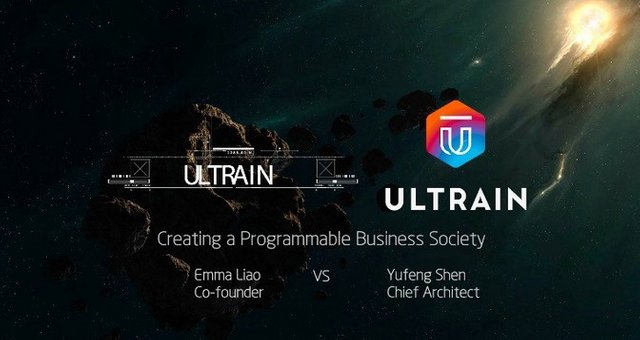 You've probably heard about the new Bgogo crypto-exchange (https://steem.ly/C3), which showed excellent results (its investors got a profit in triple size, despite the global downtrend in the crypto currency market). A strategic partnership was recently announced between BGOGO and ULTRAIN projects. It is possible that in the near future the ULTRAIN project will be able to achieve the popularity of BGOGO. He has all the chances for this!
The ULTRAIN project team
From the linkedin.com resource (https://steem.ly/BY), I learned that this company was founded in 2017 and has its headquarters in Hangzhou, China. The company currently employs 36 people. The campaign has three co-founders, having an irreproachable reputation and an excellent track record.

Rui Guo is co-founder and CEO of Ultrain Technology Limited (https://steem.ly/BZ). Former technical director of Alibaba Group. Former senior architect of IBM.

Emma Liao is co-founder and Chief Strategy Officer of Ultrain Technology Limited (https://steem.ly/C0). Her merits are: Founder of Pioneer Capital. Managing Director of Golden Brick Capital TMT, founding CEO of Kunlun Redstar. Head of IOT investment. Head of china of leading European investment bank goetzpartners GmbH and International Account Director at New York Private Bank & Trust. Personal investor of NIO, Renrenche.com and 360.

Ning Li is co-founder and CTO of Ultrain Technology Limited (https://steem.ly/C1). Former technical director of the Alipay Blockchain team. Former chief architect of the cloud OS Alibaba.

All other ULTRAIN employees also have profiles in linkedin.com with detailed information and excellent recommendations from companies such as Alibaba, Google, IBM and Ant Financial.
About the project itself
ULTRAIN will function as a cloud computing and intelligent contract platform for scalable decentralized applications (dApps), which will be used in such sectors as retail, logistics, finance, healthcare and the media.
Unlike other platforms, ULTRAIN will use a new random trusted consensus framework allowing the network to use only 1% of computing power to mint new coins, freeing up the remaining 99% to be used by applications.
ULTRAIN has completed a fundraising of $ 20 million — Private Sale ( 10% of the token supply was sold). Investors in this campaign are the world's largest funds: Morningside, Aplus, Draper Dragon, BlueRun, DHVC, Sky9 Capital, FBG Capital, Ceyuan Ventures and others (data from the official website).
ULTRAIN is aimed at standards with high performance and scalability up to 20 000 tps. In the economic system Ultrain, a utility token UGAS, will be used, which will be needed to pay for processing power and third-party maintenance components.
About the upcoming event
At the Bgogo crypto-exchange announced a significant event - UGAS Genesis Mining (https://steem.ly/C2). For ordinary users, this is the best opportunity to invest in ULTRAIN at the price of a Rrivate Sale of tokens. However, only users with whitelists can participate in the Genesis Mining event.
On the official website of the project and social resources you can get additional information about the events and promotions held.

Official website: http://ultrain.io/

Telegram: https://t.me/ultrainchain

Facebook: https://www.facebook.com/Ultraincommunity/

Twitter: https://twitter.com/UltrainB

Medium: https://medium.com/@ultrainchain