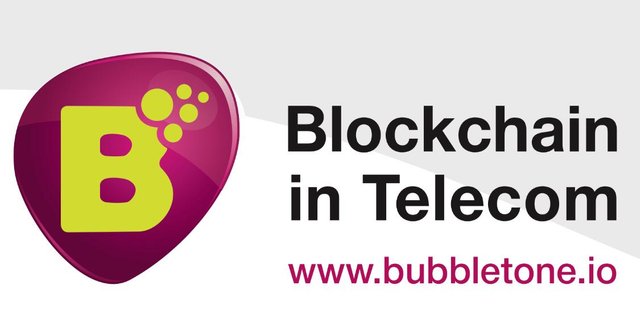 Last airdrops analyzed by us:
Decentralized News Network | Sparta | McFly | Investa | LibertyLance | Spindle | BitNautic | Modex | BCharity | Kinguin |
---
Blockchain in Telecom

Imagine this: you take a vacation and plan a vacation abroad. You want to have contact with your family or friends from homeland country, but you have to limit it due to the high cost of calls, and the use of cellular data ruins your wallet and you are looking for anywhere you can Wi-Fi. Sounds familiar, right? Not only for you. This problem is solved by one company and its name is: Bubbletone.


Why Bubbletone?

Mother-project of Bubbletone is called "Allo Incognito" . It has been operating on the European market for over 20 years and its country of origin is Russia. During this time, the project has developed:
Mobile Virtual Network Operator "Allo Incognito" - 250K Premium Subscribers,
"Bubbletone" messenger - voice chat and sms from the app. Beta version is already available at App Store and Google Play here,
Global Mobile Data Exchange - developed for mobile operators. Currently local prices are available in more than 80 countries.
Project Team
Ivanov Sergey - founder "Allo Incognito" at 2001. The company associates telecommunications companies provide converted communication services of the new generation,
Yury Morozov - Co-founder of 4 Telecom companies,
Oleg Pravdin - CTO - co-founder of 3 startups in Russia, US and China,
and many, many others.
Summarise
The idea of the emergence of international mobile telephony based on blockchain is so good that it has to be successful. It solves many problems, where the high cost of mobile services is their core. Will it be a Bubbletone project? Vision, preparation and an experienced team standing behind the project gives a good chance of success.
For more information visit whitepaper and projekt website.
---
Rating on IcoBench - 4,4/5 – source
Numerical data
| Name | Info |
| --- | --- |
| The general quantity of created tokens | 1 000 000 000 |
| Quantity of tokens in ICO | 500 000 000 |
| Quantity of tokens to be dealt in airdrop/bounty | 2 000 000 |
| The amount of tokens available for airdrop | 75 |
| The current value of the token | 0,2$ |
| Expected date of receipt of tokens | After ICO |
| Expected appearance on exchanges | Not enough information |
| The time it takes to receive tokens | 1 min |
---
Description of steps to take part
Join telegramand follow bot instruction:
Join telegram.
Submit your details: name, ETH adress, Twitter profile and e-mail.
Confirm e-mail.
---
To be up to date with the projects found by us, we invite you to like our fanpage:
Facebook
Twitter
Instagram
LinkedIn
Have a good hunt and hear you soon!
~ Grzegorz