Spotlight on Cryptocoins -- Particl/PART -- 12th feature "private" coins
Hello Steemians
In this series of articles I want to put a spotlight on a specific cryptocurrency and write about the details in all these aspects:
Aim of the currency

Technical details

Market position

Forecast
The cryptocurrency in focus currently will be one of the so-called "private" coins. Coins that create the possibility to be more or less in private while doing transactions. How private you are is one of the main questions to be answered in this articles.
In this 12th article of the series, the spotlight will be on Particl.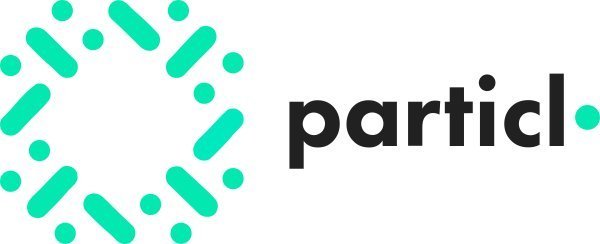 PictureSource
Aim of the Currency
What is this currency about? What does it do differently than the rest?
Where is the unique selling point and at what audience is this coin targeted?
All that questions and more will be answered in the following paragraph.
Particl or PART is a multi-purpose cryptocurrency, created to fulfill different use-cases. First it is a private cryptocurrency with three different states of privacy, second it is directly used on the anonymous marketplace of Particl and third it can be used also for creating other dApps in the Particl environment.
Atomic Swaps is one of the most interesting features that PART is offering since this ultimately making it possible to use your favorite cryptocurrency directly on the Particl Platform, enriching the native features with the increased security and privacy.
The consensus algorithm is using a Proof-of-Stake approach and features currently a minimum of 5% staking interest per year.
Some of the features are still under heavy development, the marketplace is for instance still in alpha and only available on the testnet, as well as the migration to use RingCT, which will be done in a hard fork.
Technical Details
Particl has wallets that support Linux, Mac, and Windows and also a mobile version supporting Android and iOS. The most convenient method to use PART is the so-called Desktop.
Blind or anon transactions can currently not be done using the mobile wallet.
Particl is a pure PoS coin that currently offers 5% annual Proof-of-Stake rewards.
There is no master node-mechanism in place.
The current number of circulating coins is a low 8.954.704, this number is only increased by 5% annually. The block Time is 120 Seconds with a 2Mb block-size.
Particle bases on the latest Bitcoin core (0.16.0) and has Segwit enabled per default for all transactions.
Privacy of transaction has three different levels within PART.
Public is like the names say a transaction completely public.
Blind uses the CT, confidential transaction, protocol to achieve a medium security. The transaction details are only known to the participants and those they designate. Transaction costs are higher than in public mode.
Anon is the maximum privacy option, using the RingCT protocol. This is also the most expensive kind of transaction
Market Position
At the time of writing this article (05/02/2018), Particl is placed 121th in market capitalization, with the total value of $148.674.949. The 24h Volume was $1.809.670 USD which is a rather low number compared to the last month.
The last weeks and months have been quite a bumpy ride with cryptocurrencies, but the trend rather goes up for Particl. The all-time high was reached on January 13th with over 47 USD per PART.
Since then the price has been losing ground, only stopped at 9,33 Dollars at the beginning of April.
Currently, curves are going up and the price is at 16.60 USD per PART.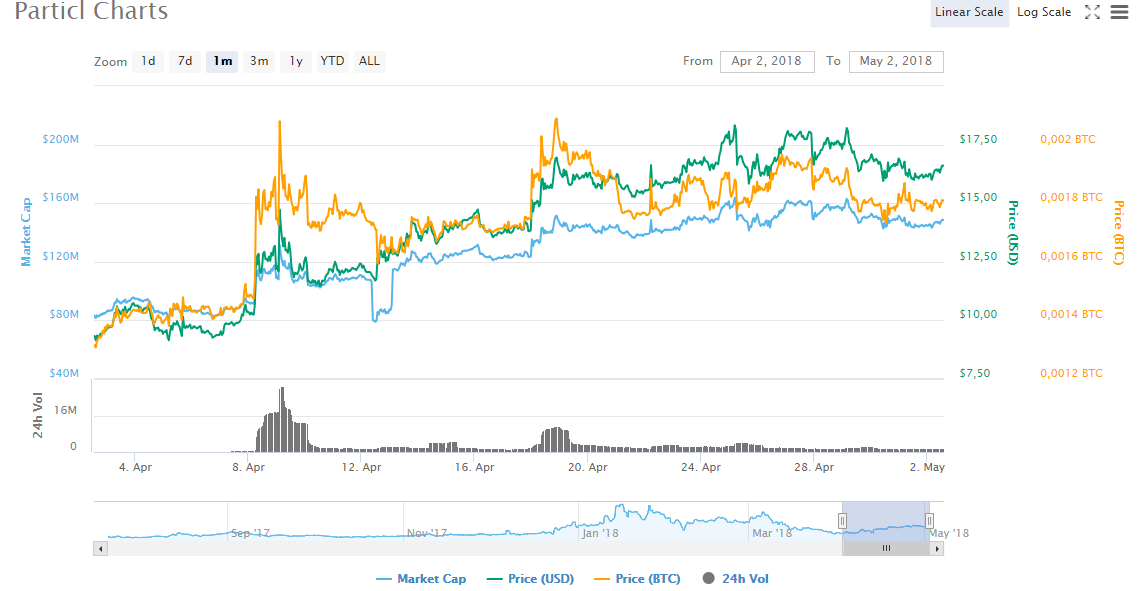 GraphSource
Looking back a year, we can see there was a lot of sideways movement in the first period of time. The coin shot upwards like most of the cryptomarket in the year-end hype of 2017, lost a lot of ground and rebounds now since the beginning of April.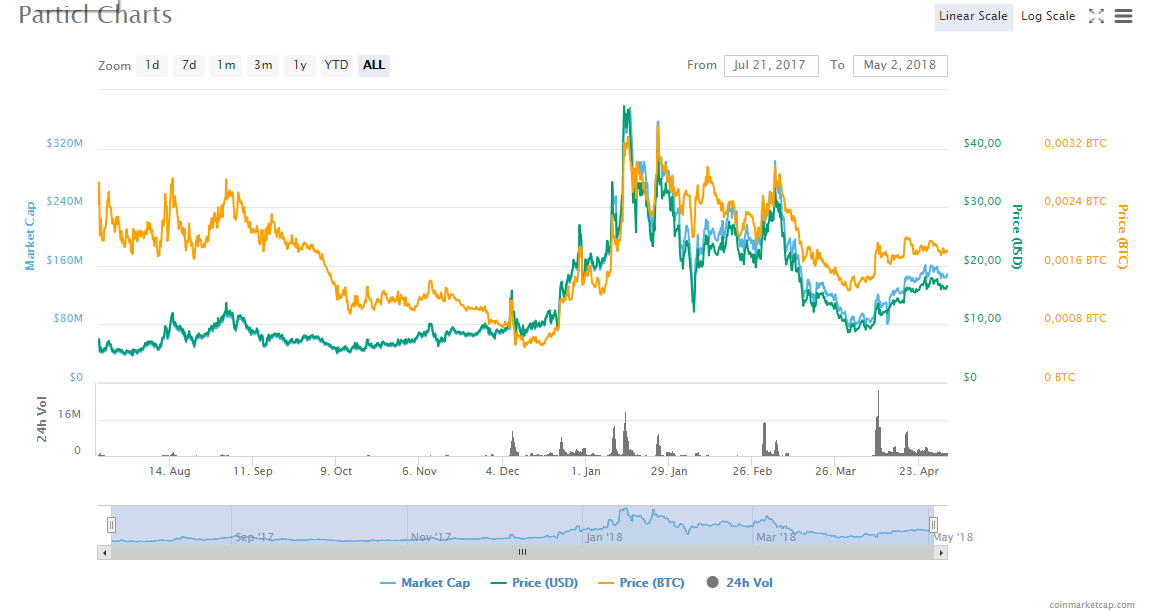 GraphSource
Forecast
Just like all the other private coins Particl for sure has a valid point in trying to keep the privacy of the sender and receiver.
Particl is not listed on many exchanges currently, but it can be bought using Bittrex and Upbit.
Technically this coin goes new ways having the Bitcoin Core Code including 3 different layers of security and privacy.
If the team can deliver the new features and software like they are planning to, the price for sure will go up as well.
The Roadmap of the coin can be found here.
Conclusion
Particl is offering privacy in three different levels from public to anon, it is also possible to use TOR to hide the IP details.
The features surrounding this, especially Atom Swaps and the anonymous marketplace are for sure creating extra attention on this coin and deliver added value.
Last but not least there are also some drawbacks and they should not be unmentioned:
Proof-of-Stake coins sometimes are criticized for making the already rich even richer.
Privacy of transaction has been also viewed with criticism.
Integration of anonymous marketplace can be seen as problematic.
Authored by: @jedigeiss

Interested in joining us? Come join our Discord server at:
https://discord.gg/gXMH3qu
!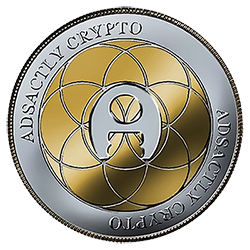 Vote @adsactly-witness for Steem witness! Go to:
https://steemit.com/~witnesses
In the bottom of the page type: adsactly-witness and press vote.

Use small letters and no "@" sign. Or, click here to vote directly!
Thank you!
---